America's Coronavirus Caseload Looks Worse than China's. Here's What Experts Say
As the COVID-19 pandemic continues, the U.S. now has the second largest number of total cases outside China after hard-hit Italy. Calculations by Newsweek show that the caseload in the U.S.—or the number of people diagnosed with COVID-19 relative to the population—has now surpassed that of China, the initial epicenter of the outbreak. Despite having a population nearly five times greater than the U.S., China has just over three times as many COVID-19 cases. So, how significant are such seemingly alarming figures?
Since the new coronavirus was first identified in the central Chinese city of Wuhan, Hubei Province, in late 2019, a total of 351,731 COVID-19 cases have been confirmed worldwide, according to Johns Hopkins University and indicated in the Statista map below. Of those, 81,000 were reported in mainland China, out of a population of 1.4 billion people, over a period of three months. More than 3,200 people have died.
In comparison, in the two months after the first U.S. case was reported in Snohomish County, Washington, a total of 35,241 cases in a population of 329 million have been confirmed in the U.S., more than doubling from 13,000 last Thursday. COVID-19 has so far killed more than 400 people in the U.S..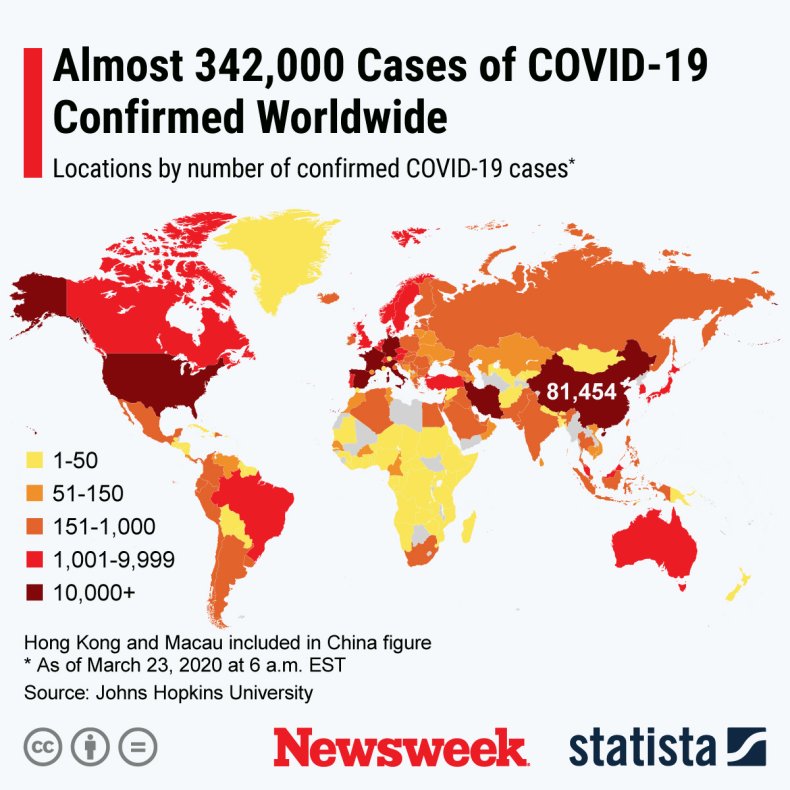 It is too soon in the pandemic to read too much into such data, experts told Newsweek, as a number of factors—including rates of testing and how far each country's respective outbreak has progressed—must be considered.
Professor Stefan Elbe, director of the Centre for Global Health Policy at the University of Sussex. U.K., told Newsweek: "Care must be taken when directly comparing health data between countries, because there are significant differences in when, who, and how countries test for coronavirus."
Elbe, the author of Pandemics, Pills, and Politics: Governing Global Health Security, added: "There are also differences in the proportion of the population tested, the kinds of tests used, and how the results of testing are subsequently reported."
Dr. Peter Drobac, a physician and specialist in infectious diseases and public health at the Saïd Business School at the University of Oxford, told Newsweek: "The first obvious caveat is that these are only reported cases."
He highlighted the fact that many cases of COVID-19 are mild or even asymptomatic and are therefore not included in official figures. "The actual number of cases in the U.S. is almost certainly in the hundreds of thousands," he said.
As the first country to be hit by COVID-19, China is at a different stage of its outbreak. It hit its peak in mid-March and last week, for the first time since the outbreak started, reported no new domestic cases—although the threat of a potential second wave of infection remains.
"Broad, aggressive and enforced social distancing was an important part of China's success," said Drobac. "But that is only part of the story. Widespread testing with contact tracing and isolation, along with unprecedented efforts to reinforce the health care system, were also extremely important.
"Of course, the social and economic costs of these interventions are quite significant. But if given the choice between being where China or South Korea is right now or Italy, most would choose the former," Drobac argued. The U.S. has, in contrast, not taken the same measures.
Meanwhile, the U.S. "is very much on the exponential upward curve," said Drobac. And that trend in itself can be misleading.
"The steep rise in the number of cases in the U.S. the past few days needs to be interpreted with caution," Drobac said. It may reflect the fact widespread testing is being conducted for the first time, and could include cases of unreported infections from a week or two ago, he explained.
Thanks to what one expert previously described to Newsweek as a "broken" system for testing suspected COVID-19 cases in the U.S., the country has not been screening potential COVID-19 patients at the levels it had hoped or promised to.
After the head of the Food and Drug Administration (FDA) Dr. Stephen Hahn told a White House press briefing in early March "close to a million tests will be able to be performed" by the end of the week, Vice President Mike Pence told a White House press briefing on Sunday that over 195,000 Americans have been tested for the virus.
"Because of undertesting in the U.S. cases are likely much higher than reported," said Drobac. "We suspect there may be up to 10 unreported cases for every reported case. The U.S. is still a long way from reaching its testing capacity."
"Some parts of the U.S. are better than others," Drobac said. "Many of the new reported cases are in New York, which has done an extraordinary job of increasing their testing numbers. Many other parts of the U.S. are not there yet. Is the situation in New York concerning? Absolutely. But other parts of the country are on a similar trajectory, it's just not reflected yet in the numbers. So we shouldn't let the numbers give a false sense of security."
It will take some time before we can truly assess the trend, he said. "That is no reason for comfort," Drobac stressed. "We know that the epidemic will double approximately every five days, in the absence of interventions to slow it."
To complicate matters, according to Drobac it is difficult to accurately compare testing levels with China as they are not well-reported.
Still, the U.S. "remains far behind on tests done per million population" compared to other countries such as South Korea and Germany, he said citing Our World in Data which collects figures from official country reports. Countries with "aggressive widespread" testing, like Germany and South Korea, are more likely to have accurate figures than the U.S., he said.
Drobac went on to warn: "Frankly, I'm worried for the U.S. Every epidemic reminds us that complacency is lethal. Countries that acted swiftly, like Singapore and South Korea, are under control.
"In contrast, the U.S. was caught flat-footed. We lost two months of valuable time when we could have been preparing and learning lessons from Asia. Now the genie is out of the bottle, and our best hope is to suppress the spread and mitigate the damage."
Drobac concluded: "Everyone knows the apocryphal Churchill quote, 'Americans can always be trusted to do the right thing, once all other possibilities have been exhausted.' People across America are stepping up and we are finally seeing a welcome bias towards action. I just hope it's not too late."
Ben Cowling, Professor at the University of Hong Kong School of Public Health agreed it is too soon to compare China and the U.S.
However, asked whether he was optimistic about the U.S. and coronavirus moving forward and if he thinks the right measures are being put in place to tackle it, Cowling told Newsweek: "I think the current measures are only temporary, and all countries in the world are looking for a sustainable approach to slow down or stop transmission while minimising the social and economic impact. I think we are all still looking for the best measures."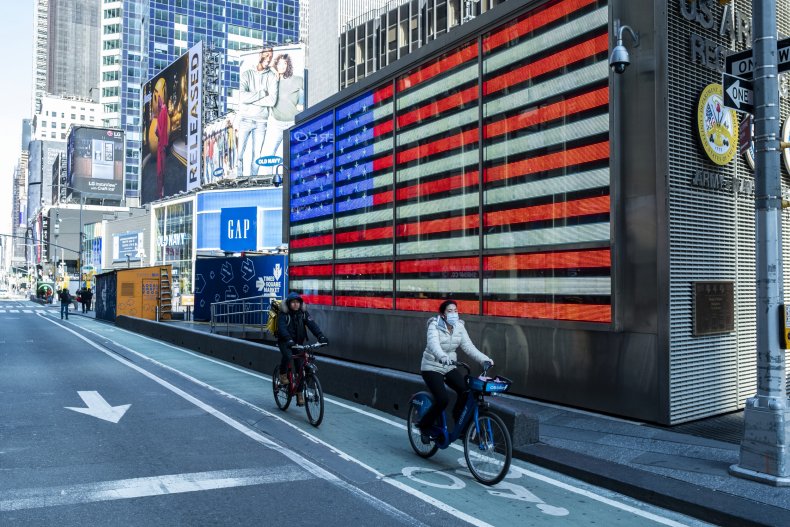 World Health Organization advice for avoiding spread of coronavirus disease (COVID-19)
Hygiene advice
Clean hands frequently with soap and water, or alcohol-based hand rub.
Wash hands after coughing or sneezing; when caring for the sick; before, during and after food preparation; before eating; after using the toilet; when hands are visibly dirty; and after handling animals or waste.
Maintain at least 1 meter (3 feet) distance from anyone who is coughing or sneezing.
Avoid touching your hands, nose and mouth. Do not spit in public.
Cover your mouth and nose with a tissue or bent elbow when coughing or sneezing. Discard the tissue immediately and clean your hands.
Medical advice
If you feel unwell (fever, cough, difficulty breathing) seek medical care early and call local health authorities in advance.
Stay up to date on COVID-19 developments issued by health authorities and follow their guidance.
Mask usage
Healthy individuals only need to wear a mask if taking care of a sick person.
Wear a mask if you are coughing or sneezing.
Masks are effective when used in combination with frequent hand cleaning.
Do not touch the mask while wearing it. Clean hands if you touch the mask.
Learn how to properly put on, remove and dispose of masks. Clean hands after disposing of mask.
Do not reuse single-use masks.