Majority of Americans Think Trump Shouldn't Tweet: Poll
President Donald Trump's propensity to Tweet his views is well known but most Americans think he should not post on the social media platform at all, according to fresh polling.
Trump, whose latest tweet was "LAW & ORDER," has previously been criticized by the public for using the site too much⁠—after issuing thousands of updates throughout his tenure.
In a YouGov poll, conducted July 11 to 13, 54 percent of respondents said "no" when asked if Trump should be posting messages on Twitter. Around a third, 32 percent, said "yes" and 14 percent were unsure.
More than half, 56 percent, said they think the way Trump uses the site is inappropriate for the president of the United States. On the other hand, 29 percent said it was appropriate and 14 percent were unsure.
The poll was conducted among 1,000 adults with a margin of error of plus or minus 3.8 percent.
Newsweek has contacted the White House and the Trump campaign for comment.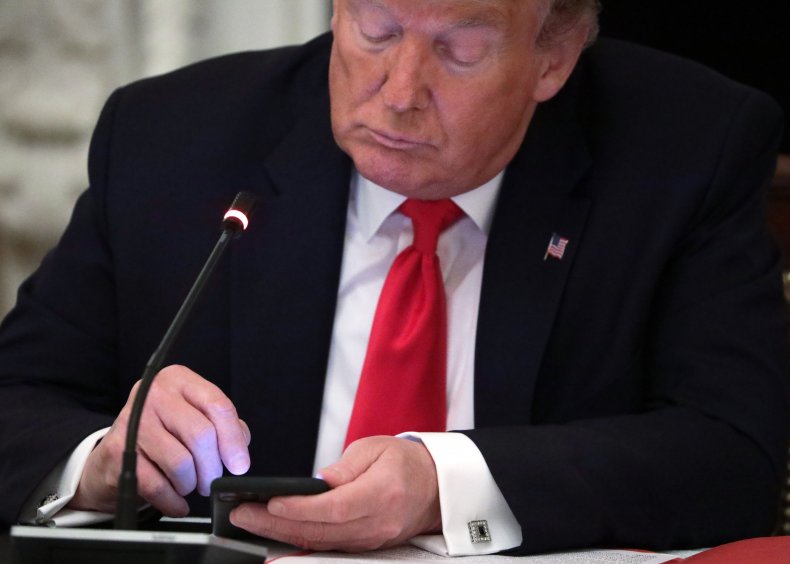 According to the website Trump Twitter Archive, Trump has tweeted more than 20,000 times since January 20, 2017, the day he was inaugurated.
Not long into his presidency, the White House's then press secretary, Sean Spicer, said that Trump's tweets constituted official statements. Earlier this year he posted more than 140 times in a single day.
Throughout the COVID-19 pandemic the president has regularly tweeted his views on the matter, recently retweeting game show host Chuck Lowery who suggested groups including Democrats and doctors are lying about the illness.
He also regularly uses the site to hit out at adversaries, recently lampooning lawmakers who criticized his commutation of Roger Stone's sentence and taking on former AG Jeff Sessions, who is attempting to regain a Senate seat. The media has also long been a target for his postings, with Fox News even receiving criticism of late.
Twitter itself has also faced a raft of criticism from the president, posted upon its own platform. The president hit out after the site censured several of his posts in various means, suggesting that it is "completely stifling FREE SPEECH."
These actions by Twitter have included linking to other sources of information or limiting the ability to spread tweets. For example, a tweet in which Trump said "when the looting starts, the shooting starts" amid protests following the death of George Floyd, was marked as having broken the site's rules on glorifying violence and users were unable to like, reply to or share the tweet.
Amid his attacks on the platform, Trump has moved to target regulations on social media companies and earlier this year he signed an executive order focused on Section 230 of the Communications Decency Act passed in 1996.
This has allowed platforms to have legal immunity for content posted by third-party users, though his order would remove this protection if they were to censure or edit content.