Meghan Told 'Life Story' To Tyler Perry Before He Offered Her Sanctuary
Meghan Markle's friendship with Hollywood A-lister Tyler Perry began before the pair had ever met face-to-face with the royal telling him her "life story" in 2020 before being offered his home as a sanctuary during the COVID pandemic, a recent interview has revealed.
Actor and filmmaker Perry, most known for his creation of and performance as the character Madea, was first publicly linked to Meghan and Prince Harry in 2020, when it was revealed that the couple were living in a Los Angeles home loaned to them by the star after their stateside move.
Information about Meghan's friendship with Perry was recounted by the duchess in a candid interview with Allison P. Davis for The Cut, a subsidiary of New York magazine, released on Monday.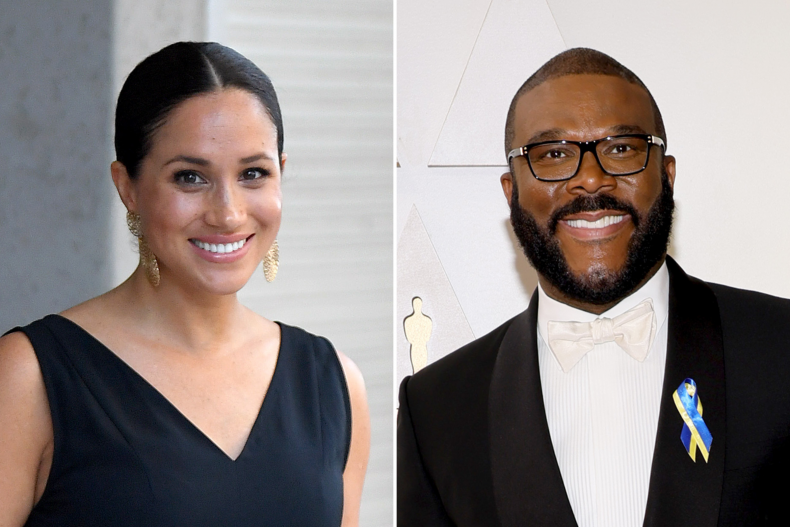 The profile, in which Meghan discussed her relationship with the British media and Prince Harry's relationship with his father Prince Charles, followed the release of the royal's solo Spotify podcast Archetypes last week, which hit number one in the U.S. and U.K. respectively.
Though Perry, unlike Oprah Winfrey, did not attend the 2018 royal wedding of Meghan and Harry at Windsor Castle, the duchess told Davis that he had reached out to her to say that he was "praying for her."
"Though Meghan had never met Tyler Perry in person, he had reached out when she and Harry got married to tell her that he was praying for her 'and that he understood what this meant,' Meghan recalls, referring to the symbolic weight of their wedding, 'and that he could only imagine what it was like,'" Davis wrote.
"He also told Meghan to call if she ever needed support or advice. It took her a long time to do so, she admits. But once she did, she found herself telling him every detail of their situation..."
"Sometimes, you can tell your life story to a stranger on a plane as opposed to some of the people that are closest to you," Meghan told Davis.
At this point, the beginning of 2020, Meghan and Harry were living in Canada where they had gone to stay at the home of friends following their tour of South Africa the following year.
It is here, according to the biography Finding Freedom, that the couple worked out a plan to step back from their established working roles.
After a visit to Britain to discuss this plan with Queen Elizabeth II, Prince Charles and Prince William in January 2020 it was decided that the couple would step down completely as working royals, move to North America and become financially independent.
While in Canada the COVID pandemic developed and, owing to impeding lockdowns and press attention where they were staying, the couple decided to accept an offer from Perry to move into his Beverley Hills home with a dedicated security team.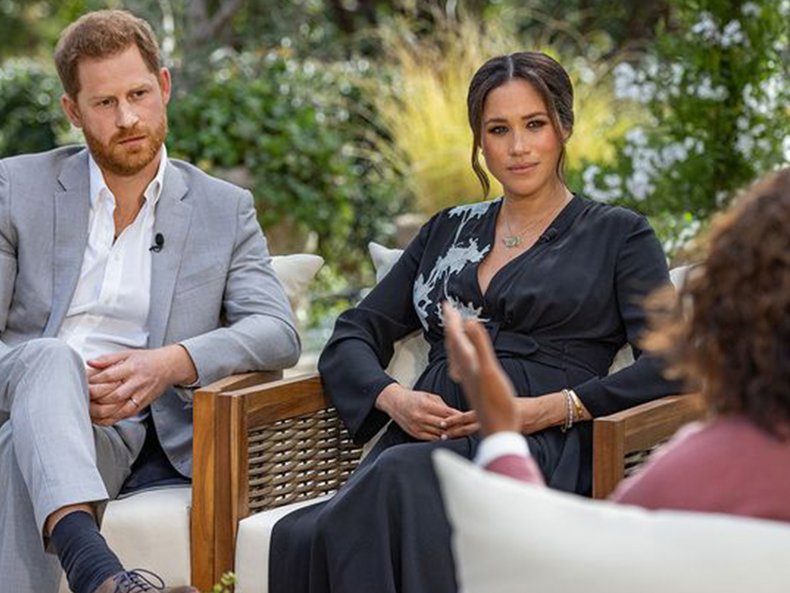 Speaking about this time to Oprah Winfrey during their landmark 2021 televised interview, Meghan recounted what prompted the couple to move into the home for three months.
"We didn't have a plan," she told the TV veteran. "We needed...we needed a house and he offered security as well, so it gave us breathing room to try to figure out what we are going to do."
After leaving Perry's mansion the couple moved into their own multi-million dollar home north of Beverly Hills in Montecito, Santa Barbara close by to Winfrey and Ellen DeGeneres.
Perry has remained a friend. Speaking to Davis for The Cut, Meghan revealed that the star gave the royal couple a touching housewarming present of a grand piano which stands in their living room.
It came with a note, she said, reading: "Write the soundtrack for your life."
For his part Perry has rarely spoken of his relationship with the royals but most recently dedicated a social media post to Meghan on her birthday earlier this month.
"I've had a front row seat in your life for the past few years," it read.
"I've watched you endure things that would have broken a lot of people. I'm so incredibly proud to see how happy you, your husband, and your kids are now.
"It fills me with joy to say Happy Birthday Princess Meghan."
The duchess' interview, along with the background about her friendship with Perry, also revealed that the royal is considering a return to social media after wrapping up her lifestyle blog The Tig when she was dating Harry and leaving Instagram in 2020 with the Sussex Royal account.
"Meghan, silenced no more, looks around, making sure nobody (who would be?) is listening in," Davis wrote of her interview with the royal, "Then the top-secret drop: 'I'm getting back...on Instagram,' she says, her eyes alight and devilish."
This decision though may not be final as Davis continued to state that: "Later, Meghan would relay she was no longer sure she would actually return to Instagram."
The royal's relationship with social media has been strained since becoming a member of the royal family.
In 2020 at Fortune's Most Powerful Next Gen Summit, she said: "For my own self-preservation, I have not been on social media for a very long time.
"I had a personal account years ago, which I closed down and then we had one through the institution and our office that was in the U.K. separate, and that wasn't managed by us—that was a whole team—and so I think that comes with the territory for the job you have.
"I've made a personal choice to not have any account, so I don't know what's out there, and in many ways that's helpful for me ... I have a lot of concerns for people that have become obsessed with it, and it is so much a part of our daily culture for so many people that it's an addiction like many others."
Newsweek approached representatives of Tyler Perry for comment.