Meghan Had Team of 14 Staffers to Teach Her Royal Duties—Book
Queen Elizabeth II helped to assemble a team of 14 "intelligent and experienced officials" to teach Meghan Markle about the expectations placed on members of the royal family, according to a new biography.
Tom Bower's Revenge: Meghan, Harry and the war between the Windsors has drawn praise and criticism following its publication in the U.K. last week. Palace sources have questioned at least two key claims, that the queen expressed relief Meghan wouldn't be attending Prince Philip's funeral in April 2021, and that Camilla, the duchess of Cornwall, joked about a future child of the Sussexes having a "ginger afro."
Bower is well-known for his acerbic take-downs of his subjects, who have included politicians. The Daily Mail has dubbed the author the "Witchfinder General."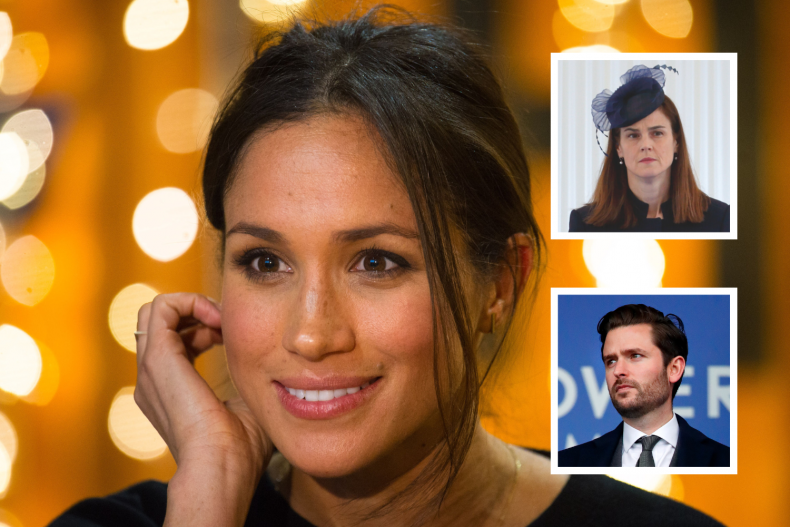 On Meghan and her introduction to royal life following her engagement to Prince Harry in November 2017, Bower said that a team of 14 staff helped the former actress adjust to her new role in addition to a group of the queen's close friends, who also offered their advice.
"The queen," he wrote, "persuaded Samantha Cohen to withdraw her resignation, which had been submitted after Geidt was dismissed. The mother of three agreed, as private secretary, to help Meghan through the wedding and beyond."
Samantha Cohen was a long time member of the royal household, who after joining the queen's staff in 2001 as a deputy communications secretary, rose through the ranks over 17 years to become the monarch's assistant private secretary.
The Australian-born professional worked closely with Lord Geidt, the queen's private secretary and trusted aide.
In June 2018, Cohen officially joined the staff of Harry and Meghan as private secretary, a post she held for 18 months, stepping down in October 2019 at around the time the couple reassessed their royal roles. Since leaving the royal household, Cohen has joined the staff at 10 Downing Street, the home and office of the prime minister.
Bower wrote that "under Cohen, a team of 14 young, intelligent and experienced officials, including Jason Knauf, was assembled to introduce Meghan sensitively to the quirks and expectations of royal life and service to the nation. There would be, said the Palace, six months of listening and learning..."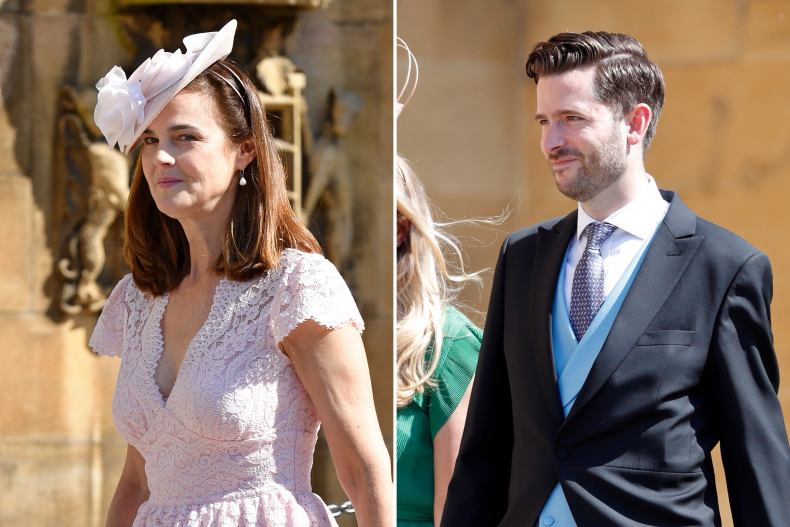 Jason Knauf has become the most well-known among the team members, notably for an email exchange sent in late 2018 in which he claimed Meghan had "bullied" staff members. These claims would become the foundation for a review by Buckingham Palace, the results of which it was announced in June wouldn't be made public.
In addition to the core team, Bower claims that Lady Susan Hussey, the monarch's long-serving lady-in-waiting and a godmother of Prince William," visited Meghan in Nottingham Cottage to offer help and advice," along with other "close companions of the queen."
"Considering the importance of making a mixed-race woman welcome," the author continued, "Cohen's team tactfully sought to understand Meghan's concerns, her priorities and how her ambitions could be realised.
"For hours they discussed resolutions to problems and how she should feel as part of the royal family."
The image painted by Bower contrasts with comments made by Meghan during her landmark March 2021 interview with Oprah Winfrey. In that interview, she described her naivety over joining the royal family, the rigidity of the royal household and their unwillingness to protect her against incorrect and hurtful press reporting.
"I would say I went into it naively because I didn't grow up knowing much about the royal family," Meghan said, when asked about going into her marriage and becoming a working royal at the same time.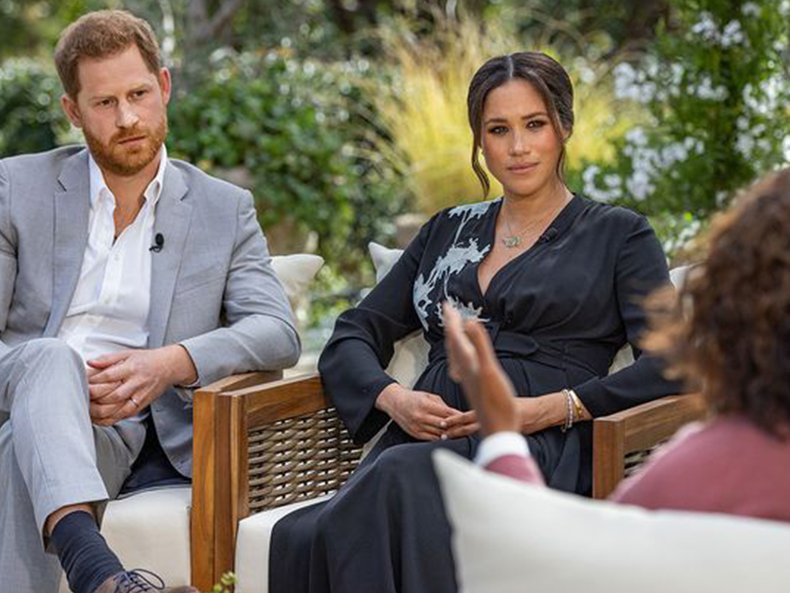 She then said: "I didn't fully understand what the job was: What does it mean to be a working royal? What do you do? What does that mean?
"[Harry] and I were very aligned on our cause-driven work, that was part of our initial connection. But there was no way to understand what the day-to-day was going to be like, and it's so different because I didn't romanticize any element of it."
In March 2020, 1 year and 9 months after their wedding day, Harry and Meghan performed their last official duty as full-time working members of the royal family before beginning a financially independent working life in America.
Members of the Sussexes' royal household, which included some of the initial 14 core staff assigned to help Meghan begin her working life as a member of the royal family, found new positions, many in the private sector. Others, including Jason Knauf were employed within the households of other members of the royal family.
In the U.S., the Sussexes created Archewell in 2020, which is an umbrella organization consisting of the Archewell Foundation, Archewell Audio and Archewell productions.
Newsweek reached out to representatives of Meghan and Harry for comment.