Michelle Obama, Kamala Harris More Popular as Presidential Picks Than Donald Trump Jr., Ivanka: Poll
Former first lady Michelle Obama and current Democratic vice presidential candidate Kamala Harris are favored over Donald Trump Jr. and Ivanka Trump as future candidates for the White House, according to polling for Newsweek.
The Redfield & Wilton Strategies survey asked if voters would support the two Trump children in a future election. They narrowly backed Trump Jr. over Ivanka Trump—though the majority of respondents said they would not get behind either.
For Trump Jr., the president's eldest son, 21 percent said they would vote for him, while 17 percent said they would support Ivanka. However, 63 percent of those asked said they would not back Trump Jr., and 68 percent said the same for his younger sister.
Michelle Obama, who is leveraging her popularity to support Democratic nominee Joe Biden, fared far better than the Trump siblings—with 47 percent saying they would cast a ballot her way in the future and 40 percent stating they would not.
For Harris, who is currently a Democratic senator for California as well as running for VP, 39 percent said they would vote for her in a future election, while 43 percent said they would not.
The poll was conducted online between 17 and 18 October and surveyed 3,150 weighted registered U.S. voters.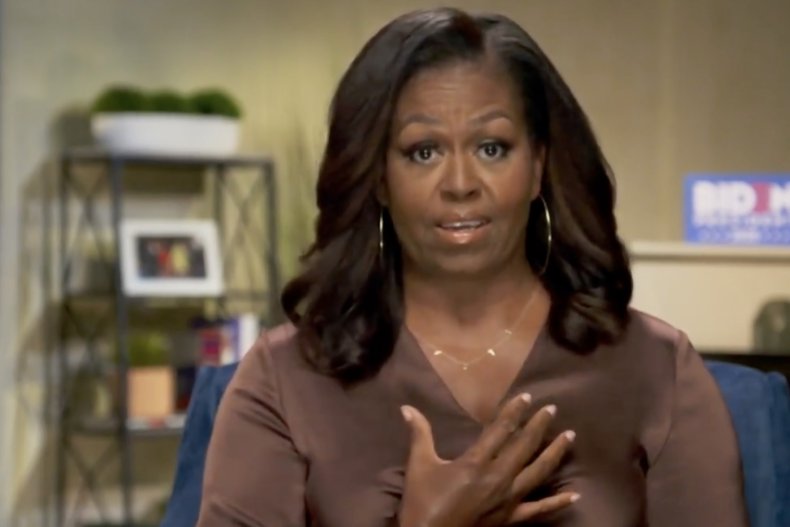 Both Ivanka Trump and Trump Jr. have been touted as potential 2024 candidates, with suggestions the pair are at odds over who should run.
In previous polling, Trump Jr. was put behind current Vice President Mike Pence as Republicans' preferred candidate for the next election.
Earlier this year, President Donald Trump dismissed reports about potential political aspirations for Ivanka, rejecting claims he had considered her as his running mate in 2016.
Meanwhile, Harris has been touted as a favorite to win the 2024 election if she were to run. She is currently on the ticket with Biden having earlier made a run for the Democratic nomination herself.
Former first lady Michelle Obama remains a popular figure, with her favorability higher than president Trump and Biden's. She has been a strong supporter of the latter, while also offering praise to Harris in the run-up to the election.
The former first lady has been asked repeatedly about the prospect of a presidential run but said she would not.
Newsweek has contacted Obama, Harris for comment and reached out to Ivanka Trump through the White House and Donald Jr. through the Trump Organization.