MyPillow CEO Mike Lindell has said that is losing "about a million dollars a week" since he pulled his ads from the Fox News network.
"They're disgusting, what they've done to our country," Lindell said of the network while speaking on War Room, a show on Real America's Voice, a right-leaning media network. The host is hosted by Steve Bannon, former White House Chief Strategist under Republican President Donald Trump.
"I mean, it's terrible," Lindell continued. "I can't make this up. This is about a million dollars a week MyPillow is going to lose again... I want nothing to do with them if they're going to ruin our country and decide on events you have. 'Oh, I don't want it. You can't advertise that concert because we don't like who's playing.'"
Lindell was referring to his recent decision to pull his company's ads from the network after the network refused to air an advertisement for his upcoming "cyber-symposium."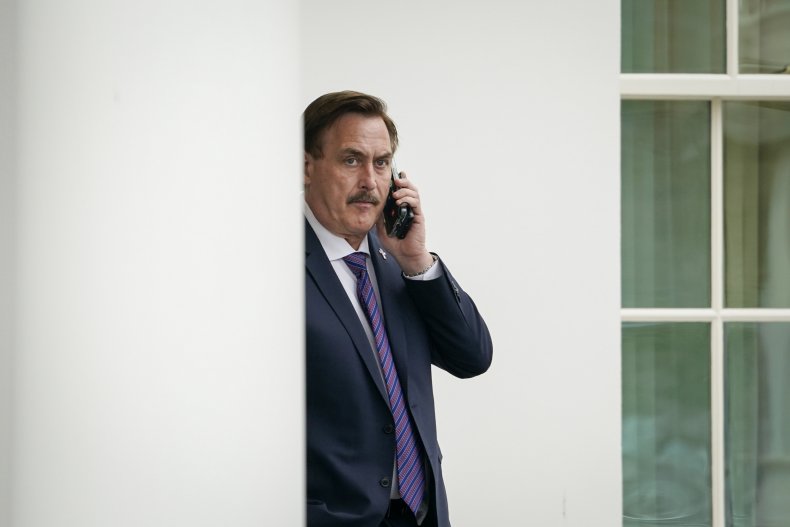 Lindell's symposium is supposed to occur this month in Sioux Falls, South Dakota. It will reveal, he claims, new evidence that voting machine fraud, orchestrated by China, stole the 2020 election from Trump. This evidence, Lindell said, will convince the Supreme Court to vote unanimously to reinstate Trump into office by autumn.
Fox News rejected Lindell's symposium ad near the end of July. Lindell said the ad wouldn't directly mention voting fraud. Fox News may have rejected the ad since the network is facing its own $2.7 billion defamation lawsuit by the voting machine company Smartmatic. Smartmatic accused the network of airing false and defamatory claims that the company had helped "steal" the 2020 election.
Before pulling his ads from Fox News, MyPillow was one of the network's biggest sponsors. Lindell spent $19 million in 2021 and $50 million in 2020 to advertise on the channel, he told The Wall Street Journal.
"It's unfortunate Mr. Lindell has chosen to pause his commercial time on Fox News given the level of success he's experienced in building his brand through advertising on the number one cable news network," Fox News said in a statement to Newsweek.
Lindell has previously claimed that Fox News helped Democrats steal the election because, on Election Night, the network called the state of Arizona early in favor of now-President Joe Biden.
Lindell is also facing his own $1.3 billion defamation lawsuit from Dominion Voting Systems over his past claims that the company helped steal the election. Lindell countersued the company for $1.6 billion, claiming that their lawsuit violated his Constitutional rights to free speech.
Trump lost the election by over 7 million popular votes and 74 electoral votes. Trump's own attorney general and federal head of election security both said there is no evidence that fraud affected the election's outcome. Trump has denied recent claims that he pressured his Department of Justice to baselessly declare the election as "corrupt."
Trump has also claimed that election fraud only occurred in the states that he lost. As such, Trump's claim contradicts another claim in Lindell's speech. Lindell said that voter fraud occurred in Tampa, even though Trump won Florida in the 2020 election.
On January 20, Lindell announced that a number of leading U.S. retailers stopped selling MyPillow products. He suggested the reason was because of his support for Trump. However, two of the retailers he named, Bed Bath & Beyond and Kohl's, said poor sales were the reason for discontinuing the product offerings and not Lindell's politics.
Newsweek contacted Fox News for comment.