Nigeria in 2016: Prudence in the Powerhouse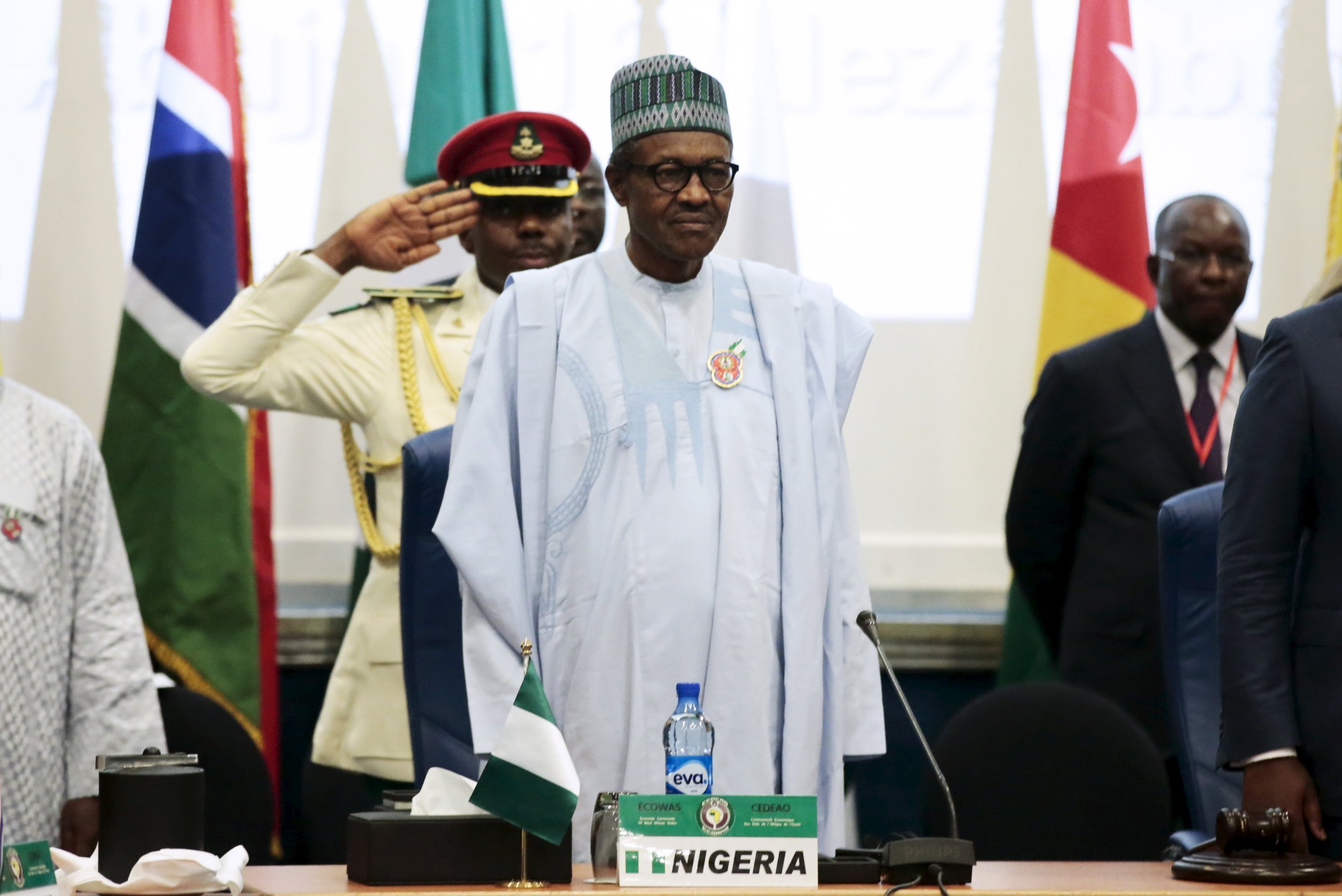 Nigerian President Muhammadu Buhari's 2016 budget speech, delivered on December 22, 2015, was ambitious in both its caution and idealism. It told of the administration's populist approach, its goals for governance reform, and the tension between its protective instincts and Nigeria's position as Africa's largest, globally connected economy.
Nigeria's 2015 presidential election was a watershed moment in the West African nation's democratic transition, and arguably for electoral politics in Africa, with the incumbent, Goodluck Jonathan, conceding to an opposition candidate for the first time in the country's independent history and doubtless preventing widespread bloodshed.
But positive change in this complex federal nation—composed of 36 states and more than 250 ethnic groups, comprising perhaps 180 million people—comes slowly. And 2015's seminal moment in Nigerian politics has not been matched on economy or security.
With December oil prices at $39 a barrel—compared to $112 a barrel in June 2014—the oil revenue-dependent government is struggling to make ends meet and pay its civil servants, both at state and federal level. It is determined to defend the national currency, the naira, as it wishes to. The government has spent billions to do so, restricting access to foreign currency and banning importation of 41 categories of items—which effectively extends to hundreds of items. So protecting the naira has cost Nigerian traders and manufacturers.
And herein lies one of the many complex conundrums awaiting Buhari's administration in 2016: This welfare- and development-driven government wants to tackle widespread youth unemployment and extreme poverty as priorities. To do this, it knows it must diversify the economy away from oil to generate both jobs and state revenues—it needs its businesses and manufacturers, those being hurt by import controls, to grow.
Yet there are concerns over the immediate social impacts of a further devaluation and the implications for stability and security of putting even greater pressure on the millions of people already only scraping by. Further instability and violent clashes are something that Nigeria could ill afford in 2016.
Boko Haram—which has renamed itself the Islamic State West Africa Province—continued with its bloody onslaught in 2015, carrying out suicide bombings and crude but devastating attacks on rural communities in Nigeria's northeast. Amnesty International reported that the group killed 1,600 people between June and September, the four months after Buhari was sworn in as president.
The extremist organization, which garnered further infamy by ranking ahead of ISIS as the world's deadliest terror group, came under pressure in 2015, as Nigerian and regional forces pushed it out of almost all local government areas it had formerly controlled in Borno state, the epicenter of the crisis.
But Nigeria's military has not been able to meet the December deadline initially set by the president to end the insurgency, as the group has used its fluid nature to adapt and continue with brutal attacks on soft targets. The Borno state capital, Maiduguri, suffered another terrorist attack days after Christmas. Near eradication of Boko Haram-related violence will be a priority for the president in 2016. This is a key test of his administration and service chiefs.
Though it is the worst and most internationally prominent, the fire in the northeast is not the only one the government is trying to put out. Long before the evolution of Boko Haram into a violent sect, ethnic and religious differences manifested in inter-communal clashes, claiming hundreds of lives, and these continue in many states.
Socio-economic drivers of conflict remain. It was this sense of exclusion and disadvantage, among other things, that sustained militancy in the oil-producing Niger Delta region for so long. 2015 saw pro-Biafran protesters in violent clashes with the state.
Nigeria's federal government is right to insist on the nation's indivisibility—it is so diverse and internally fragmented that any kind of secession or formal division would be near impossible to achieve. But in 2016 the government will need to have smart strategies to respond to existing security threats and prevent potential ones from becoming real.
It will need to find a way to make the south-south and southeast regions—which did not vote for Buhari and hold bitter memories of his time as military ruler in the 1980s—to feel heard and included. And it will need to consider how state and non-state actors engage with anti-state or insurgent groups early in a way that quells rather than foments violence.
This is a government of idealism: More than anything, Buhari's administration is about a governance overhaul. It was the president's anti-corruption credentials (along with smart campaigning by his party, the All Progressives Congress) that brought him to power. Expectations of his capacity to deliver on this agenda are high.
In 2016, Buhari's government, like those that preceded it, will struggle to find space to strategize, plan and implement in the face of constant pressures to react. The administration must govern in a maelstrom of economic, security and party political forces that evolve and intersect to produce unanticipated outcomes and more tangled policy challenges.
The president wants to do the right thing, on his terms. To do this, he will need to create space for reform. This will only be achievable if he can be a listening leader while demonstrating strength of will, and whether he, as a former military ruler, will be able to place trust in his ministers and heads of agencies.
Elizabeth Donnelly is the assistant head and a research fellow of the Chatham House Africa Programme. Chatham House is an independent policy institute based in London. Elizabeth tweets @LizzyAfricaProg.