'No ISIS in Syria,' Turkey Claims as U.S. Sends Troops to Border to 'Defeat ISIS'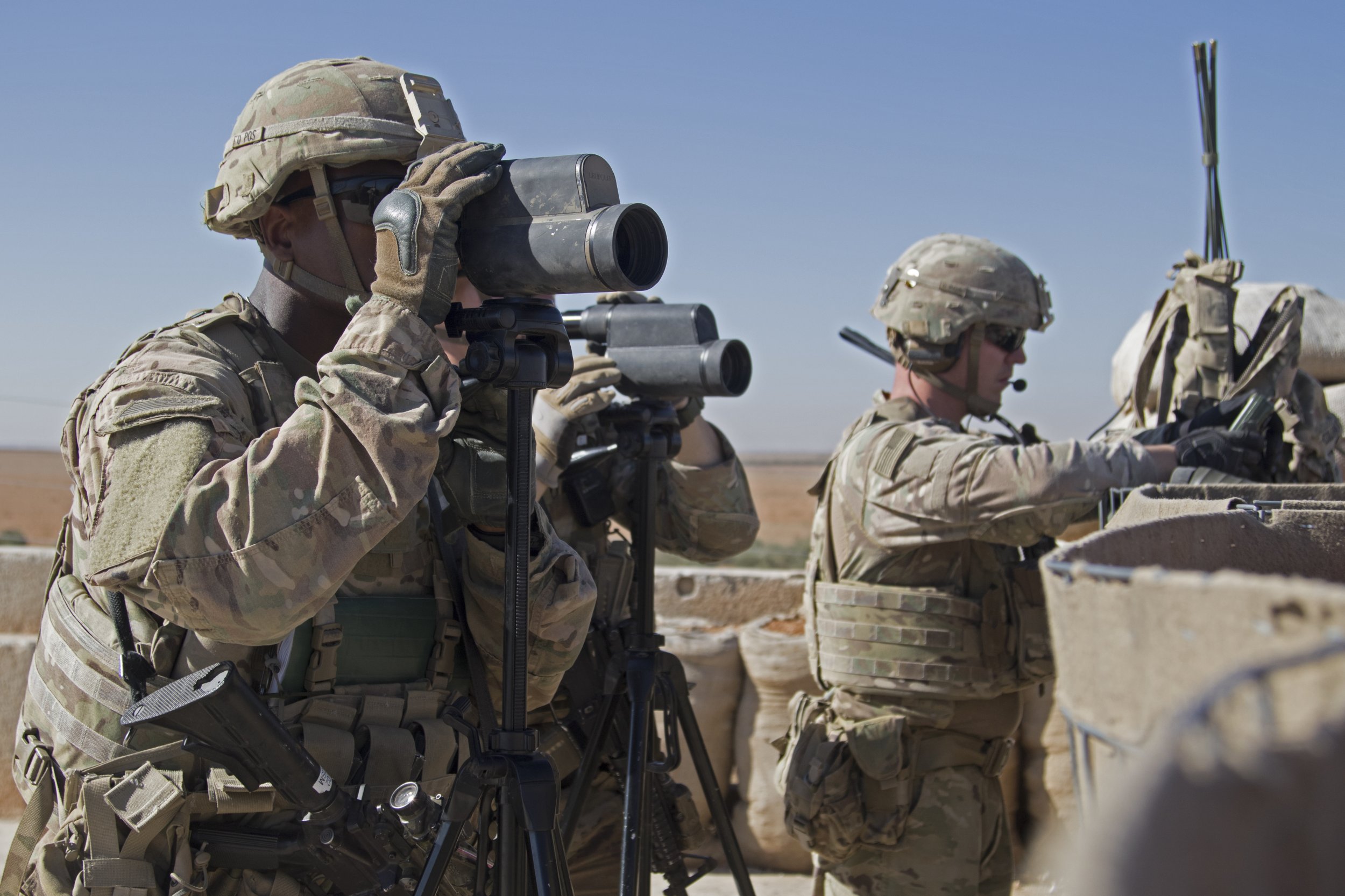 Turkish President Recep Tayyip Erdogan has claimed there is no Islamic State militant group (ISIS) in neighboring Syria, just as the U.S. military sent troops to his country's border as part of a stated mission to defeat the jihadis.
During a parliamentary meeting Tuesday with members of his ruling Justice and Development Party, Erdogan said that "there is no Daesh in Syria, there are only a small number of gangs who are kept in reserve, trained and equipped, allowed to mix in this country and the region under the guise of Daesh."
Turkey has been hit in recent years by a number of attacks originating from both ISIS and a decades-long Kurdish insurgency.
A number of Kurdish militias, such as the People's Protection Units (YPG), have also actively fought ISIS in Syria with U.S. support. Ankara considers these groups linked to banned organizations at home such as the Kurdistan Workers' Party and has stepped up operations against these groups on the border.
Erdogan has demanded that the U.S.-led coalition against ISIS end its support for the YPG, saying Tuesday that "this is an opportunity for those who say that they are allies, that they are strategic partners, and who want to carry our relations to the future by strengthening our ties politically, economically and militarily."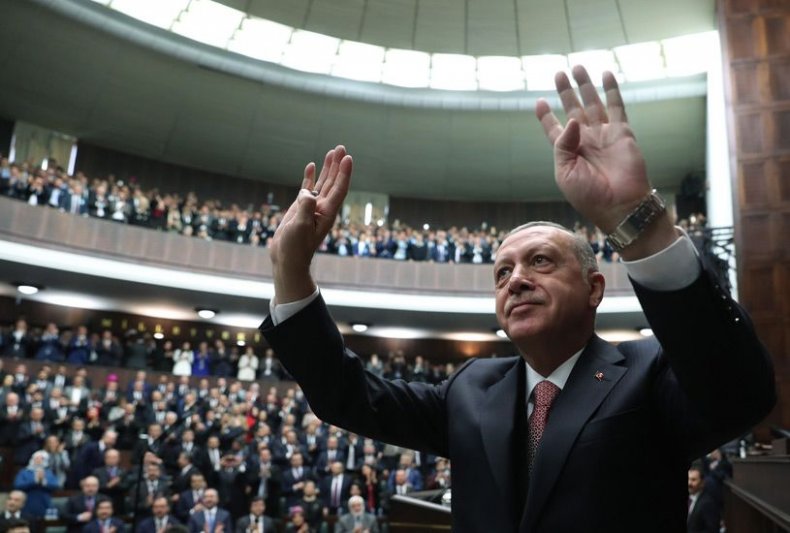 The Pentagon, however, has repeatedly referred to both Turkey and Syrian Kurdish fighters as crucial allies. A mostly Kurdish group known as the Syrian Democratic Forces became the top U.S. partner in Syria in 2015, largely replacing previous support for various insurgents attempting to topple Syrian President Bashar al-Assad in 2011. Other pro-opposition nations—such as Israel, Qatar and Saudi Arabia—have also largely abandoned their support for rebels as they were defeated by the Syrian military and its Russian and Iranian allies, but Turkey has remained a top sponsor.
Turkey has twice moved in on northern Syria in order to curb Kurdish advances, most recently in January when Turkish troops and allied formerly CIA-backed Free Syrian Army rebels ousted Kurds from the northern Aleppo district of Afrin, an operation that saw the U.S.-backed fight against ISIS in eastern Syria interrupted as Kurdish fighters rushed to defend frontlines in northern Syria.
Shortly after the U.S.-led coalition began its third and final phase of clearing out ISIS, the campaign was again temporarily suspended when Turkey began shelling Kurdish positions last month in northern Syria, prompting the Syrian Democratic Forces to appeal to both the U.S.-led coalition and Syrian government to take action. The U.S.-led coalition and Turkey had already begun joint patrols designed to avoid such clashes, but on Tuesday, the coalition announced that the U.S. had sent troops to the Turkish border.
"U.S. Forces are securing locations for manned Observation Posts on Syrian-Turkish border. The goal is to support security and stability on the border and enable the continued fight against ISIS. #DefeatISIS," the coalition's official account tweeted.
Turkish Defense Minister Hulusi Akar has expressed his country's "unease" to the Pentagon, arguing in a statement Saturday that the observation posts "would make the complicated situation in the region even more complicated." On Tuesday, coalition spokesperson Colonel Sean Ryan said the positions were "committed to security in the northern Syria region, it takes into account Turkey's security as well."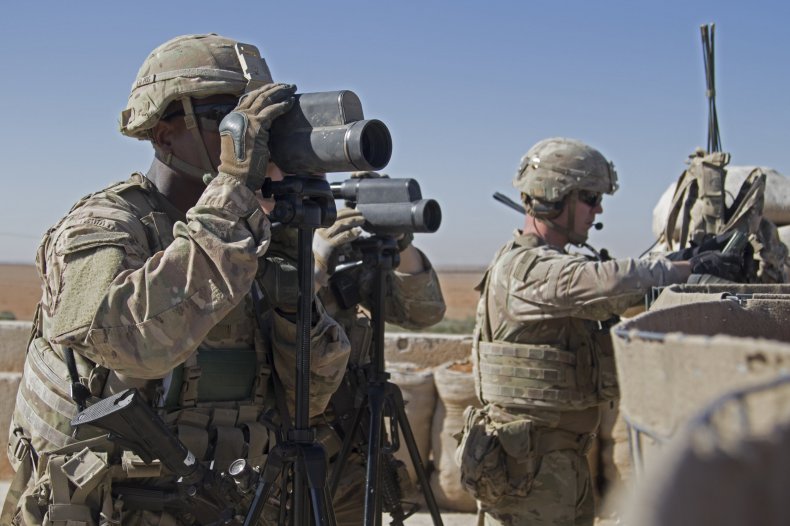 Turkey has also established observation posts, but has done so on the boundaries of Idlib, a northwestern Syrian province that borders Turkey-occupied Afrin and represents the last bastion of the Islamist-held insurgency against Assad. The rest of Idlib is flanked by territory held by the Syrian government, which has sent reinforcements to the area in anticipation of a potential battle to retake the province, which is dominated by groups affiliated with Al-Qaeda and is home to an estimated 3 million people, most of them civilians.
A deal between Turkey and Russia—which, along with Iran, also maintains observation posts near Idlib—has so far staved off fighting major fighting between Syrian troops and rebels in the area, though Russian warplanes launched airstrikes Saturday in response to an alleged chemical attack against government-controlled Aleppo. Syrian troops instead have engaged pockets of ISIS control in southern Syria and in the east, where pro-government fighters were battling the jihadis on the western bank of the Euphrates River.
On the other side of the waterway, the Syrian Democratic Forces have restarted their anti-ISIS offensive but have faced fierce resistance in the area surrounding the city of Hajin. ISIS militants recently staged a counterattack during a heavy fog, leading to at least 80 casualties among the ranks of the Syrian Democratic Forces, as well as reportedly dozens of jihadis.
The U.S. and Turkey have called for Assad's removal from power, accusing him of war crimes, though the Syrian Democratic Forces have entered into oft-stalled negotiations with the Syrian government. Meanwhile, Ankara has held regular talks with Moscow and Tehran in hopes of ending the protracted conflict.