Rep. Matt Gaetz to Speak at 'Women For America First' Event at Trump Doral on Friday
Republican Florida Representative Matt Gaetz will speak at the Save America Summit, a "Women for America First" event. The event will occur at the Trump National Doral Miami, a Florida golf resort associated with former President Donald Trump.
The summit's main topics will include election integrity, big tech and censorship, protecting the 1st and 2nd Amendments, furthering "America First" policies as well as defeating the "radical" agenda of President Joe Biden and Vice President Kamala Harris, according to the event's website.
"Rep Matt Gaetz has been a fearless leader in DC. Few members of Congress have been more willing than Matt to stand up & fight on behalf of President Trump & his America First Agenda," Women for America First wrote in a Tuesday evening tweet.
Gaetz is a vocal Trump supporter who is currently being investigated by federal authorities over allegations of sex trafficking a minor. Gaetz—who has previously said that his home state should have a welcome sign that says, "There's no age that you can't be sexy"—has said that his critics want to "criminalize" his past sex life.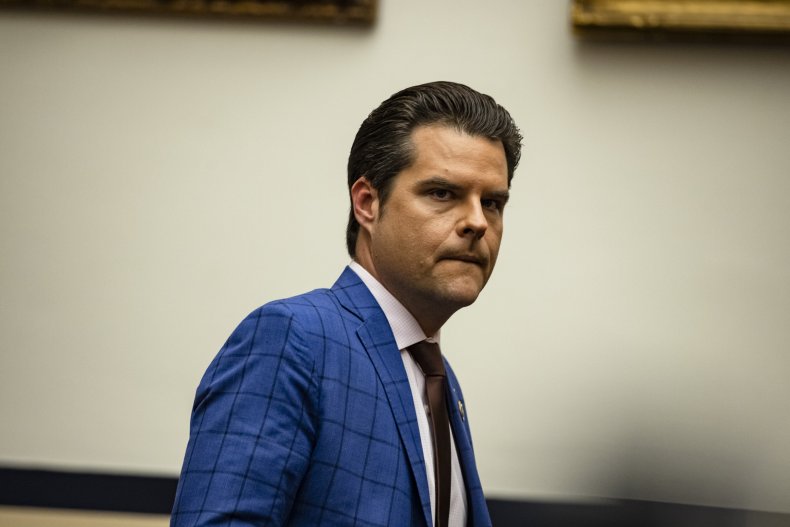 Tickets to the Save America Summit range from $500 to $5,000 each. The event's other speakers include Republican Congress members such as Marjorie Taylor Greene of Georgia, Louie Gohmert of Texas and Rand Paul of Kentucky. Also speaking at the event are right-wing conspiracy theorists Jack Posobiec and Amy Kremer.
After Trump lost the 2020 presidential election, Gaetz repeated the debunked claim that Republicans had proven that widespread voter fraud cost Trump the election. Soon after, Gaetz promised to oppose the electoral votes certifying President Joe Biden's victory. Congressional Democrats filed a petition in December seeking to disbar Gaetz, a former lawyer, for supporting meritless election lawsuits seeking to overturn Biden's victory.
More recently, Gaetz has opposed both Republican Senate Minority Leader Mitch McConnell of Kentucky and Republican Wyoming Representative Liz Cheney for accusing Trump of inciting the January 6 insurrection at the Capitol. Gaetz has also claimed that Democrats nominated Biden because he's "too frail" to make decisions on his own.
Some of the event's other speakers have histories of promoting conspiracy theories or committing inflammatory actions.
Posobiec has praised white supremacist Richard Spencer and once brought a sign to a rally advocating for the rape of former first lady Melania Trump. Katrina Pierson, national spokesperson of Trump's 2016 election campaign, once called slavery a part of America's "good history." She also defended Trump's lack of Black staffers by asking whether Abraham Lincoln had Black staffers during his administration in the early 1860s.
Writer Julie Kelly has accused infectious diseases expert Dr. Anthony Fauci of child abuse for advising children to wear face masks during the ongoing COVID-19 pandemic. Political activist Kremer said that witches had hexed Trump's Supreme Court nominees and established a Facebook group encouraging citizens to disrupt vote counts during the 2020 election.
Newsweek contacted Gaetz's office for comment.