Chance of Americans Getting Second Stimulus Check Before Election Plummets
Hopes of further stimulus check payments arriving pre-election have plummeted with time for such funds to be processed diminishing as stalemated negotiations on a relief deal continue.
While there is bipartisan support for further measures to be taken, with stimulus checks generally a point of agreement, talks have stalled over the finer details.
The Democrats' HEROES Acts, both the original and updated version, included another round of Economic Impact Payments, known by many as stimulus checks.
Some Republican lawmakers and the White House have also indicated support for these payments, though Senate Majority Leader Mitch McConnell is looking to push a slimmed down proposal which does not include them.
While President Donald Trump is pushing for a package to be signed off, Treasury Secretary Steve Mnuchin has downplayed the chances of this happening prior to the election. Lawmakers also previously indicated this appeared unlikely after a GOP proposal failed in the Senate.
Trump also suggested he would sign a standalone bill on stimulus checks, though Democrats have pushed for a comprehensive package to be agreed upon.
Even if a bill passing stimulus payments did get signed off before then and included stimulus checks, the chances of most people receiving their money prior to November 3 is fading.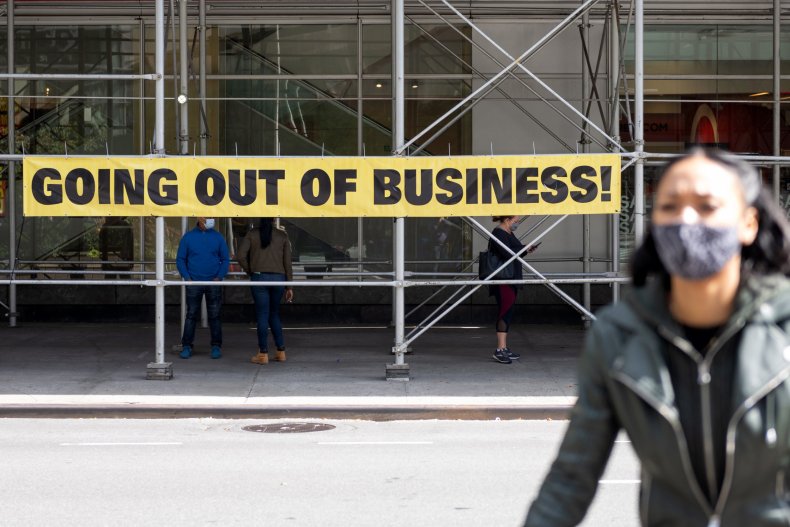 Chad Hooper, the national president of the Professional Managers Association (PMA) which represents managers at the Internal Revenue Service, previously told Newsweek that for most people to receive the payments before Election Day—sent to many in the form of direct transfers—they would have to have been signed off and processing begun by October 15.
"Some banks take up to five business days to post EFTs from the IRS so we would ensure as many as possible received the payment by 11/3 to have that transaction post to accounts by 10/15," Hooper said earlier this month.
He also said that it was his understanding for payments to begin arriving with people on November 3, then October 21 would be the last date possible for them to begin processing.
In further comments to Newsweek, Hooper said he did not think stimulus payments being paid before the election appeared feasible.
"From a legislative perspective, I'm not sure there's much time left for the Congress to feasibly get a bill to the President in time for his signature and our work to begin," he said.
"None of our Hill contacts seem hopeful... and I'm not seeing the same busyness around a potential EIP.
"The signals from the Senate appear adverse in terms of passing legislation inclusive of stimulus checks."
He said: "I should add that all conversations we've had indicate that Treasury is very supportive of further stimulus for taxpayers. Our association, for its part, is supported by deeply compassionate managers, many of whom are experiencing many of the same financial and caregiving challenges as all Americans. We hope the Congress will be bold and brave in directly supporting taxpayers, including small businesses."
Newsweek has contacted the IRS and the Treasury for comment.
The diminishing hopes of checks pre-election comes with bipartisan support for the payments among the public. The CARES Act signed off $1,200 payments to eligible individuals, with polling showing backing for another round. Many of those polled suggested the money would help with covering essential living costs.
As lawmakers have played down hopes of a pre-election deal, the public's hopes of one prior November 3 has also diminished.
There have been more than 7.9 million confirmed coronavirus cases across the U.S. throughout the pandemic, according to Johns Hopkins University figures.
The graphic below, from Statista, shows the numbers confirmed across different states as of October 12.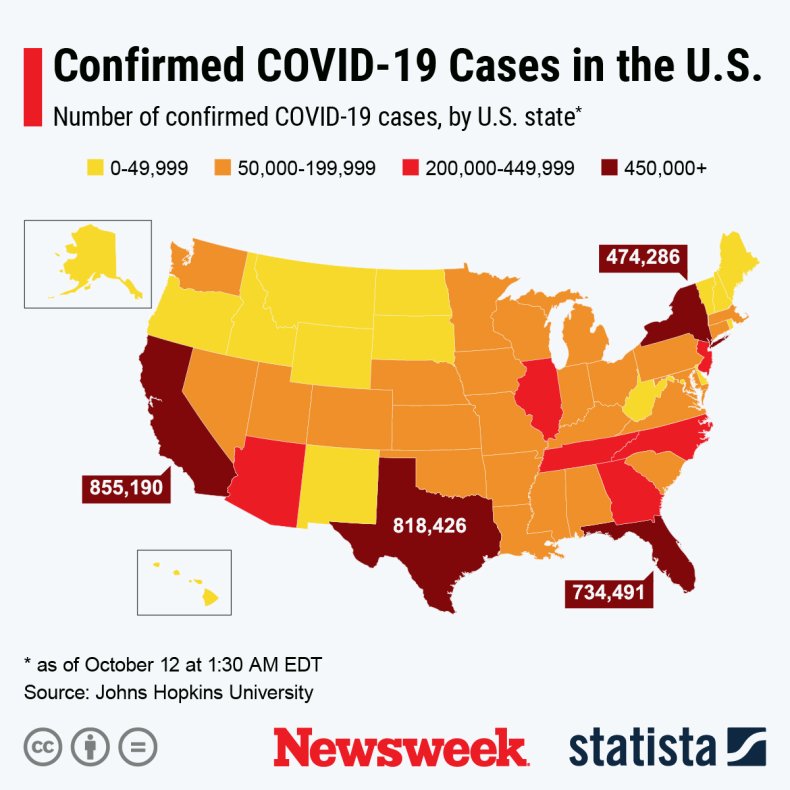 Chance of Americans Getting Second Stimulus Check Before Election Plummets | U.S.