Lenovo Grows Customer Connections With Oracle CrowdTwist
Lenovo, the Fortune Global 500 tech company behind the popular ThinkPad laptops, knows that people don't buy a new PC, mobile device or gaming console every few months. The typical three- to four-year sales cycle for such products poses a challenge to keeping the Lenovo name front of mind.
"Lenovo has the same challenge as other makers of high-value products—staying engaged with customers over that elongated cycle," acknowledged Carlo Savino, the company's vice president of e-commerce, Americas.
Even as the world's largest PC manufacturer, added Savino. Lenovo remains committed to building upon the brand loyalty it has fostered with passionate consumers and small businesses, and to cross-promoting the breadth of solutions and services the company offers.
The MyLenovo Rewards program, which Savino helped launch in the U.S. three years ago, is making members aware of Lenovo's other products and services via promotions, sweepstakes and just plain old communication. The program awards points for purchases, of course, but it also offers incentives for members who review products, answer questions, share their birthdays or other personal information, and provide feedback.
One popular contest was the Hybrid Work Bundle Sweepstakes. It offered a $1,200 package consisting of a Lenovo Yoga Tab 13, a Logitech MX Keys Mini for Business (in Graphite), an STM Goods Myth backpack (notebook size), a Jabra PanaCast 20 camera, a Jabra Evolve2 65 stereo headset (without charging stand), a Lenovo Go Tech Accessories Organizer and a Lenovo Go USB-C Wireless Mouse (in Thunder Black). The loyalty team saw a 55 percent increase in entries for this sweepstake over prior quarter sweepstakes.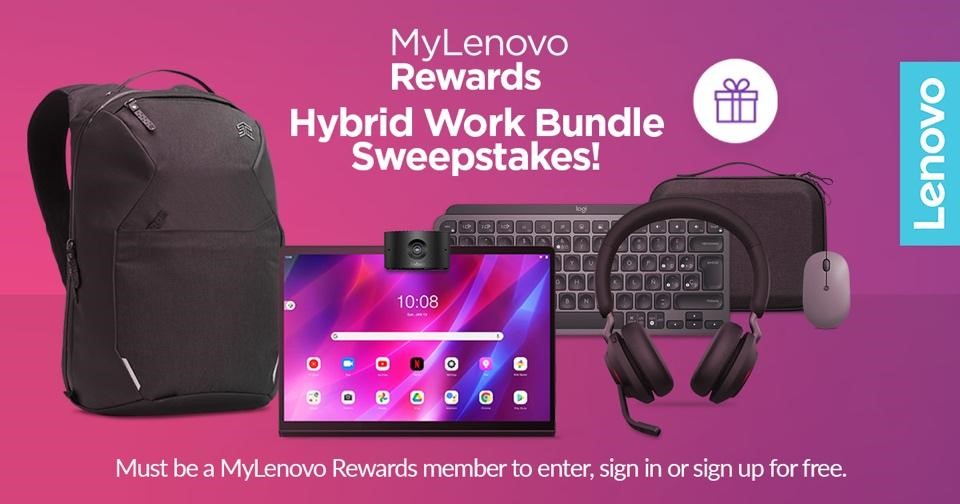 Keeping Customers Engaged and Happy
After an extensive search process involving multiple vendors, Lenovo chose a cloud-based application called Oracle CrowdTwist Loyalty and Engagement to run the program. Savino was especially impressed with how one Oracle CrowdTwist customer, a maker of high-tech beds, used the cloud technology to keep its customers close throughout an even longer sales cycle—eight to 10 years. His thinking was, If Oracle CrowdTwist can keep those consumers involved over that long stretch, it probably could do the same for Lenovo. And it has.
Lenovo's initial tactical goal was to sign up 1 million members in North America, something the company will achieve by the end of its latest fiscal year. But it also aims to bring more members aboard while keeping current customers connected and happy. And it also wants to collect and use member feedback to build better products and services.
"We do the traditional things to drive conversation at the point of sale," Savino explained. "But we also want to keep people engaged after the purchase, to reward them for filling out monthly surveys, for referring new customers and for providing feedback."
Lenovo acts on much of that input. "Customers told us that knowing when they will get a product at their door is very important," Savino said. "That was actionable, so we put expedited delivery on our roadmap, and we recently added two-day delivery for all our members—completely free."
Customers also said they want to use rewards points on things other than products—to be able to donate accrued points to support community groups and philanthropies. That capability, too, is coming to MyLenovo Rewards.
Adapting to Change
The program has evolved in other ways since its launch three years ago. It has expanded from the U.S. to Canada, and from being consumer-only to including small- and medium-size businesses in both countries. This evolution will continue as the team eyes expansion to new countries and continues its efforts to build communities of small-business owners, students, gaming enthusiasts and, of course, loyal customers.
These efforts are intended to facilitate communication not only with Lenovo but also with one another. The company is also drawing on member feedback, looking to add experiences such as in-person concerts or other performances to the list of rewards for which they can obtain MyLenovo points.
"We are investing to make this a world-class program, and being world-class requires that we adapt to a constantly evolving landscape," Savino explained. Lenovo's use of Oracle CrowdTwist, itself a constantly evolving platform, is an important part of that ongoing process.