'This Is What Losing Looks Like,' CNN Host Slams Trump's Government Shutdown, Inability to Get Border Wall Funding
Conservative CNN host S.E. Cupp issued a scathing rebuke of President Donald Trump's ongoing government shutdown, which became the longest in history this weekend.
"The shutdown has shut down the president," Cupp, who identifies as a Republican but has been a staunch critic of Trump, said during her Saturday evening television program. "It's the 22nd day of the partial government shutdown, making it the longest in American history," she pointed out. "Yesterday, thousands of federal workers received paychecks for zero dollars, as a wave of anxiety washed over countless families, who wonder how they will pay the bills."
Cupp then explained that Trump remains proud of the shutdown, having vowed to keep it shut down for years if he doesn't get $5.7 billion in funding for a wall on the southern border of the United States with Mexico. She also criticized the president's address last week from the Oval Office, saying it looked like a "hostage video." The host pointed out that Trump's proposal to declare a national emergency to build the barrier has drawn concern from Republican lawmakers. Calling the administration's other idea to fund the wall with $13.7 billion allocated for hurricane victims, Cupp said: "boy this guy is desperate, ain't he."
After continuing to mock Trump for falsely stating that he'd never claimed Mexico would pay for the border wall with a direct payment, Cupp explained that the president has now reportedly suggested he will accept a significantly lower budget compromise of $2 billion or slightly more.
"This is what losing looks like," she said."You're not getting your $5.7 billion border wall, not from Mexico, not from Congress, and I'm willing to wager not from taxpayers either." The host then reminded viewers that Trump was unable to fund the border wall even when he had full Republican control of Congress and greater public support.
Trump forced the government to shut down before Christmas, after he refused to sign a bipartisan budget that would have kept the government running, because it didn't include funding for the southern barrier. Since then, he has refused to support other bipartisan proposals that would have increased funding for border security, but not a wall.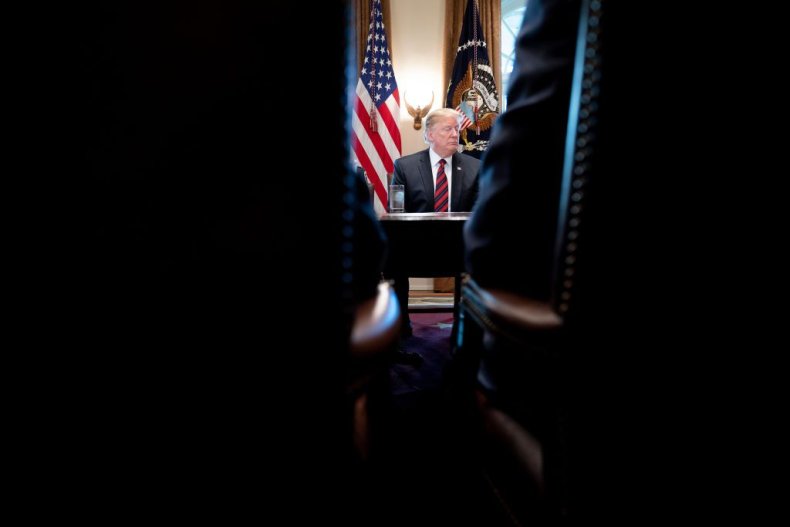 Democrats and experts have long argued that such a structure would be ineffective, not to mention exorbitantly costly. Notably, previous estimates for the wall were set significantly higher at about $25 billion, meaning the president had already significantly reduced his demands prior to the shutdown. Analysts have suggested that Trump simply wants a political win, as "Build the Wall" was one of the main chants from his base during his 2016 campaign. Former staunch backers of the president, such as right-wing pundit Anne Coulter, have blasted the president's inability to fulfill the campaign promise, predicting he will lose in 2020 unless he constructs the wall.
Meanwhile, hundreds of thousands of federal employees continue to work without pay or have been temporarily furloughed. Although Congress passed legislation to ensure these workers would get their back pay when the government fully reopens, it's unclear when that will be with the president refusing to compromise. Unions for federal works have launched lawsuits against Trump and employees have organized protests as a result.