Video of 'P*****' Amy Robach Ranting About Jeffrey Epstein Resurfaces
Video footage of Amy Robach talking in 2019 about how ABC killed her story about convicted sex offender Jeffrey Epstein's trafficking of minors three years prior has recently resurfaced on social media.
The footage was reportedly taken in August 2019 and published online in November of that year by the right-wing activist group Project Veritas.
Robach, 50, expressed frustration that her interview with Epstein's accuser, Virginia Giuffre (née Roberts), was never aired.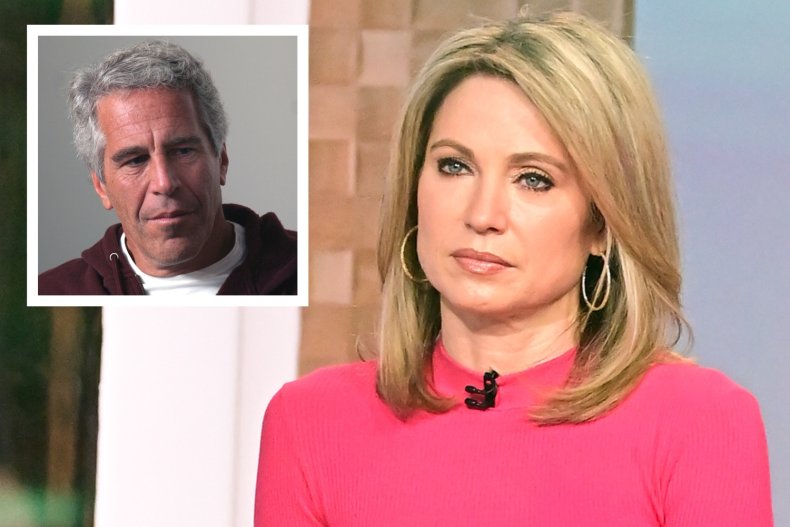 "I've had this story for three years," Robach said, while sitting in a New York City studio. "I've had this interview with Virginia Roberts. We would not put it on the air. First of all, I was told, 'Who is Jeffrey Epstein? No one knows who that is. This is a stupid story.'
"Then the palace found out we had her whole allegations about Prince Andrew and threatened us in a million different ways," Robach added. She was referring to the British royal to whom Roberts alleged in a 2015 court filing Epstein trafficked her when she was 17.
In the clip, said to have been leaked by an ABC employee, Robach said that the network feared it would lose interview access to Prince William and Kate Middleton. This contributed to the story being dropped. At the time of the video's release, Buckingham Palace did not return a request for comment on Robach's claims.
"[Roberts] told me everything," Robach said in the clip. "She had pictures. She had everything. She was in hiding for 12 years. We convinced her to come out. We convinced her to talk to us. It was unbelievable what we had. [Bill] Clinton. Everything."
Robach, who recently exited ABC News after her relationship with GMA3: Everything You Need to Know co-host T.J. Holmes was revealed, then said: "I tried for three years to get it on [air]. And now it's all coming out. I'm so p***** right now. Every day I get more and more p*****. What we had was unreal."
The footage recently resurfaced and was shared this month on the Twitter account of Juanita Broaddrick. She had alleged that she was raped by former President Bill Clinton in 1978, when he was serving as the Attorney General of Arkansas.
Highlighting a part of what Robach said in the clip, Broaddrick wrote: "'I had the story for 3 years. We had Clinton... we had everything.' Amy Robach on Epstein."
Epstein owned a private Caribbean island, called Little St. James, and regularly flew there on his private jet with guests. His plane was derisively nicknamed the "Lolita Express" after allegations that it was used to fly underage girls to some of Epstein's properties.
In the video, Robach did not specifically claim that Clinton was on the island. However, she spoke of "a lot of powerful men" who flew on Epstein's jet and visited his home.
While Epstein died by apparent suicide while in jail back in August 2019, Robach backed a persistent theory about how the disgraced financier's life ended.
"Do I think he was killed? One hundred percent, yes I do," Robach said during the candid hot-mic conversation. "He made his whole living blackmailing people. There were a lot of men on those planes. A lot of men who visited that island. A lot of powerful men who came into that apartment."
Responding to the video leak back in 2019, ABC News told Newsweek: "At the time, not all of our reporting met our standards to air, but we have never stopped investigating the story. Ever since, we've had a team on this investigation and substantial resources dedicated to it."
In a separate statement, Robach said at the time of the leak: "As a journalist, as the Epstein story continued to unfold last summer, I was caught in a private moment of frustration. I was upset that an important interview I had conducted with Virginia Roberts didn't air because we could not obtain sufficient corroborating evidence to meet ABC's editorial standards about her allegations.
"My comments about Prince Andrew and her allegation that she had seen Bill Clinton on Epstein's private island were in reference to what Virginia Roberts said in that interview in 2015," Robach continued. "I was referencing her allegations—not what ABC News had verified through our reporting.
"The interview itself, while I was disappointed it didn't air, didn't meet our standards," Robach added. "In the years since, no one ever told me or the team to stop reporting on Jeffrey Epstein, and we have continued to aggressively pursue this important story."
Speaking with NPR back in August 2019, Giuffre said she was never told why the interview she filmed with ABC in 2015 didn't air. "I viewed the ABC interview as a potential game-changer," she told the news outlet.
In 2015, Giuffre, then 31, alleged in a sworn affidavit that she was a "sex slave" to Epstein when she was 17. She was also trafficked by him and British socialite Ghislaine Maxwell to Prince Andrew, who has denied all allegations.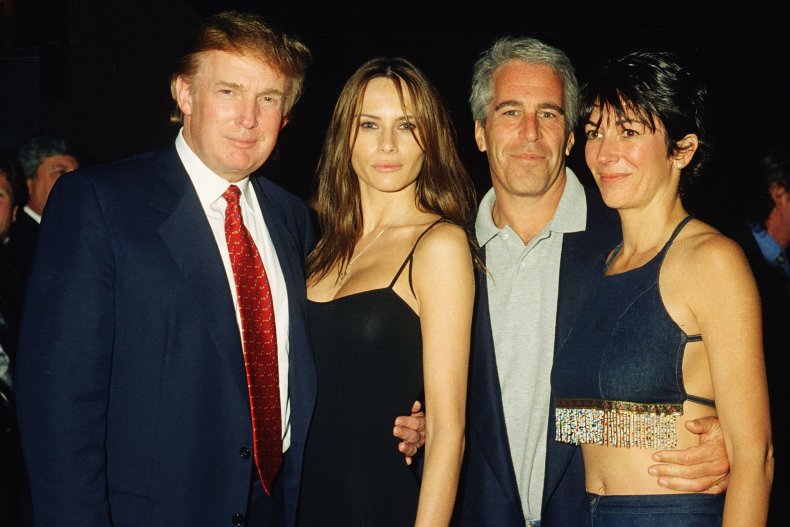 At the time, Buckingham Palace denied the accusations. Court documents unsealed following Epstein's death include a deposition. In it, Giuffre claimed that she was sexually abused by "numerous prominent American politicians, powerful business executives, foreign presidents, a well-known prime minister and other world leaders."
Epstein's personal pilot gave testimony during the New York City trial of Epstein's former partner Ghislaine Maxwell. For nearly 30 years, Larry Visoski piloted the Boeing 727 that reportedly hosted a spate of famous names, including Prince Andrew and numerous United States senators.
Visoski testified that he never saw evidence of sexual activity on planes. He flew Epstein and his high-profile passengers aboard the two jets for roughly 1,000 trips between 1991 and 2019.
Visoski told the court that he recalled Prince Andrew being a passenger on the jet as well as actors Kevin Spacey and Chris Tucker. He also remembered violinist Itzhak Perlman and named tech mogul Bill Gates, as well as politician and former astronaut John Glenn.
Former Senate Majority Leader George Mitchell was also named by Visoski as being a passenger on the "Lolita Express."
Conspiracy theorists have erroneously linked several celebrities and public figures to Epstein over the years, falsely stating that they had flown on his jet. There is no suggestion that those who flew on the jet were involved in any illegal activity.
During Maxwell's trial, the pilot was asked if he ever saw sex acts with underage females, to which he replied: "Absolutely not."
In June 2022, Maxwell received a 20-year jail sentence for trafficking girls for Epstein to abuse.
Newsweek previously reported that records show former President Donald Trump boarded Epstein's plane seven times, though no evidence of wrongdoing has been presented.
Over the years, Trump has distanced himself from Epstein. After Epstein's 2019 arrest, the then-president said he knew Epstein only because "everybody in Palm Beach" did.
"I had a falling out with him. I haven't spoken to him in 15 years. I was not a fan of his, that I can tell you," Trump said. But, earlier on, he offered more complimentary words toward his former friend.
"I've known Jeff for 15 years. Terrific guy," Trump told New York magazine in 2002. "He's a lot of fun to be with. It is even said that he likes beautiful women as much as I do, and many of them are on the younger side."