Buying a house is one of the most stressful experiences of our lives, and one of the most expensive things most of us will ever purchase.
But whether you're looking for a studio in the city or a sprawling country estate, we've rounded up the wildest listings from 2021, which include ghosts and Ronald McDonald.
Buyers Met by Medieval Knight Giving Tours of Washington Castle for Sale
If you're after a knight in shining armor, this four-bed, four-bath house in Washington is for you.
Realtor Jonas Elber, of Elber and Associates, gave the home at 12227 E. Tallman Road, Chattaroy, which was on the market for $600,000, a unique talking point by having a knight stage the photos.
The listing described the home as featuring a north and south tower, a barrel shaped ceiling, as well as "battlements" and a "fortress wall."
Sadly the knight didn't come with the house.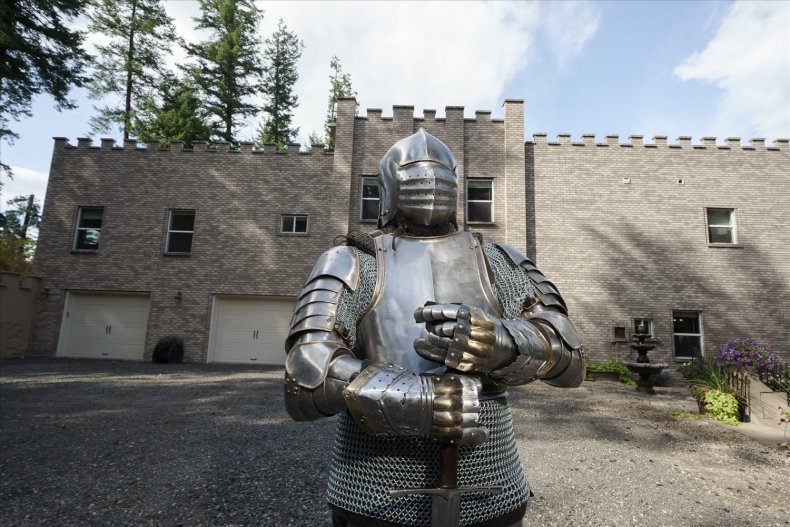 Boston's Iconic Skinny House Measuring Just Over Ten Feet Wide up for Sale
They say less is more, and that's certainly the case in Boston when the city's iconic skinny house went up for sale earlier this year.
The single family residence, at 44 Hull Street, boasts two bedrooms and one full bathroom arranged over four levels, and a basement.
It comes with a price-tag $1.2 million, but the catch is the house measures just 10 feet wide.
The 19th century building is something of a local attraction, however, with the listing by CL Properties calling it "an iconic landmark property deep rooted in Boston History."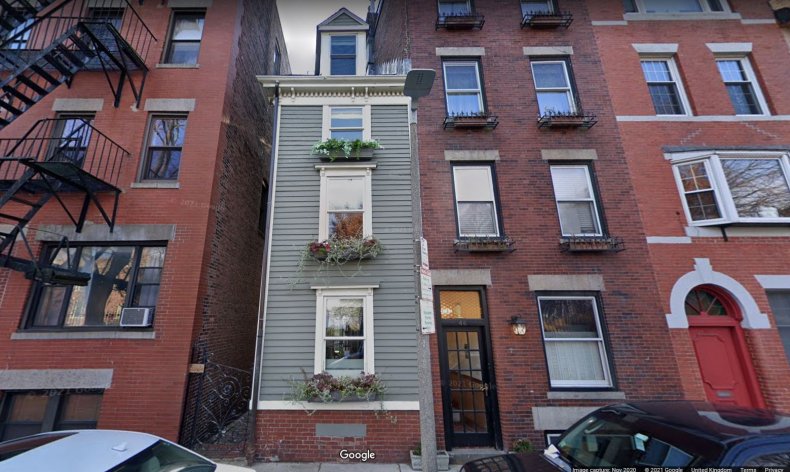 Video of New York City's Narrowest Apartment Listed for $5M Sparks Fury: 'What a Joke'
This next house is even thinner than its Bostonian counterpart, with 75 1/2 Bedford Street, in New York, measuring just 8 feet and 7 inches wide.
Despite its narrow stature, the three-storey home, officially known as the Millay House, went on the market for a cool $5 million.
Luxury real estate agent, Erik Conover, gave viewers a tour, showing off three wood-burning fireplaces and even a clawfoot tub.
The home was constructed in 1873, in what was previously the carriage entranceway for a set of stables that existed between 75 and 77 Bedford Street.
McDonald's-Themed House With Ronald Statue Compared to a 'Horror Movie'
Everyone loves a cheeky McDonald's, but one fan of the fast food giant took their enthusiasm to the next level.
A home in Nassau County, New York, paid homage to the golden arches by installing numerous signs and a vintage McDonald's appliance, resembling a popcorn machine, in the corner.
While there's a full-size Ronald McDonald statue in the living room, and vintage seating from the restaurant, with the décor compared to a "horror movie."
The 3,474 square foot house, built in 1947, has seven bedrooms, four bathrooms, a pool and a garage, and was on the market for $1,375,000.
House Hunters Baffled by Florida Home With a Tree Growing in the Kitchen
Natural light and outside space are highly sought-after features, but one buyer is getting more nature than they ever thought possible.
A home on the waterfront of Gulfport, Florida, went on the market for $899,000, sporting four bedrooms and three baths, and a giant tree growing in the kitchen.
The home, set among 2,874 square feet, went up for sale earlier this year, listed by Gulfport Realty.
They told Newsweek: "The room of the house was built around the tree."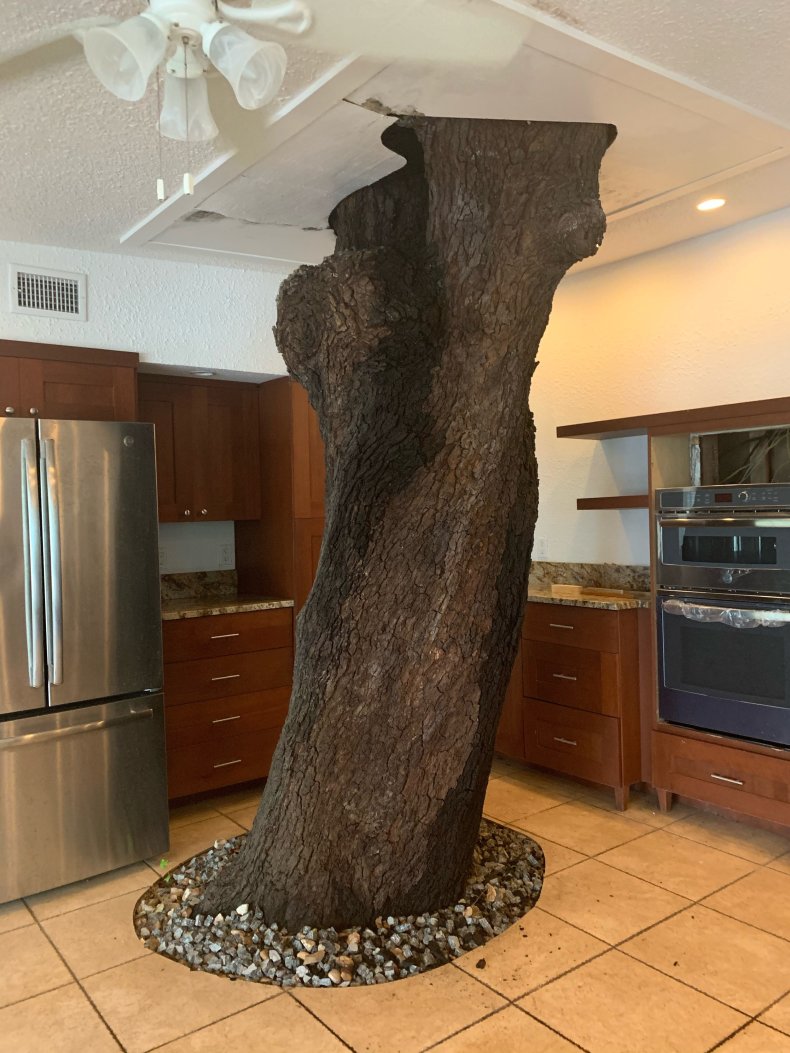 Minnesota House Listing Reveals Sprawling Cave System Hidden Inside
This seemingly innocent four-bed, three-bath in Rochester, Minnesota, was hiding a huge secret—3,600 square feet of connected caves.
The $550,000 hillside home, located at 933 11th Street SW, was built in 1926, and went on the market earlier this year for the first time in 34 years.
Edina Realty, who listed the home, noted: "One of the most enticing features are the attached caves."
The cave itself is said to measure 200 feet long, 18 feet wide and more than eight feet high.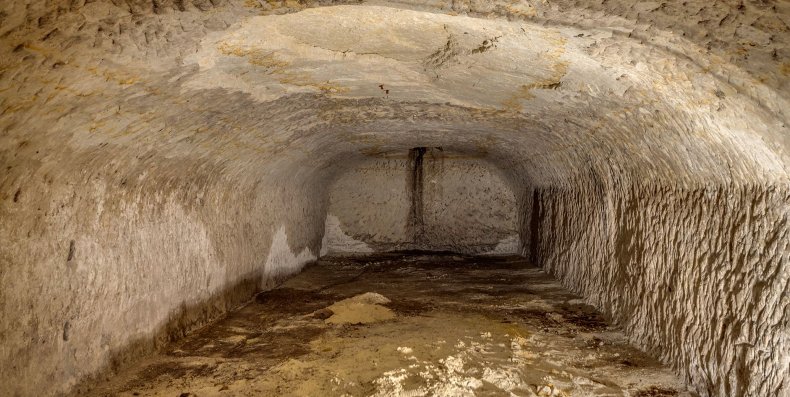 Seller Stages Battered House With Creepy Skeleton, Assures It's 'Not Haunted'
Glossy photos can make or break a sale, so when faced with a dilapidated property, realtors at the Lisa Vela Group and Five Star Real Estate embraced its look.
They staged the five-bedroom, two-bathroom house in Muskegon, Michigan, with a skeleton, posing in each room.
Bre McCarthy told Newsweek the idea came from the house having "good bones."
The $74,900 home was guaranteed to be "not haunted" in the listing, which claimed the home also featured "secret doorways."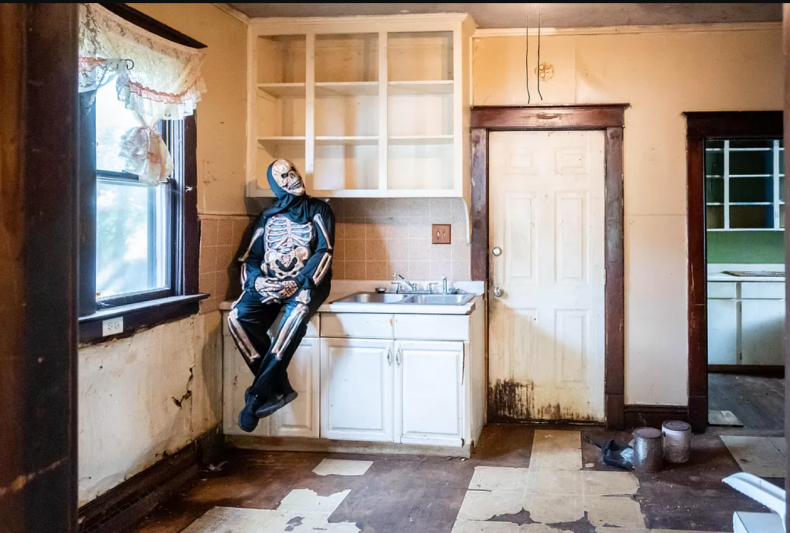 'Haunted' 1836 House Which Inspired 'The Conjuring' Up for Sale
Moving onto a house which definitely is haunted, the 1836 house which inspired The Conjuring went on the market earlier this year.
The three-bed, one-and-a-half bath home, in Rhode Island, features 14 rooms sat on eight acres, and boasts 3,000 square feet of space.
The 19th century house, on sale for $2 million, was listed by The Blackstone Team of Mott & Chace Sotheby's International Realty.
"Legend has it, the home is haunted by the presence of Bathsheba Sherman, who lived in the house in the 1800s," they said.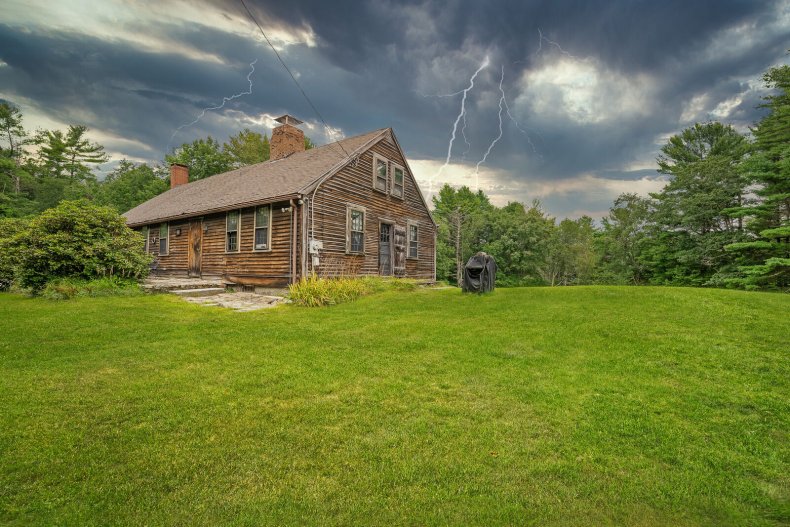 You Can Now Buy a Florida House Which Has Its Own Ghost Called Fred
Sticking with the spooky theme, this next property is also haunted, with its resident spirit named Fred.
The six-bedroom house in West Gadsden Street, Pensacola, Florida, was built in 1900, and was marketed by Re/Max. for $750,000.
It's said a former owner, Thomas Finch, who died from the flu in 1908, is part of the furniture in the sprawling home.
The listing said: "This property has also been featured on the Pensacola Ghost Tours that occur around Halloween each year—but who believes in ghosts?!?!?!"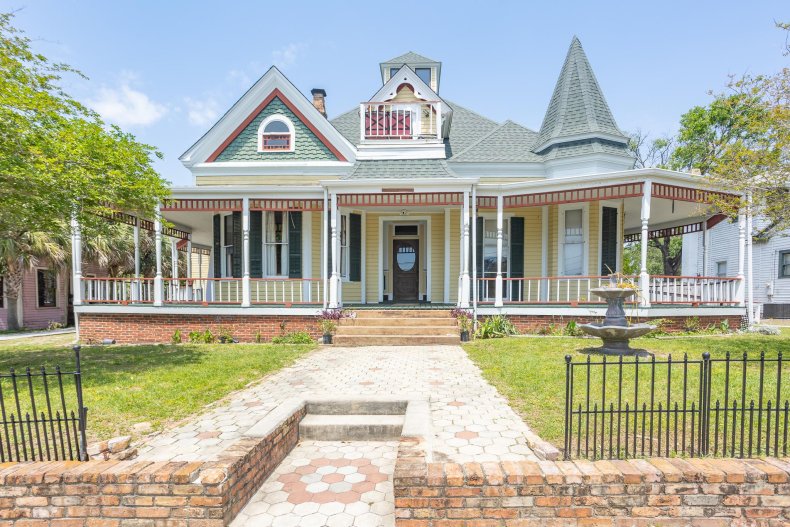 Iconic Florida House From Classic 90s Film 'My Girl' Is on Sale for $675K
Staying in The Sunshine State, the iconic house from the coming-of-age film, My Girl, starring Macaulay Culkin, went on the market for $675,000.
The eight-bedroom home, located at 555 East Stanford Street, Bartow, was described as "Hollywood history" by realtors, Blue Lighthouse Realty Inc.
The 9,508-square-foot house was built in 1906, and boasts seven fireplaces, 15-foot high ceilings, two carriage houses and a 50-foot pool.
But the exterior is what it's famous for, with its "New-England style" wraparound porch used as the backdrop for numerous scenes in the 1991 movie.
Realtor's Brutally Honest $25K Home Listing: 'Bring Your Dumpster'
There's nothing like finding structural damage and repairs after buying somewhere, but one relator laid all their cards on the table.
A home in Iowa went on the market for just $25,000, with agent, Laura Bailey, embracing its flaws.
The listing for the three-bedroom and one-bathroom property said: "If you are a fan of horror flicks and supernatural, you will love the creepy feel this home has with all the creaky boards, cold walls and the haunted exterior look with broken siding, weeds growing into the home and save time scraping off the lead-based paint, being half of it is missing."