Ugandan President Yoweri Museveni Says He Must Be a 'Wonderful Dictator'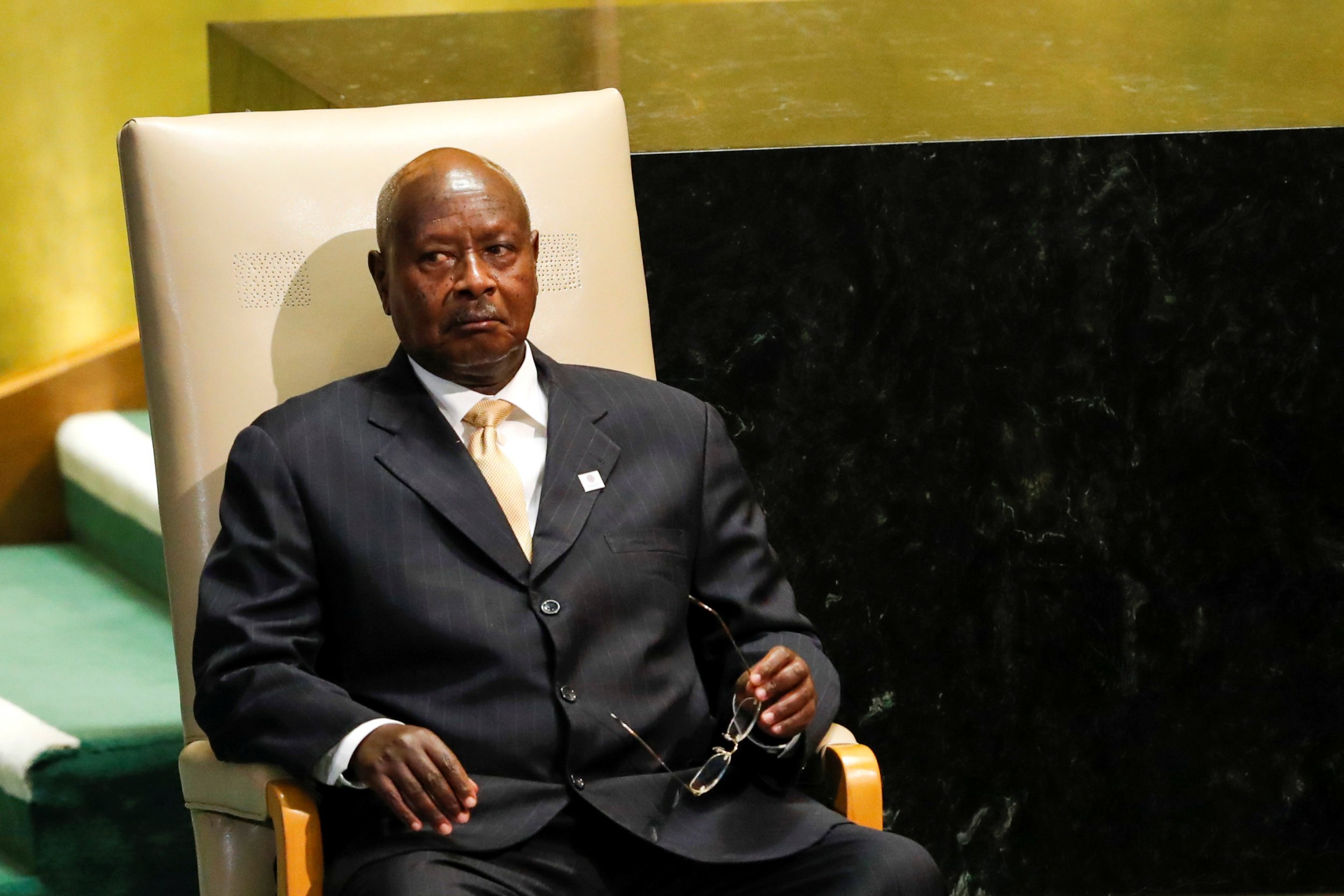 "Wonderful" and "dictator" aren't two words you usually see together.
But that was the phrase Ugandan President Yoweri Museveni chose when asked how he sees his legacy after staying in power for more than three decades in the East African country.
Museveni, 72, came to power in a 1986 rebellion and has won five elections since multiparty democracy was introduced in 1996. But opposition activists and international observers have criticized Museveni and his National Resistance Movement (NRM) for allegedly rigging polls.
The Ugandan president was questioned on how he thinks he will be remembered in an interview with Al Jazeera published Saturday. "How can you guarantee that you will not be remembered as a dictator instead of a democratic president?" asked the interviewer.
"A dictator who is elected five times. That must be a wonderful dictator. That must be a special one. Elected five times with all this big majority. That must be a wonderful dictator," Museveni responded.
Museveni's latest election victory was in 2016, when he took a 61 percent majority ahead of opposition leader Kizza Besigye, who polled around 35 percent. Western observers, however, raised concerns about the polls: An EU observer mission said that the ruling National Resistance Movement created an "intimidating atmosphere," while the U.S. State Department said reported irregularities—including the detention of Besigye, who was arrested on several occasions before and after the vote—were "deeply inconsistent" with international standards of democracy.
The Ugandan president has rejected the allegations and said in the Al Jazeera interview that Besigye had been arrested because he "broke some laws," including allegedly holding opposition rallies without permission from the country's election commission.
Under Museveni's rule, Uganda has witnessed decades of sustained economic growth and poverty reduction, according to the World Bank. The country has also become a haven for refugees fleeing civil war and famine in neighboring South Sudan: The country is hosting almost 800,000 refugees and is home to the world's fastest-growing refugee camp, the Bidi Bidi settlement in northern Uganda.
But Museveni's rule has also been marred by allegations of human rights abuses and crackdowns on freedom of speech. In November, clashes between security forces and guards of a traditional king in Rwenzururu, western Uganda, resulted in dozens of deaths; Ugandan police put the death toll at 87, but Human Rights Watch (HRW) said it was higher than 150. Museveni told Al Jazeera that the Rwenzururu matter was before the courts, but denied that the king was targeted for allegedly supporting the opposition during the 2016 election.
The Ugandan government has also come under fire over the detention of an academic, Stella Nyanzi, who criticized Museveni and the first lady on social media for failing to fulfil a government pledge to provide free sanitary pads to schoolgirls. But in the Al Jazeera interview, the president said Nyanzi's right to freedom of speech did not allow her to insult others. "To enjoy rights, you must also respect the rights of others."
Museveni's 31 years in power makes him the fifth-longest serving head of state in Africa, behind Teodoro Obiang Nguema Mbasogo of Equatorial Guinea, Angola's Jose Eduardo dos Santos, Robert Mugabe in Zimbabwe and Cameroonian President Paul Biya.
By the time of Uganda's next scheduled election in 2021, Museveni will be too old to run; the country's constitution sets an upper age limit of 75 years old for president candidates. Only 24 percent of Ugandans support removing the age limit, according to a recent survey by polling company Afrobarometer.