Bethenny Frankel Weighs In on Adam Levine DM Allegations: 'I'm Bored'
Bethenny Frankel has weighed in on Adam Levine's alleged cheating scandal.
Levine was accused of having an affair with Instagram model Sumner Stroh, who claimed she felt "manipulated" by the Maroon 5 rocker in a TikTok video posted on Monday that has now been watched more than 23 million times.
"I was having an affair with a man who is married to a Victoria's Secret model," Stroh, 23, initially said, before revealing the man to be Levine. "At the time, I was young, I was naive. Quite frankly, I feel exploited."
She went on to share one of Levine's alleged messages, which read, "It's truly unreal how f***ing hot you are. Like it blows my mind."
Another said, "You are 50 times hotter in person and so am I hahahah."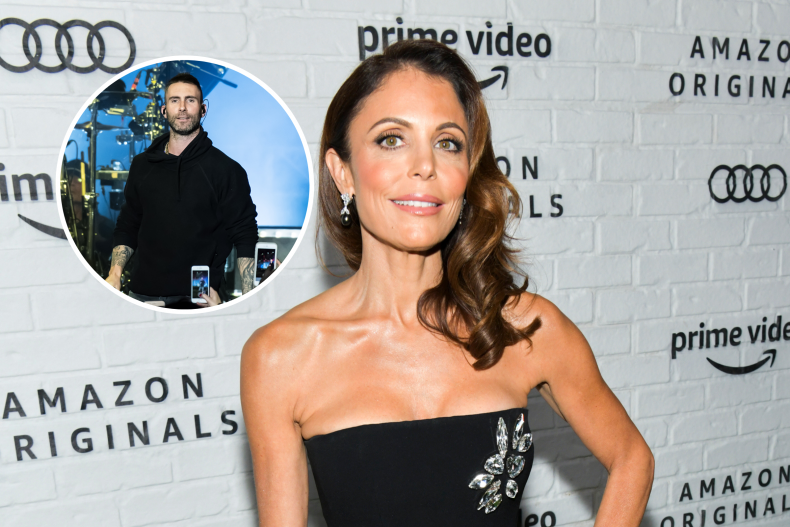 Levine has been married to Behati Prinsloo since 2014. The pair met through a mutual friend in 2012 over email before meeting in person one month later.
In a 2019 interview with Net-a-Porter's Porter magazine, the Namibia native gushed they "talked for hours" during their first meet up.
"It was love at first sight, it was crazy," she told the outlet.
Prinsloo is currently pregnant with the couple's third child together. The A-listers are already parents to daughters Dusty Rose, 6 and Gio Grace, 4.
During Stroh's one-minute, 32-second video, she also claimed Levine asked if he could name his unborn child after her.
"Ok serious question. I'm having another baby and if it's [a] boy I really wanna name it Sumner. You ok with that?" the message allegedly from Levine read. "DEAD serious."
On Tuesday, The Voice coach shot down affair allegations but admitted he "crossed the line" flirting.
"In certain instances it became inappropriate; I have addressed that and taken proactive steps to remedy this with my family," he wrote via his Instagram Story. "My wife and my family is all I care about in this world. To be this naive and stupid enough to risk the only thing that truly matters to me was the greatest mistake I could ever make. I will never make it again. I take full responsibility. We will get through it. And we will get through it together."
Since Stroh shared her story, four more women have since come forward with allegations against Levine. He has not yet commented on them.
On Thursday, September 22, Frankel, 51, took to Instagram to share a video from her "Just B With Bethenny Frankel" podcast, where she shared her opinion on the infidelity accusations.
"I'm bored...give me a cheating story I can sink my teeth into..." the Real Housewives of New York City alum captioned the clip.
"Well, breaking news, this just in, Adam Levine is cheating on his wife. He is a rock star, he is a world-famous, successful musician who has toured the world, historically dated models, and I know, it's shocking," she sarcastically said.
"He's having an affair. It's all anyone can talk about. It's just an absolute stunner, I've never heard of anything like this."
The mom of one—who shares daughter Bryn Hoppy, 12, with ex-husband Jason Hoppy, 52—added that she needed more to make the narrative interesting.
"Did he roast your bones? Where's the big news? It's like, oh my God, a rock star's cheating on a supermodel! Okay? What else?" she asked. "Armie Hammer was cooking stews of women. Like, I need something to sink my teeth into because a rock star cheating on a supermodel isn't gonna do it."
Frankel continued: "Arnold Schwarzenegger had a baby with a housekeeper in his house, that's a motherf***ing story. Woody Allen is married to his step-daughter, that's a cheating story. Armie Hammer is making chicken stock out of his side pieces, that's a story."
Manhattan director Allen ended his relationship with long-time partner Mia Farrow following his affair with hers and Andre Previn's adopted daughter, Soon-Yi Previn. Allen had no legal relationship with Soon-Yi, and she has been married to Allen since 1997.
Hammer, the son of businessman Michael Armand Hammer and great-grandson of oil tycoon Armand Hammer, was accused of sexual assault by multiple women in 2021.
Hammer's accusers also said he had talked about devouring their body parts.
"He said to me he wants to break my rib and barbecue and eat it," the actor's ex Courtney Vucekovich told Page Six. "He says, 'I want to take a bite out of you.' If I had a little cut on my hand, he'd, like, suck it or lick it. That's about as weird as we got."
In an interview with Vanity Fair, Hammer's other ex, model Paige Lorenze, said: "He would say things to me...weird stuff...like, 'I want to eat your ribs.'"
Hammer has denied the allegations.
If you or a loved one need support, the National Sexual Assault Hotline is available 24/7 by calling 800-656-4673 or visiting http://online.rainn.org. For more resources, visit @RAINN: https://rainn.org/resources.