Elon Musk's Chinese Lookalike Blows Up on TikTok Amid Twitter Takeover
The popularity of Elon Musk's Chinese doppelgänger has risen to new heights in the wake of the Tesla CEO's bid to buy Twitter.
The man who calls himself "Chinese Musk," from Suzhou in China's eastern province of Jiangsu, was already a mini celebrity on TikTok after the real-life billionaire acknowledged him last December.
After he was shown a still of the Chinese man who bears a striking resemblance to Time's Person of the Year, the actual Tesla co-founder tweeted: "Maybe I'm partly Chinese!"
The lookalike, who also goes by "Elong Musk" or "Yilong Ma," used to post on Douyin, the Chinese-language version of TikTok, but later established a presence on the international platform. Chinese Musk keeps a similar hairstyle and, unsurprisingly, drives a Tesla, too.
He also appears to be a fan of the real Musk's pending takeover of Twitter. In his latest post from Wednesday, Musk's Chinese twin stands in front of his black Tesla while holding a color printout of a Twitter logo. The short clip had been viewed 3 million times at the time of writing.
However, by far his most-viewed video, at upwards of 10 million hits, was posted on April 13. In it, Chinese Musk appears to exhaust his English vocabulary, saying: "Thank you, Tesla. I love you, Elon Musk."
The amusing clip blew up after the real Musk offered to buy "100% of Twitter." His Chinese doppelgänger's stock on TikTok has only risen after the Tesla boss's formal $44 billion bid was accepted.
The frenzy surrounding Musk's Twitter takeover has continued for weeks since he revealed a 9.2 percent stake in the social media company in early April, a move that made him the largest shareholder. He's openly discussed a wishlist of changes with his 87.6 million followers and even teased an editor button.
His Chinese imitation, meanwhile, has been all for it, gaining views and followers on TikTok along the way. He remains popular, attracting tens of thousands of comments, even if he struggles a bit with his English. There also remains a significant group of users who believe Chinese Musk is created using deepfake technology.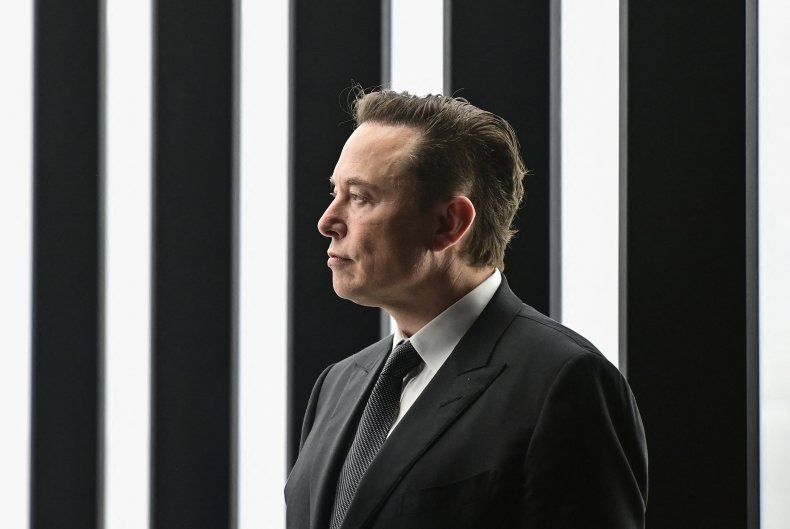 Musk's Twitter ambitions have been cheered in some corners while creating apprehension in others. Public policy analysts are concerned about how far the billionaire—a self-proclaimed "free speech absolutist"—might go to roll back existing regulations, including on content currently considered misinformation or outright propaganda.
Then there's China, a market in which Tesla earned more than a quarter of its total revenue last year. The country—home to Tesla's first offshore Gigafactory, in Shanghai—is its second-largest market overall, a situation some view as a potential vulnerability.
The Chinese government banned Twitter in 2009, but in the decade since has encouraged hundreds of its diplomats and state news workers to join the platform in order to express Beijing's viewpoints. With 229 million active daily users, almost all of whom reside outside of China, Twitter is one of the government's go-to mediums for reaching Western audiences.
Musk looks ready to reverse some of the restrictions placed on China's state-affiliated accounts under Twitter's current policy. If he doesn't, some fear Beijing may hold Tesla's market access to ransom to encourage him to make favorable changes.