EU Referendum Live Coverage: Britain Votes on Brexit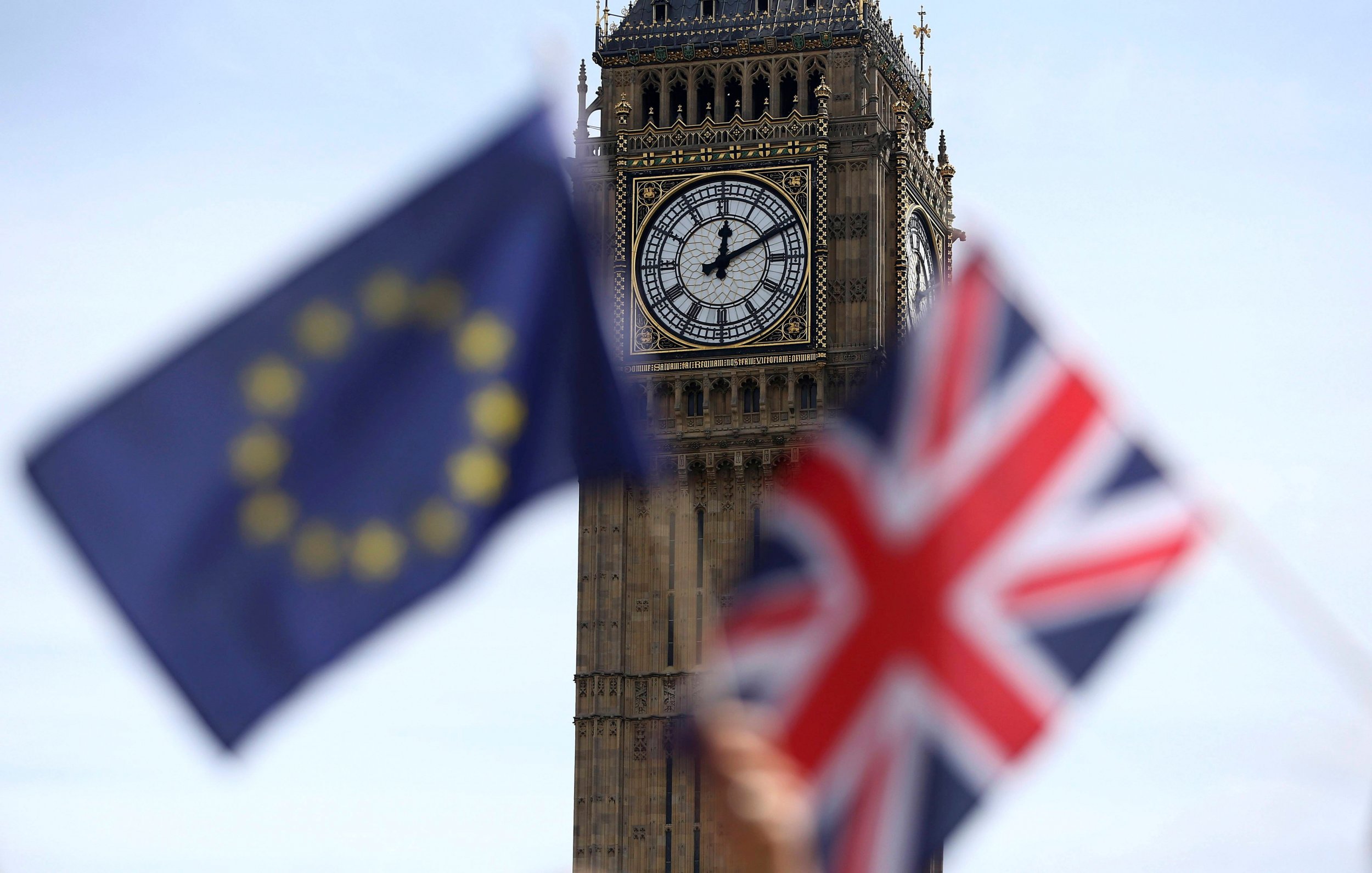 6.04am: Britain officially vote to leave the European Union
With over 16.8 million votes for a "Brexit," Britain has officially voted to leave the European Union, roughly in line with projections published by major broadcasters several hours ago. Prime Minister David Cameron is due to make a statement imminently.
6am: Market turmoil as Brexit seems certain
As major TV networks said Britain had voted to leave the European Union, sterling took a record plunge and share markets around the globe took a pummelling, Reuters reported. The British pound had collapsed no less than 17 U.S. cents, easily the biggest fall in living memory, to hit its lowest since 1985. The euro in turn slid 3.4 percent as investors feared for its future.
But unofficial leave campaign Leave.EU said: "When looking for reasons the pound has dropped after we voted to leave the European Union we need look no further than number 10 and 11 Downing Street and their complicit international institutions.
"Their scare stories weren't enough to panic the British public into voting remain but they most certainly have been enough to concern investors unnecessarily in the short term."
5.13am: Sturgeon: Scotland has spoken
Nicola Sturgeon, first minister of Scotland, has said in a reaction to the expected result that: "While the overall result remains to be declared, the vote here makes clear that the people of Scotland see their future as part of the European Union." "Scotland has contributed significantly to the remain vote across the UK," she added, saying, "We await the final UK-wide result, but Scotland has spoken—and spoken decisively." Her comments raise the prospect that Sturgeon could call for a fresh referendum on Scottish independence, a provision for which her party's manifesto for the 2016 Scottish parliament elections allows.
Read more
4.42am: Broadcasters call a Leave vote
Major broadcasters are calling the vote as a win for the Leave campaign. ITV's political editor Robert Peston tweeted:
And the BBC's Laura Kuenssberg:
While Sky News said it was projecting that the U.K. is voting out.
4.31am: Wales votes to Leave
Wales, once thought to be likely to deliver a majority for the Remain campaign, has voted to leave the European Union. With one result left to declare, the country delivered almost 830,000 votes for the Leave campaign, against almost 740,000 for Remain. ITV's political editor Robert Peston described the result as "astonishing."
4.10am: Scotland votes to Remain
Scotland has voted to Remain in the European Union, paving the way for a second independence referendum if Britain as a whole votes to leave. Two local authorities in Scotland are still to declare, but with over 1.5 million Remain votes to Leave's less than one million, the pro-EU side is sure of finishing ahead in the country. The SNP's manifesto for the Scottish parliament elections in May suggested the party would call a referendum if a "significant and material" change in Scotland's circumstances took place, which could include a Brexit.
4.09am: Nigel Farage calls it for Leave
UKIP leader Nigel Farage has said he thinks Leave has won the day. Speaking at a party for pro-EU campaigners in London, Farage said: "Dare to dream that the dawn is breaking on an independent United Kingdom. "We have fought against the multinationals, we have fought against the big merchant banks, we have fought against big politics, we have fought against lies, corruption, and deceit, and today honesty decency and belief in nation I think now is going to win." He said he hoped, "This victory brings down this failed project" of the European Union. "Let's get rid of the flag, and the anthem of Brussels and all that has gone wrong," he said.
3.44am: Doncaster votes well over the line for Leave
Doncaster, where former Labour leader Ed Miliband has his seat, was expected to vote Leave, but has done so by a larger margin than expected. Northern MPs elected for Labour Simon Danczuk and John Mann, the latter of whom was one of very few Labour MPs to back a Brexit, have said the party has lost touch with its traditional, working-class voters. "Labour's gone wrong by not being in touch with its voters. I've been saying this for the last 10 years in relation to immigration and free movement of labor," Mann told the BBC, while Danczuk said on Sky News that "Their final act of disconnection is that they've gone and voted to take us out of Europe."
Read more on the blame game playing out over results.
3.31am: Get Cameron
Nobody is quite calling for pro-EU Prime Minister David Cameron's head yet (a Leave vote is not yet certain). But Bill Cash, the veteran Euroskeptic and MP in Cameron's Conservative party, says that if the U.K. does leave, the Prime Minister should not be a Remainer. "Whoever is in Number 10 would need to be absolutely and completely committed to Brexit," Cash told the BBC, reasoning that, in the event of a "Brexit," the prime minister needs to be focused on getting the best deal for Britain.
3.17am: Leave looks lively—polls point to exit
With just over half the ballots counted so far, Leave has a narrow lead, with both campaigns just over five million votes. Matthew Goodwin, professor of politics at Queen Mary University of London, says that according to his model, the anti-EU campaign is doing about three points better than you would expect with a 50/50 result overall.
3.07am: Vince Cable looks towards the exit
Vince Cable, former Business Secretary and a senior member of the pro-EU Liberal Democrats, has told Sky News he thinks the anti-EU campaign has won. "I think we are in leave territory and I think we've just got to be realistic about it and start looking through the implications of it," he said. Chris Hanretty of the University of East Anglia, who is following the results and posting a rolling prediction through the night, agrees. He's predicting a 47.1 percent vote share for Remain, with zero probability of staying in the EU.
2.48am: Wales: a land apart?
Wales (see 2.04am) hasn't seen as strong a result for Remain so far as the pro-EU campaign hoped. Pro-Remain Stephen Crabb, the Work and Pensions Secretary who formerly served as Welsh Secretary and comes from a working class Welsh background, says voters in Wales are increasingly disillusioned. "I'm not in any way surprised by these early results that we've seen for Wales," he told the BBC, "I've felt for a number of years that the politics of Wales were being reshaped quite profoundly." He says that voters in the country are saying, "'Sorry, we just don't believe the Labour party or the government [any more].'" "It looks more like the politics of the rest of England outside of London, rather than the politics of Scotland," he added.
2.32am: First result in from London—Wandsworth votes Remain
In what might prove to be the revenge of the metropolitan liberal elite, London, the strongly pro-Remain, latte-swilling, internationalist British capital, is now Remain's great hope. Wandsworth, in the central southern part of the city, has delivered a storming remain victory of 75 percent, higher than expected and on a strong turnout. Remain needs more results like that in the capital to win, it would seem. It highlights something the general election already showed: the capital is behaving less and less like the rest of the country. Tony Travers, a professor at the LSE, even told the BBC this week that a big divide between London and the rest of England could lead to a renewed movement arguing that the capital should be independent.
2.20am: Redcar & Cleveland votes to Leave, Labour watches the North
Some more solid Leave victories in the North, particularly in Redcar & Cleveland, which went Leave by 66.2 percent. Matthew Goodwin, an academic who has written on the collapse of Labour's working class vote, says Jeremy Corbyn's party should be worried. Speaking to the BBC, Labour Shadow Chancellor John McDonnell says the result is more or less in line with what he expected and he thinks it will be very close.
2.18am: Politicians have started calling it early
Both Alex Salmond, speaking on the BBC just now, and a "senior Labour figure" quoted by the BBC's Laura Kuenssberg just now said they think it's heading towards Leave.
While politicians are playing it relatively coy, there's one person who has a lot to say—Lindsay Lohan has been tweeting her support for Remain and revealed a slight lack of knowledge about U.K. geography.
2.04am: Blaenau Gwent and Swansea vote to Leave
It's a mixed picture in Wales, but several local authorities have plumped for out, including Blaenau Gwent and Swansea, which voted Leave by a narrow margin despite being potentially favorable territory for Remain. Overall (and with very few local authorities declared) Wales is still backing Remain. But the conventional wisdom has had the country as strongly pro-Remain. Perhaps a strong showing for UKIP in the devolved assembly elections should have given us a better clue.
1.54am: North is heading South for Remain
Seats in the north east of England, such as Newcastle, Hartlepool (which went Leave by almost 70 percent), South Tyneside (which went 62 percent for Leave), Middlesborough (65 percent for Leave) and Sunderland, which readers will remember was the first solid Leave victory of the night, all broke much further in favor of Leave than the BBC predicted. On its own, it's not disastrous for Remain; it's hardly astonishing that one of Britain's poorest regions would want to get out of the EU, albeit by a wider margin than thought. But if Remain don't make it up in their stronger, urban areas, they will be in real trouble.
1.48am: Leave camp getting cocky
Tom Waterhouse, who works for the official Brexit campaign, Vote Leave, claims that they're doing much better than they wanted to. He's tweeted that in Dundee, the Shetland Islands, South Tyneside and Kettering, they got a better showing than they hoped for.
1.35am: Lagan Valley and North Antrim vote to Leave
It's Unionists against the (European) Union as Lagan Valley and North Antrim, two Northern Irish areas whose politics is dominated by the conservative Democratic Unionist Party, have voted to Leave. The party supported leaving the EU in the referendum, despite warnings from the "Remain" campaign that a "Brexit" would introduce fresh border controls between Northern Ireland and the Republic, potentially risking the peace agreement in the country.
Take it from me, Dave—Alex Salmond gives his verdict on Cameron's chances
1.27am: Alex Salmond, who knows a thing or two about losing referendums after failing to take Scotland out of the U.K. in 2014, says that Cameron will definitely need to stand down if it's a Leave victory: "Talk about lame ducks, this would be a duck with no legs and no stability whatsoever," he says, in a metaphor stretched to breaking point and beyond. Language skills aside, he stood down after his loss, so perhaps his advice is worth something.
1.17am: Scotland's in—two results in for Remain
1.17am: Couple of Scottish results in now: West Dunbartonshire and the Shetland islands, both for Remain. Former Scottish First Minister Alex Salmond reckons it's going to be "Nip and tuck," he tells the BBC. And, he says, the Shetland Islands were one of very few Scottish areas to vote against the then-EEC in the last referendum in 1975. David Davis, a Conservative MP and leading anti-EU campaigner, tells the BBC Scotland is voting "as you would expect," but says he is predicting a Leave victory because of the strength of the Leave vote in English working class communities.
Don't peak too early
Whether you're a Brexiter getting ready to break open the British sparkling wine or a Remainer preparing to drown your sorrows with French champagne, it really is worth cooling down, despite several strong results in favor of Brexit. Many of the areas declaring so far have been expected to be strongly pro-Leave, and the first rush of figures is unlikely to drop until around 2am. Kettering, for example, is not much more pro-Leave than the BBC projection expected. Unsurprisingly, it's a point Remain campaign director Will Straw just made on Sky News: the results so far, he said, have been broadly in line with projections. All to play for.
Turnout could be working against Remain
1.02 am: There's a pattern beginning to emerge. According to John Curtice, speaking on the BBC, the seven or eight London boroughs that have given turnout figures suggest fewer people showed up to vote in London than the national trend would suggest. It's a strongly pro-Remain area, so that's bad news for those who want Britain to stay in.
12.58am: Broxbourne has voted to Leave
The London commuter belt town has gone 66.3 percent against the EU, and 33.7 to stay. The constituency has seen success for UKIP in the past, with Nigel Farage's party coming in second there to the Conservatives in 2015; once again, it's not far outside what's expected.
12.55am: Swindon votes to Leave, The Isles of Scilly votes to Remain
The Isles of Scilly has voted to Remain—no surprise there. But Swindon has voted to Leave by a 10,000 margin, 55 percent to 45 percent leave. That's broadly in line with the BBC's prediction, put together by the polling expert John Curtice. Speaking to ITV as the result was called, Labour MP Chuka Umunna was unwilling to make a call about its significance. "It could go either way," he said. And he's right. We're still in for a long night.
12.1am: Sunderland votes to Leave
This is the first victory for Leave and is a definitive victory, with 61.3 per cent voting to leave and 38.7 per cent voting to Remain. The U.K. pound has dropped instantly against the dollar, in reaction to the news. The markets surged earlier in the evening once the news that the polls favored a Remain victory started coming through. Experts expect the markets to remain volatile throughout the night.
12:04am: The Orkney Islands vote to remain
The Orkney Islands have voted to remain in the European Union, with 7,189 voting to remain and 4,193 voting to leave. There was a 68 percent turnout here, some 15 percent lower than Gibraltar.
12am: Newcastle-upon-Tyne votes to remain
Newcastle-upon-Tyne, the second count to be announced, votes to remain in the European Union, with 54 percent in favor of remaining to 46 percent voting to leave. The second loss of the night for the Leave camp.
11.38pm: Farage says Leave camp "winning the war" regardless of the result
UKIP leader Nigel Farage, sweating profusely, gave his first public appearance since polls closed and he issued a statement appearing to concede defeat to the Remain camp. He essentially unconceded defeat in this speech, but also suggested that a voting extension imposed by the government earlier this month may have tipped the balance in Remain's favour.
"I have to say that it has been a long campaign, in my case 25 years, and whatever happens tonight, and whoever wins this battle, is that we are winning this war," he said, after thanking Leave voters for choosing to "defy the establishment."
As the vote remains on a knife edge, he said that if the vote does fall in the Leave campaign's favour, they must "make sure that the government carries out the will of the people."
In a powerful and defiant speech after more than an hour of commentators mulling his apparent concession, he said that if it is not his generation that knocks "the first brick out of the wall," it will be a future generation as the "Eurosceptic genie is out of the bottle."
He paused mid-speech to say that "No, I am not conceding" before concluding with the line he has repeated over and over in recent years that the EU "is doomed, it is finished anyway," and we "will get our country back."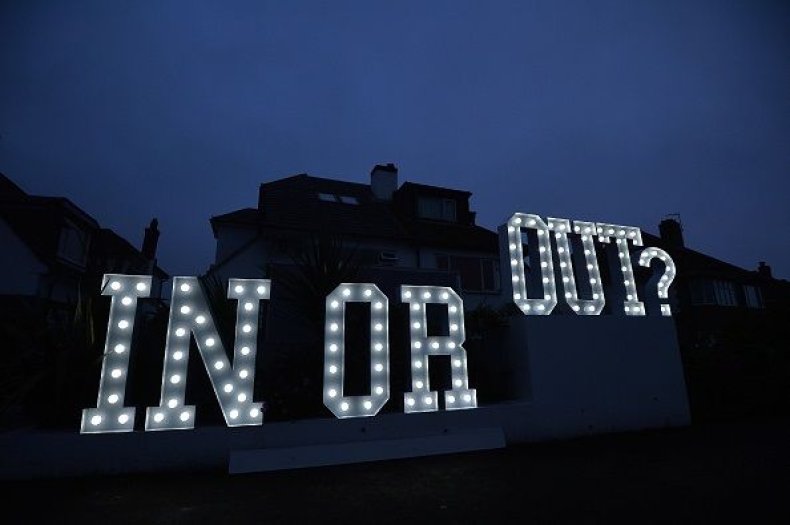 11.36pm: Gibraltar votes to remain in the European Union
The only British overseas territory that has been able to vote in the referendum, Gibraltar, reported an 84 percent turnout in Thursday's poll. In the first result announced on Thursday after polls closed, the territory's population voted to remain in the European Union, with an overwhelming 19,322 voting to stay and just 823 to leave.
11.31pm: A minute's silence for Jo Cox
The Kirkless (West Yorkshire) and Leeds counts hold a minute's silence in memory of Labour member of parliament Jo Cox who was brutally shot and murdered in her constituency last week.
11.05pm: "I still feel confident of a big vote for Leave"
Leading Labour Brexiteer Kate Hoey has told Newsweek she still believes that the Leave camp will gain a significant share of the vote in the EU referendum. She said that regardless of the result the strength of the referendum debate shows that the nation is still deeply divided over the question of EU membership.
Commenting on the lacklustre role that Labour party leader Jeremy Corbyn has played in this debate, Hoey said that she had found herself surprised to find herself on the opposite side of the debate to Corbyn who for 27 years had shared her opposition to the EU. She stated her view that he had shifted his opinion to avoid division in his shadow cabinet and had kept a low profile until the final few weeks of the campaign.
11pm: Newsweek is live on Facebook at the Leave.EU party
10:50pm: Boris Johnson concedes defeat on the Tube
The leading Leave campaigner admitted he thought the status quo would prevail to a stranger on the London Underground.
Read more
10:20pm: News of a "Save Dave" letter emerges
A group of 84 Tory MPs who backed a "Leave" vote deliver a signed letter to Downing Street expressing their support in the Prime Minister David Cameron regardless of the outcome of the referendum. The list includes the cabinet minister Chris Grayling.
Read more
10pm: YouGov poll has Remain on 52%, Leave on 48%
Appearing on Sky News YouGov's Head of Political and Social Research, Joe Twyman, says their "on the day" poll suggests there has been a percentage point swing in favour of the Remain camp. The turnout is estimated at more than 30 million—the biggest turnout for a nationwide election for decades.
Read more
9.45pm: First turnout announced in Gibraltar
Turnout in Gibraltar has been announced, the first area to do so of the night, at 83.65 percent, Reuters reports.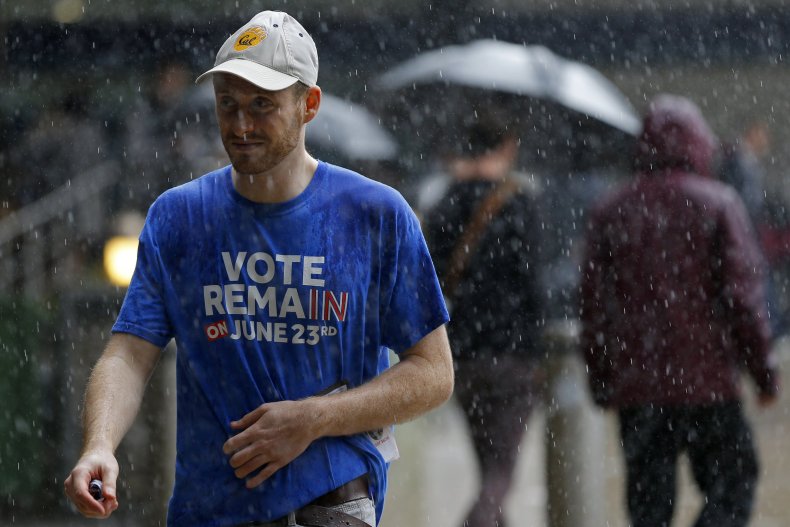 Millions of Britons headed to polling stations around the country on Thursday to cast their vote on whether to remain inside the European Union or to leave the political bloc, in a referendum billed as once-in-a-generation. The vote, which has polarized the country into two closely-matched camps—Remain and Leave, has the potential to mark a seismic shift in Britain's relations with the EU and alter the face of the continent. Britain represents the bloc's second-largest economy and would be the first country to leave the political and economic project which was forged in the wake of the of Second World War.
The two campaigns have battled over the country's economy, its immigration policy and its sovereignty in the months leading up to the landmark vote. More than 46 million registered voters, a record, will now decide the country's fate. London, the heart of pro-EU optimism in the country, was dampened by heavy rain on Thursday, inducing fears that it could affect the Remain vote in the capital.
European leaders have called for Britain to remain in the political bloc and have warned that there is no turning back from the country's decision in this referendum. The 60 years of history in the union has not stopped the race being a close call, with the last poll heading into the vote, conducted by polling firm Ipsos Mori, showing the Remain camp just four percentage points ahead of Leave.
Financial markets and investors also appeared to put their confidence behind a Remain victory on Thursday. The pound rose to its highest level against the dollar this year, at $1.4947, and the stock exchange in London rallied in morning trading.
The Remain camp is headed by British Prime Minister David Cameron, who sought to hold the referendum to soften the Eurosceptic sections of his party and slow the emergence of the U.K. Independence Party. The Leave campaign is fronted by David Cameron's fellow Tory but long-time competitor, both at university and within Parliament.
An array of global leaders commented on Thursday's vote and the potential implications of the British people voting to leave the bloc. German Chancellor Angela Merkel, viewed by many as the bloc's most powerful leader, said that the EU should accept whatever result emerges from the vote and continue to implement the bloc's agenda, maybe with one less member.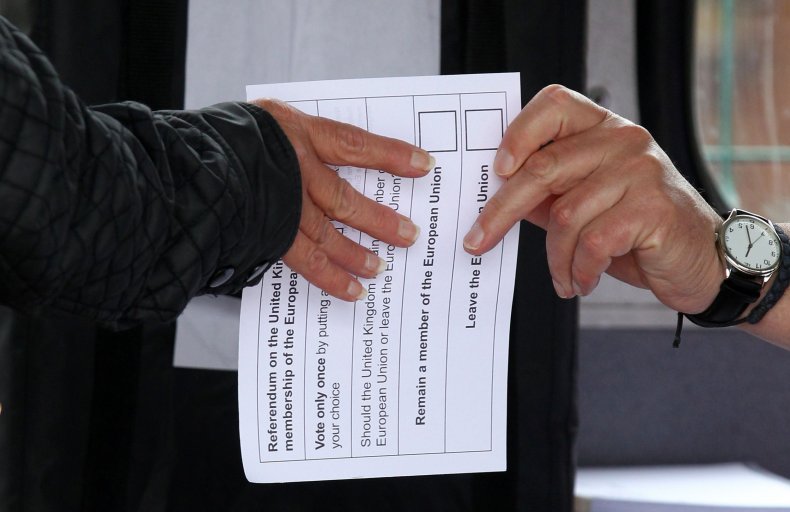 "Overall, I think discussions must now be continued with 28 (countries) if possible and otherwise with all countries—that would be 27—but my hopes are pinned on it possibly being able to remain 28," she said.
Italy's Finance Minister Pier Carlo Padoan said that whatever the result, the decision to hold the referendum would leave the bloc with divisions that would need to be healed. "The fracture has already happened and in a very clear-cut way," he said at a forum in Rome, quoted by Italian news agency ANSA.
Australian Prime Minister Malcolm Turnbull said that a Brexit would send shockwaves through the global economy. "It would be a very big shock, there is no doubt about that....There will be obviously be great efforts to ensure that the consequences of that shock are minimized," he told reporters.