Prince Harry Standing With Royals at Funeral 'Good to See'—Gayle King
CBS Mornings host Gayle King recently said that it was "good" to see Prince Harry "standing with his family" during the funeral of Queen Elizabeth II on Monday, following a period of royal reunions after the late monarch's death.
King, a close friend of Oprah Winfrey and an acquaintance of Harry and Meghan Markle's, and a guest at the duchess' 2019 baby shower, spoke about the couple's relationship with members of the royal family after two turbulent years of royal "bombshells" revealed by the Sussexes, principally in their 2021 interview with Winfrey.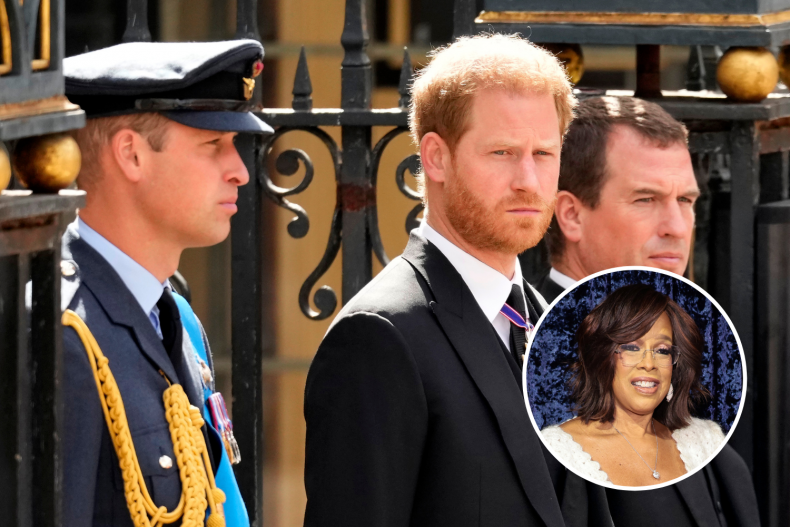 Speaking to ExtraTV's Billy Bush from London where King had been covering the state funeral proceedings of the queen for CBS, she said that "there have been efforts on both sides to sort of make this right" between the royals and Sussexes.
Harry and Meghan stepped down from their working royal roles in 2020 and moved to the United States where they have spoken freely of their experiences with members of the royal family and households.
Citing feelings of not being supported by his family and a need to protect his wife and children from the scrutiny of the British tabloid press, Harry described his relationship with Prince William to Winfrey in 2021 as "one of distance."
Since the monarch's death on September 8, while Harry and Meghan were fortuitously in Britain on a prearranged visit to attend charity events, this distance appears to have shrunk somewhat, at least ceremonially, as the brothers appeared side-by-side to honor their grandmother at a number of events before and during the state funeral.
These appearances have led some commentators to speculate that a fragile royal truce has been drawn between Harry, William, who invited his brother and Meghan to view floral tributes at Windsor after the queen's death, and King Charles, who allowed his younger son to wear a military uniform for a special grandchildren's vigil for the queen.
"Big families always go through drama, always go through turmoil," King said.
"It remains to be seen—are [the Sussexes and the royals] going to be drawn closer together or are they going to be drawn apart? I have no idea, I have no inside information on that, but I will tell you this: It was good to see Harry standing with his family."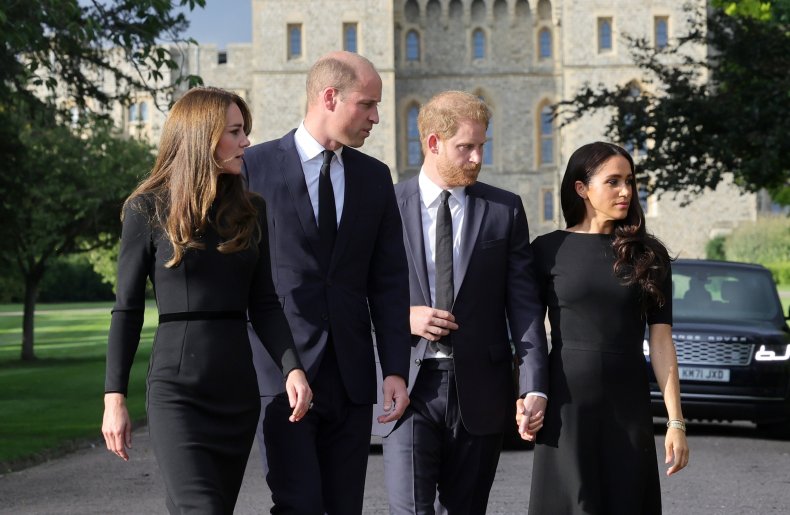 King's comments come as she recently raised the Sussexes landmark 2021 interview with Winfrey in a sit-down discussion with the TV veteran in which Winfrey appeared to distance herself from claims that she intended for the interview to have "bombshell" revelations.
"I was as surprised by the bombshell as everybody else," Winfrey told King, "I was doing an interview to offer them a platform to tell their story about why they left and that was my number one intention, was clarity on why did you leave."
"Some of the things that were revealed in that interview came as a surprise to me and those surprises are now referred to as 'bombshell' but I didn't set out to do a bombshell interview.
"I set out to do an interview," she continued, "have a conversation that would allow them to tell their story."
When pressed by King for her thoughts on whether a reconciliation between Harry and William was on the horizon, Winfrey said:
"I do not get into people's family matters. Everybody who has experienced some challenges in their families with in-laws or brothers or sisters knows how difficult those challenges can be. I'm sure for the royal family it's no different."
"No one consults me on their family business so I try to stay out of family business."
At that point, King told viewers that Winfrey decided to end the interview, though the pair remain close.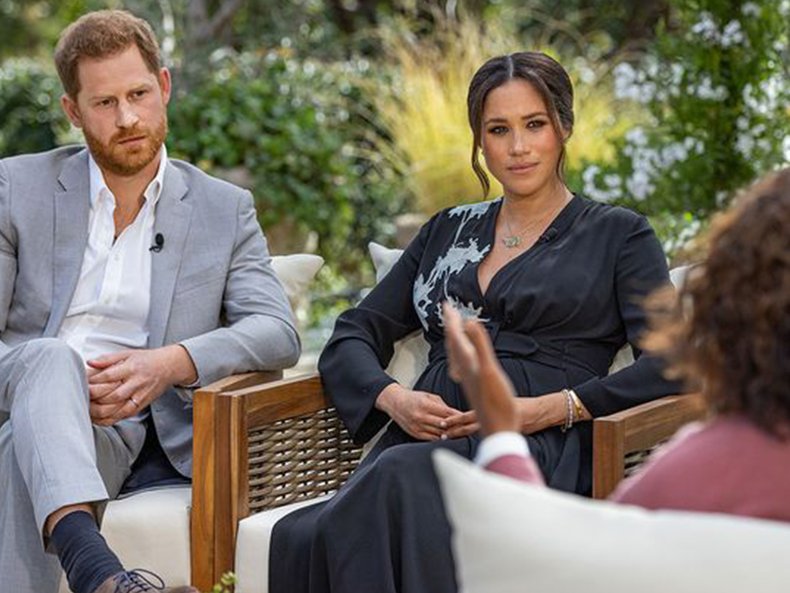 Meghan and Harry are expected to return to the U.S where their son Archie, 3, attends preschool following the state funeral proceedings.
With the couple once again to be separated from the royal family by the Atlantic Ocean and with the release of podcast episodes, interviews and "wholly truthful" memoirs on the horizon, it remains to be seen whether the act of royal unity displayed after the death of the queen can be maintained by both sides in the months afterward.