Golden Trump 'Statue' Shows BLM Protester Detained in Unmarked Fed Vehicle
A group called the Trump Statue Initiative (TSI) has installed three golden "living statues" near several areas in Portland, Oregon. While one depicts Republican President Donald Trump taking a selfie in front of a federal agent pulling a Black Lives Matter protestor into an unmarked vehicle, the two others depict his repeated statements against mail-in voting and his well-wishes for accused child sex trafficker Ghislaine Maxwell.
The first of the three statues is a reference to Trump's deployment of federal agents to Portland in July in order to protect the federal courthouse from defacement by local protesters. During the agents' deployment, they reportedly detained a protestor in an unmarked vehicle and physically injured several protestors to the condemnation of the state governor, Oregon's U.S. Senator, Portland's mayor, Republican Kentucky Senator Rand Paul, law enforcement officials and national civil rights groups.
The TSI's "living statue" in Portland consists of live actors covered head to toe in gold and satirically depicting a moment from Trump's presidency. In this case, Trump gives a thumbs up to the camera while taking a selfie with a camera held on a "selfie stick."
Behind him, a federal agent in a gas mask, goggles, helmet and riot gear pulls a protester backward into a truck while another agent in camouflage, a tactical vest and holding a rifle looks out for more protesters.
The statue is entitled "An Ode to Putin," a reference to Russian President Vladimir Putin, who is criticized for squashing political dissent in his country. Trump has constantly pushed for a friendly relationship with Putin during his presidency.
The second statue, entitled "Some Federal Property We Can Attack," shows Trump holding a golf club while examining a suburban mailbox with three armed military agents in riot gear. It's a reference to Trump's many statements against mail-in voting. He claims mail-in ballots create massive voter fraud, even though 34 U.S. states have allowed mail-in voting without any apparent widespread issues.
The third statue, entitled "I Just Wish Her Well Frankly," depicts Trump kneeling in prayer upon a bench bearing a real-life photo of Trump alongside two accused child sex traffickers, now-deceased Jeffrey Epstein and his suspected accomplice Ghislaine Maxwell.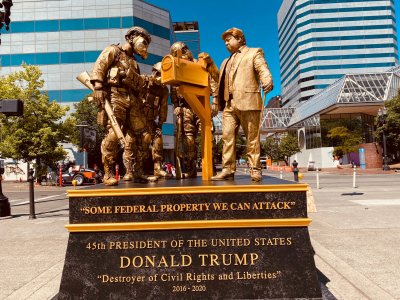 When asked in late June whether he thought Maxwell might "turn in powerful men" with her testimony, Trump replied, "I don't know, I haven't really been following it too much. I just wish her well frankly. I have met her numerous times over the years, especially since I lived in Palm Beach and I guess they lived in Palm Beach. But I wish her well, whatever it is."
On the pedestals of all three statues are the words, "45th President of the United States, Donald Trump, Destroyer of Civil Rights and Liberties, 2016 - 2020."
Newsweek reached out to TSI for comment.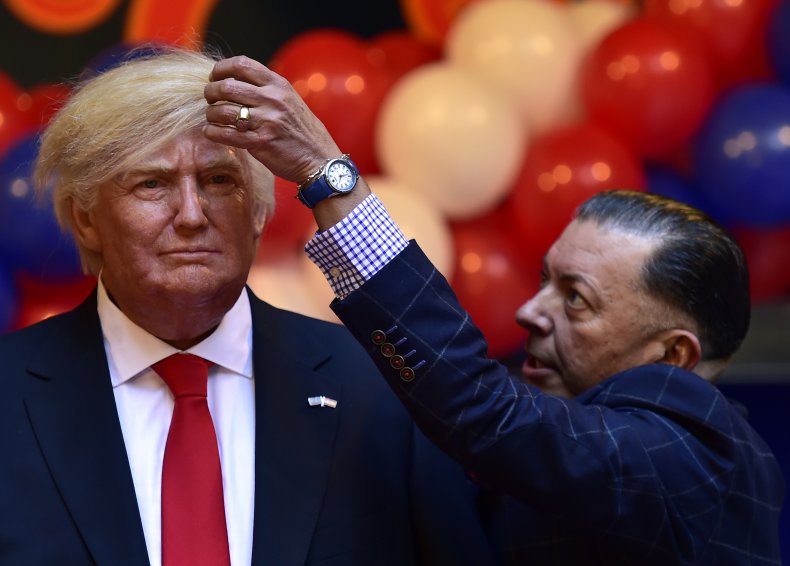 Previous to the Portland installation, the TSI erected three other golden "living statues" satirizing Trump in Washington D.C. during July.
The first statue, entitled "The Poser," showed Trump holding a Bible while police beat a Black Lives Matter protestor, a reference to the gassing of D.C. protesters so that Trump could pose for a photo holding a Bible at St. John's Cathedral during early July.
The second statue, "The Bunker," which was installed in front of Trump's D.C. Hotel, depicted Trump as holding a teddy bear and watching Fox News while seated in a bunker under the White House. The third statue, "Now Go Back to School," depicted Trump telling a young person in a coronavirus face mask to return to school while Trump holds a golf club.
Filmmaker and Academy Award nominee Bryan Buckley told The Hill that he curated the three statues. He added that the living statues seemed an apt way to draw attention to Trump and his legacy amid the national conversation about removing statues of Confederate leaders and other slave-owners.
Buckley also said he'd like to show more living statues in U.S. cities, and to use their public display to encourage people to vote while empowering other performance artists to use their work for social and political change.
Update (8/3/2020, 7:15 p.m.): This article has been updated to include mention and images of two additional "living statues" placed in Portland, Oregon by the TSI.