A Guide to Trump Allies Who've Pleaded Guilty or Been Convicted of Crimes
Allen Weisselberg, a longtime business associate of Donald Trump, joined a growing list of the former president's allies who have either pleaded guilty or been convicted of crimes since the New York real estate mogul and reality television star entered politics.
Weisselberg, 75, the longtime chief financial officer of the Trump Organization, reached a deal with the Manhattan District Attorney's Office, pleading guilty on Thursday to 15 felonies. He admitted to failing to pay taxes on some $1.7 million in income and is expected to face five months in prison as well as five years of probation.
He will be required to testify at a trial related to charges against the Trump Organization—set to begin in October—if prosecutors call on him to do so. His testimony could prove a major factor in the outcome of that trial, which some legal analysts have suggested could result in the so-called "corporate death penalty" for Trump's company.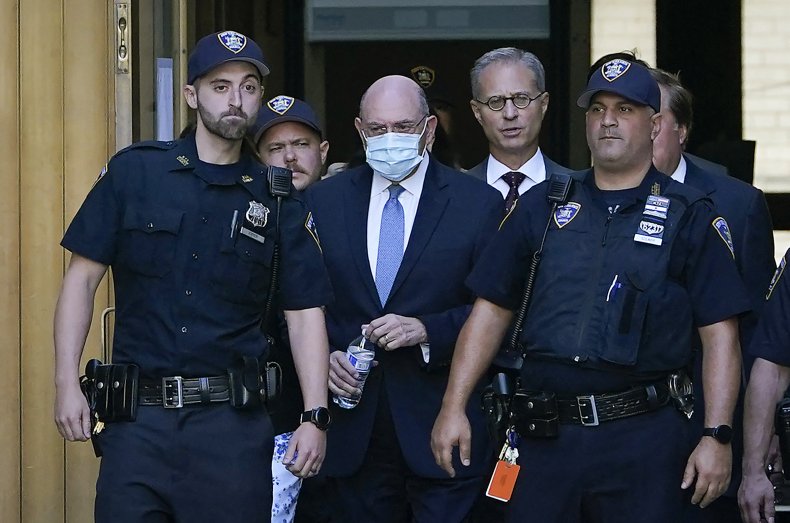 Weisselberg is the latest in a list of Trump allies who have faced criminal charges. Here's a guide to 10 Trump associates who have pleaded guilty or have been convicted of crimes.
Rick Gates
Gates worked as a deputy to Paul Manafort on Trump's 2016 presidential campaign. He was indicted in October of 2017 and entered a plea deal in February of 2018, pleading guilty to charges of conspiracy and lying to investigators. In December of 2019, Gates was sentenced to 45 days in jail and three years of probation.
Paul Manafort
Manafort, who chaired Trump's 2016 campaign and also worked as his campaign manager, was indicted along with Gates in October of 2017. A jury found him guilty of tax fraud and bank fraud in August of 2018. He also pleaded guilty about a month later to charges related to money laundering, witness tampering and lobbying violations.
He received a 7 1/2-year prison sentence and was released to serve the remainder of the sentence from home in May of 2020. Trump pardoned Manafort in December of 2020, less than a month before the end of his White House term.
Michael Cohen
Cohen worked as an attorney for Trump from 2006 to 2018 and also as a vice president of the Trump Organization. He pleaded guilty in August of 2018 to eight counts, including campaign finance violations, tax fraud and bank fraud. The charges also related to "hush money" payments to women who said they had sexual encounters with Trump ahead of the 2016 election.
He received a three-year prison sentence in December of 2018 but was released to serve the remainder from home during the COVID-19 pandemic. Cohen has gone on to become one of Trump's biggest critics, regularly appearing on cable news to discuss his former boss' scandals.
George Papadopoulos
In 2016, Papadopoulos served as an adviser to Trump's presidential campaign. He pleaded guilty in 2017 to lying to FBI agents regarding his communication with individuals who claimed to have ties to prominent Russian officials. He served 12 days in prison and 12 months of supervised released. Trump granted him a full pardon in December of 2020.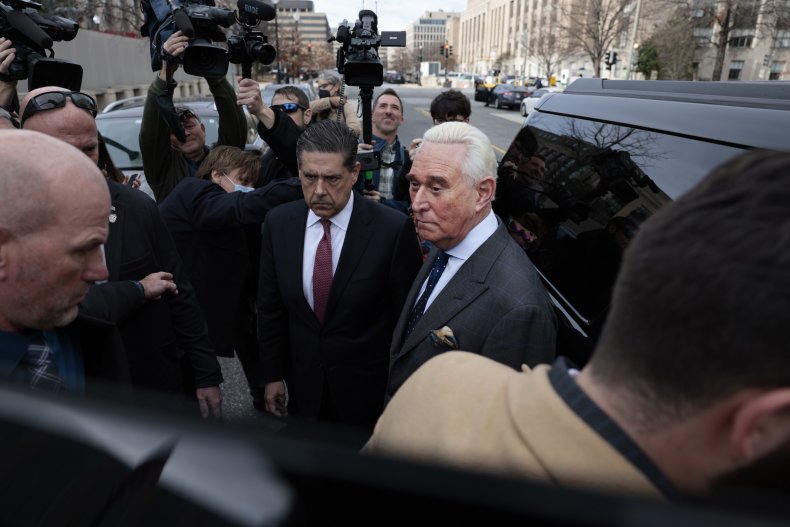 Roger Stone
Stone was indicted and arrested in January of 2019 on seven counts, including lying to Congress, obstruction of an official proceeding and witness tampering. This was related to special counsel Robert Mueller's investigation into Russian interference in the 2016 election.
Stone was convicted and sentenced to more than three years in prison in February of 2020. Trump commuted his sentence before he had to report to prison in July of that year. The former president then pardoned him in December of 2020.
Michael Flynn
The retired Army lieutenant general served as a national security adviser to Trump's 2016 campaign. Flynn was then selected to serve as his national security adviser but was fired after less than a month into that role after it was reported he lied about his contact with Russian officials.
In December of 2017, he formalized a deal to plead guilty to making false statements to the FBI regarding his Russian contacts. He later withdrew the guilty plea and Trump's former attorney general, William Barr, instructed the Justice Department in May of 2020 to drop all charges against him. Trump issued a pardon for Flynn in November of 2020.
George Nader
Nader served as an informal foreign policy adviser to Trump. He was indicted and reached a plea deal in January of 2020 related to charges of possessing child pornography and transporting a minor for sex. In June of 2020, Nader was sentenced to 10 years in prison by a federal judge.
Elliott Broidy
Broidy was a fundraiser for Trump's 2016 presidential campaign and was involved with his inaugural committee. He pleaded guilty in October of 2020 to carrying out a secret lobbying campaign in exchange for millions of dollars. He forfeited $6.6 million in the plea deal. Trump pardoned him in January of 2021, right before leaving office.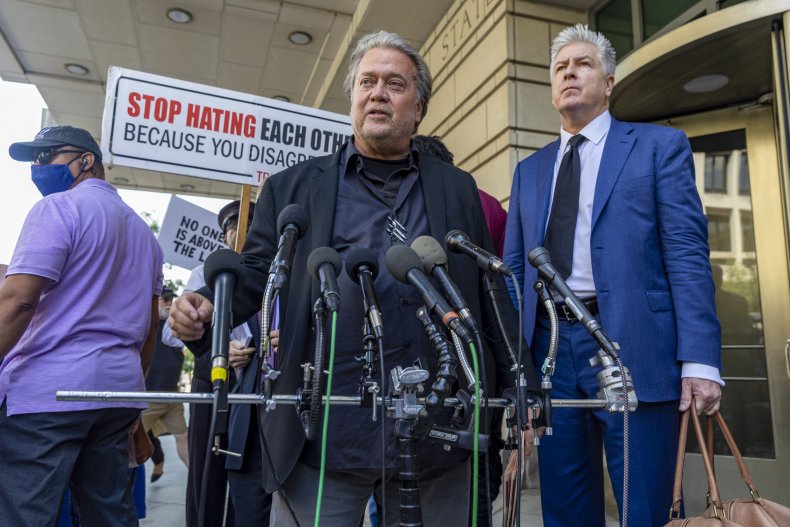 Steve Bannon
Bannon served as the chief executive officer of Trump's 2016 campaign and then as a White House strategist for much of 2017. He was convicted by a grand jury in July of contempt of Congress over his refusal to comply with a subpoena to appear before the House select committee investigating the January 6, 2021, riot at the U.S. Capitol. He will be sentenced in October and faces a minimum of 30 days and up to one year in jail, as well as a fine.
Bannon was indicted in August of 2020 for allegedly defrauding donors to a crowdfunding campaign to help build Trump's long-promised wall on the U.S.-Mexico border. Trump pardoned him and prevented him from facing possible conviction for the previous charges on January 20, 2021.
Trump contends that he and many of his allies have been targeted as part of a broad and wide-ranging politically motivated conspiracy, or "witch hunt." He insists that he has done nothing wrong related to any investigation that has targeted him, his associates or his family. He has publicly defended a number of those who have been convicted.
Newsweek reached out to Trump's press office for comment.