Iran Attacks Donald Trump Again on Twitter After He Calls It 'Terrorist Nation'
Iran's top diplomat has once again lashed out at President Donald Trump on social media after the Republican leader equated the revolutionary Shiite Muslim power with a terrorist organization.
Iranian Foreign Minister Mohammad Javad Zarif has twice targeted Trump on Twitter after he issued a controversial statement Tuesday on the murder of self-exiled Saudi journalist Jamal Khashoggi. Even though the kingdom itself admitted that its agents had killed the writer at Riyadh's consulate in Istanbul earlier last month, Trump devoted his statement to "standing with Saudi Arabia" and accusing its top rival Iran of pursuing unrelated acts of terrorism around the world.
Trump stood by his sentiments when grilled by reporters later that day, arguing that any punishment of Saudi Arabia might hamper their lucrative military contracts. Asked by one journalist as to whether this meant human rights was too costly a fight to take, Trump said he was "not saying that at all." But he swiftly changed the subject to the "terrorist nation" of Iran—a move that angered Zarif.
"A nation IS its people, @realdonaldtrump. Repeatedly calling Iran a "terrorist nation" reveals hostility toward an entire people & exposes the real reason for targeting them with your illegal sanctions. But US hawks' dream of 'uprooting the Iranian nation' will never be realized," Zarif tweeted Wednesday.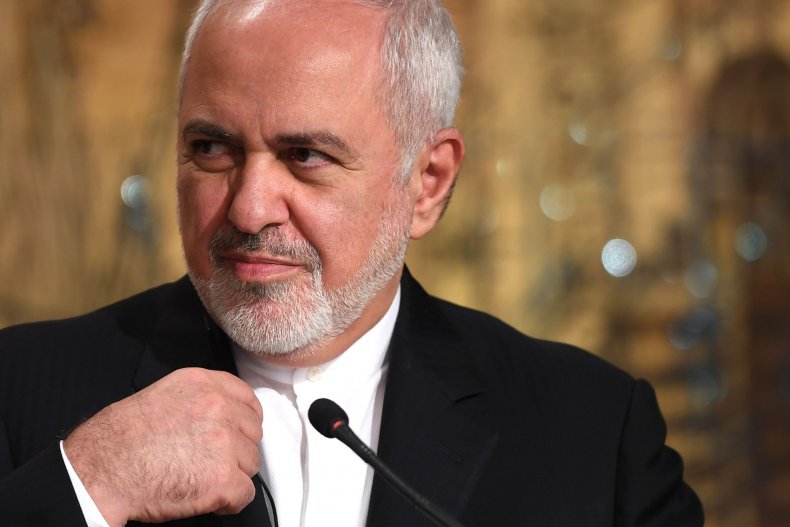 Zarif had previously criticized Trump's White House statement, in which he began by accusing Iran of waging "a bloody proxy war against Saudi Arabia in Yemen, trying to destabilize Iraq's fragile attempt at democracy, supporting the terror group Hezbollah in Lebanon, propping up dictator Bashar Assad in Syria" in addition to having "killed many Americans and other innocent people throughout the Middle East."
The Iranian official hit back by referring to Trump's widely panned remarks Saturday suggesting Californians could have prevented ongoing historic, deadly wildfires by raking leaves on the forest floor. He claimed Finnish President Sauli Niinistö told him they do in his country, but Niinistö denied having any recollection of such a conversation.
"Mr. Trump bizarrely devotes the FIRST paragraph of his shameful statement on Saudi atrocities to accuse IRAN of every sort of malfeasance he can think of. Perhaps we're also responsible for the California fires, because we didn't help rake the forests— just like the Finns do?" Zarif tweeted Monday.
Zarif was an architect of the 2015 nuclear deal that briefly brought the U.S. and Iran together—along with China, France, Germany, Russia and the United Kingdom—after the decades of hostility between Washington and Tehran that ensued after the 1979 Islamic Revolution overthrew a West-backed Iranian monarchy. Though the International Atomic Energy Agency and other world powers have affirmed Iran's adherence to nuclear restrictions, the Trump administration has argued that Iran used sanctions relief funds to promote Shiite Muslim militant groups abroad and develop ballistic missile technology.
In May, Trump pulled the U.S. out of the agreement and has reimposed strict sanctions against Iran despite of pleas from fellow signatories and much of the international community. The Iranian government has remained defiant in the face of the White House's threats, dismissing the Trump administration's label for it as "the world's leading sponsor of terrorism."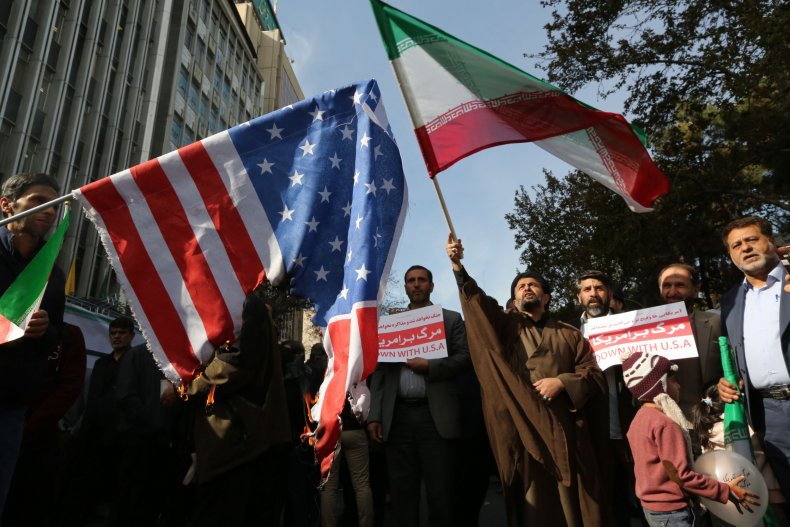 Though Trump and administration officials have often clarified that their hardline stance extended only to the Iranian government and not its people, the president previously referred to Iran as a "terrorist nation" in an October 2017 speech. Many everyday Iranians have also been negatively affected by U.S. sanctions and Secretary of State Mike Pompeo himself said earlier this month that the country's leaders would have "to make a decision that they want their people to eat."
As Trump pointed out in his statement, Iranian state-sponsored rallies often feature slogans such as "Death to America" and "Death to Israel"—two countries that, along with Saudi Arabia, form an informal tripartite alliance against Tehran's ambitions in the region. Though the U.S. and Iran have both contributed to efforts to defeat the ultraconservative Sunni Islamic State militant group (ISIS), they consider one another to be destabilizing powers.
In Yemen, where Iran denies Saudi and U.S. accusations that it provides support for the Ansar Allah or Houthi Zaidi Shiite Muslim insurgency in control of the capital, Trump's alliance with Riyadh has come under increasing scrutiny due to widespread reports of the kingdom killing civilians in airstrikes across the country. Despite Secretary of State Mike Pompeo's calls for a bilateral "cessation of hostilities" late last month, Trump claimed in Tuesday's statement that Saudi Arabia "would gladly withdraw from Yemen if the Iranians would agree to leave" and "immediately provide desperately needed humanitarian assistance."