The January 6 committee's public hearings are set to continue this week, with the panel set to focus on how Donald Trump contacted a number of officials to seemingly try to overturn the 2020 Election results.
The fourth day of House proceedings on the events which led up to the January 6 attack at the Capitol will begin on Tuesday, June 21, at 1 p.m Eastern Time; with the fifth taking place on Thursday, June 23, at 1 p.m. ET.
Tuesday's hearings are expected to focus on how Trump and his inner circle had attempted to pressure election officials in Georgia and other states to falsely declare he had beaten Joe Biden in 2020.
Elsewhere, there could be a major development as Trump's former vice president Mike Pence may be asked to testify to the panel.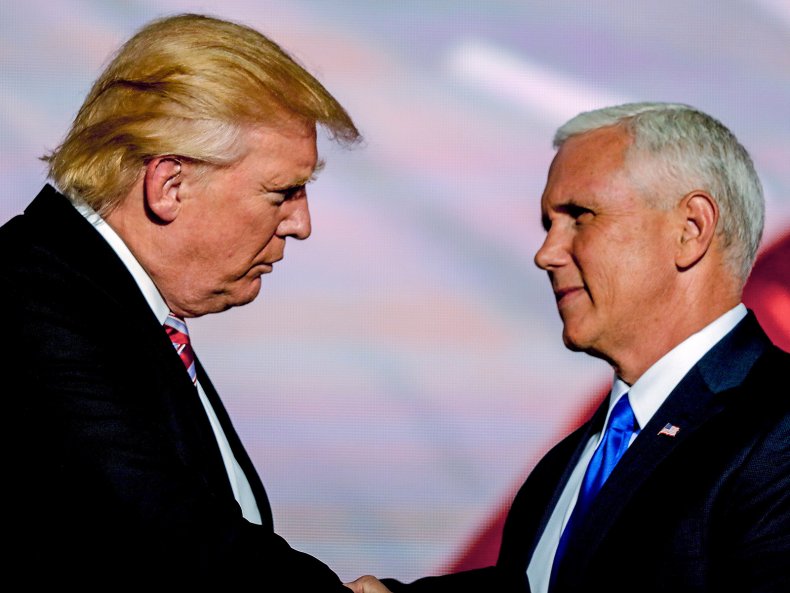 Previous hearings have described how Trump had allegedly warned Pence that he'd face repercussions if he defied calls to not certify President Joe Biden's victory, and for wrongly suggesting that he reject the Electoral College votes cast in favor of Biden during his purely ceremonial role as presiding officer of the Senate.
Even as the riot was taking place, Trump tweeted that Pence "didn't have the courage to do what should have been done" and stop the results being certified.
During the Capitol attack, Trump supporters could be heard chanting "hang Mike Pence."
Panel member rep. Adam Schiff told The Associated Press that subpoenaing Pence is "certainly a possibility" and they are not "taking anything off the table" in terms of witnesses who have not yet testified.
"We would still, I think, like to have several high-profile people come before our committee," Schiff said.
However, committee chairman, rep. Bennie Thompson, said while the panel has been "engaging" with Pence's lawyers, it may not be necessary for him to appear because a number of the former president's closest aides have already testified.
Trump has been critical of the House Select Committee investigating the January 6 attack, and has shared his reaction to the televised proceedings on Truth Social—the social network he created after he was banned from Twitter in the wake of the January 6 riot over fears he would use the platform to incite violence.
"So the Unselect Committee of political HACKS refuses to play any of the many positive witnesses and statements, refuses to talk of the Election Fraud and Irregularities that took place on a massive scale, and decided to use a documentary maker from Fake News ABC to spin only negative footage," Trump said. "Our Country is in such trouble!"
Key witnesses who are due to testify on Tuesday include Georgia Secretary of State Brad Raffensperger and his top deputy Gabriel Sterling.
Raffensperger was on the other end of a January 2021 phone call with the former president in which Trump is accused of trying to pressure him to "find" 11,780 votes to help Trump win the state.
Raffensperger is among those who was subpoenaed to give evidence to a special grand jury as part of a criminal investigation in Georgia into whether Trump committed solicitation of election fraud with the phone call.
Trump has frequently denied any wrongdoing, describing the call as "perfect" and the investigation into him a "witch hunt."
Sterling is another Georgia official who frequently pushed back on Trump's false election fraud claims in the state.
The voting implementation manager for the Georgia secretary of state's office gained national attention for a December 2020 press conference in which he angrily warned Trump "someone's gonna get killed" if the former president didn't condemn the actions of his supporters who were sending death threats and harassing election officials while supporting his false voter fraud claims.
Tuesday's hearing is also expected to shed new light on how Trump was allegedly involved in the plot to install fake election officials to try to falsely declare the former president the winner in a number of states.
Republican state Rep. Rusty Bowers, the Arizona House speaker, is set to testify on Tuesday.
Bowers, who also spoke out against Trump's false voter fraud claims, is expected to be asked about the former president and his attorney Rudy Giuliani being called to discuss an apparent Arizona law which would allow the local legislature to pick their own presidential electors, who would then declare Trump the winner in the state instead of Biden.
There are also suggestions that the upcoming hearings will hear more about Ginni Thomas, the wife of Supreme Court Justice Clarence Thomas, and her alleged attempts to get the 2020 Election results overturned.
There were calls for the panel to subpoena Thomas to testify following reports she was in email communication with Trump lawyer John Eastman, who allegedly played a key part in the attempts to pressure former Vice President Mike Pence to not certify the 2020 election results in Congress on January 6.
According to several media reports, Thomas has provisionally agreed to an interview with committee, as has been quoted as saying she was "looking forward" to it.
Thomas is also alleged to have emailed a number of GOP Arizona lawmakers, including Bowers, calling for them to install a "clean slate of Electors" who could declare the state for Trump.
She was previously found to have texted former White House Chief of Staff Mark Meadows, urging him to prevent Biden becoming president while supporting false election fraud claims.
According to The Associated Press, Bowers will be asked about Thomas' demands for Arizona to choose their own set of electors as part of attempts to overturn the election results.
"We have questions for her and we may have questions for him as well," said California congresswoman Zoe Lofgren.
"We'll show during a hearing what the president's role was in trying to get states to name alternate slates of electors, how that scheme depended initially on hopes that the legislatures would reconvene and bless it," Schiff, a California Democrat, told CNN's State of the Union on Sunday.
Schiff added that Trump's team "pressed forward" with the plan even though state legislatures refused to go along with it.
Lofgren also said the panel will present more evidence that Trump and his team may have allegedly committed fraud by raising hundreds of millions of dollars from supporters of the former president under false pretenses.
The committee is set to show how it continued to raise money despite knowing the election was not rigged and claimed the money would be used to cover legal costs fighting the false voter fraud claims.
Rep. Adam Kinzinger, one of two Republicans on the January 6 panel, said ahead of the fourth hearing that there is enough evidence to charge Trump with "seditious conspiracy."
"What we're presenting before the American people certainly would rise to a level of criminal involvement by a president," Kinzinger told ABC's This Week on Sunday.