Johnny Depp Under Fire for Misgendering iO Tillett Wright During Trial
Johnny Depp is under fire for misgendering author iO Tillett Wright during his trial against ex-wife Amber Heard. Social media users are also calling out the double standards between him and Lizzo.
After the singer, whose real name is Melissa Viviane Jefferson, dropped her latest album Special on Friday, July 15, fans took to Twitter to air their thoughts.
Many pointed out that while the Pirates of the Caribbean actor, 59, misgendered Wright seemingly without consequence, the 34-year-old quickly removed an ableist slur from her new song "Grrrls" following backlash.
She also apologized, saying she "never want[ed] to promote derogatory language."
In the clip being shared online, Depp appears to struggle over his words while discussing Wright in the courtroom. "She was born a female, if that's the right terminology these days," he said. "Born a female, but she was, she had chosen, at a very young age, she decided that she was a male."
One Twitter user alleged: "Funny how Lizzo used a slur in a song and had to remove it instantly for risk of being canceled, and yet Johnny can get away with constantly misgendering iO and calling him a lesbian slur in a text message."
Another added: "Johnny Depp misgendering witness iO Tillet Wright for 2 minutes straight. iO is a trans man that testified he witnessed Johnny beating Amber."
A separate commenter, however, defended the father of two, who shares kids Lily-Rose Depp and Jack Depp with ex Vanessa Paradis. They said: "He referred to iO with the pronouns he used at the time that they knew each other and the time that the events he's talking about took place."
They added that he "did not seem to be disrespectful at all in his testimony" and "didn't call him a lesbian slur in a text."
Newsweek reached out to Depp, Heard and Wright's teams over the text message allegations.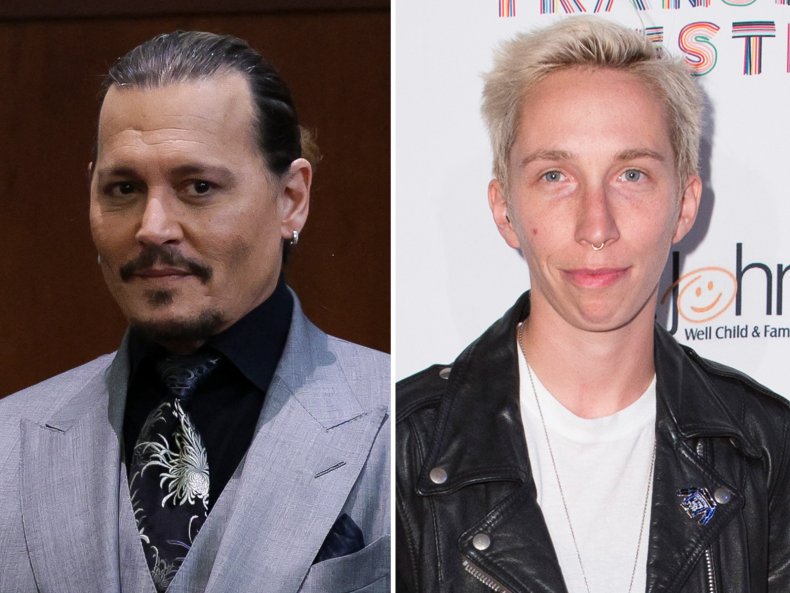 Wright, an activist and co-host of the MTV show Suspect, took to Instagram recently to clarify any confusion around his pronouns, admitting he does not like the use of "they/them."
"When you ask someone their pronouns, you show them the greatest respect. My current pronouns are either 'he/him', or none (just my name, not 'they/them')."
He added: "'He' feels right at the moment. That may change, as it has already changed many times, and I'm good with that."
Wright, one of Heard's best friends, testified in the high-profile case that Depp would get "mean" and "misogynistic" while under the influence.
"Cocaine and any kind of alcohol would bring out a very, very ugly side of him," Wright said. "He would get very misogynistic and cruel and other things when he would take any kind of psychedelic like ecstasy or MDMA he would become paranoid. When he drank alcohol he would become paranoid."
Wright added that he would occasionally get called to help the couple work through fights. During one particular argument, Wright recalled the comments Depp allegedly made.
"Things like ... all she's got is her looks," he explained. "She has no talent and when her tits start to sag and her face gets wrinkly, nobody's going to be interested in her for anything, so she better figure out another way to survive. S*** like that."
Previously, Wright was named in a court filing to support a restraining order Heard filed after Depp allegedly assaulted her.
When TMZ reported that two concierges in the complex the couple shared an apartment saw her "with no evidence of any facial bruising" following the alleged attack, Wright called out the publication via his now-deactivated Twitter.
"I've had enough. I saw the bruises. Many times. And the fat lip. And the cut head. How much evidence does a woman need to present?! She has photos, texts, witnesses and filed a restraining order," Wright wrote at the time.
Despite Wright's comments, he revealed in a separate interview that he holds no ill will towards Depp.
"It's a tough thing. My attitude about that is the same as the attitude I have about my parents. People are very rarely bad people," Wright told The Times of London's Sunday Times magazine. "People have things that happen to them and people have pain they are trying to get around."
He continued, "Everyone is trying to dance with their pain and sometimes it's who do you stab in the process? It's what you do about having stabbed them that's the delineation between people you can have in you life and people you can't."
The Depp/Heard trial proved to be a hard-fought battle on both sides, with the screen stars hurling a host of allegations at one another, including drug and alcohol use, fiery confrontations, and even a claim that Heard defecated on the couple's bed.
Depp and Heard had also accused one another of domestic abuse while in court. Both have consistently denied the allegations made against them.
Depp was awarded $15 million after the actor sued Heard for $50 million for her 2018 op-ed about coming forward as a survivor of domestic abuse. Heard countersued for $100 million and was given $2 million as a result.