New Congress 2019 Swearing In: Time, Watch Live Stream and What Will Makeup Be After New Members Are Sworn In?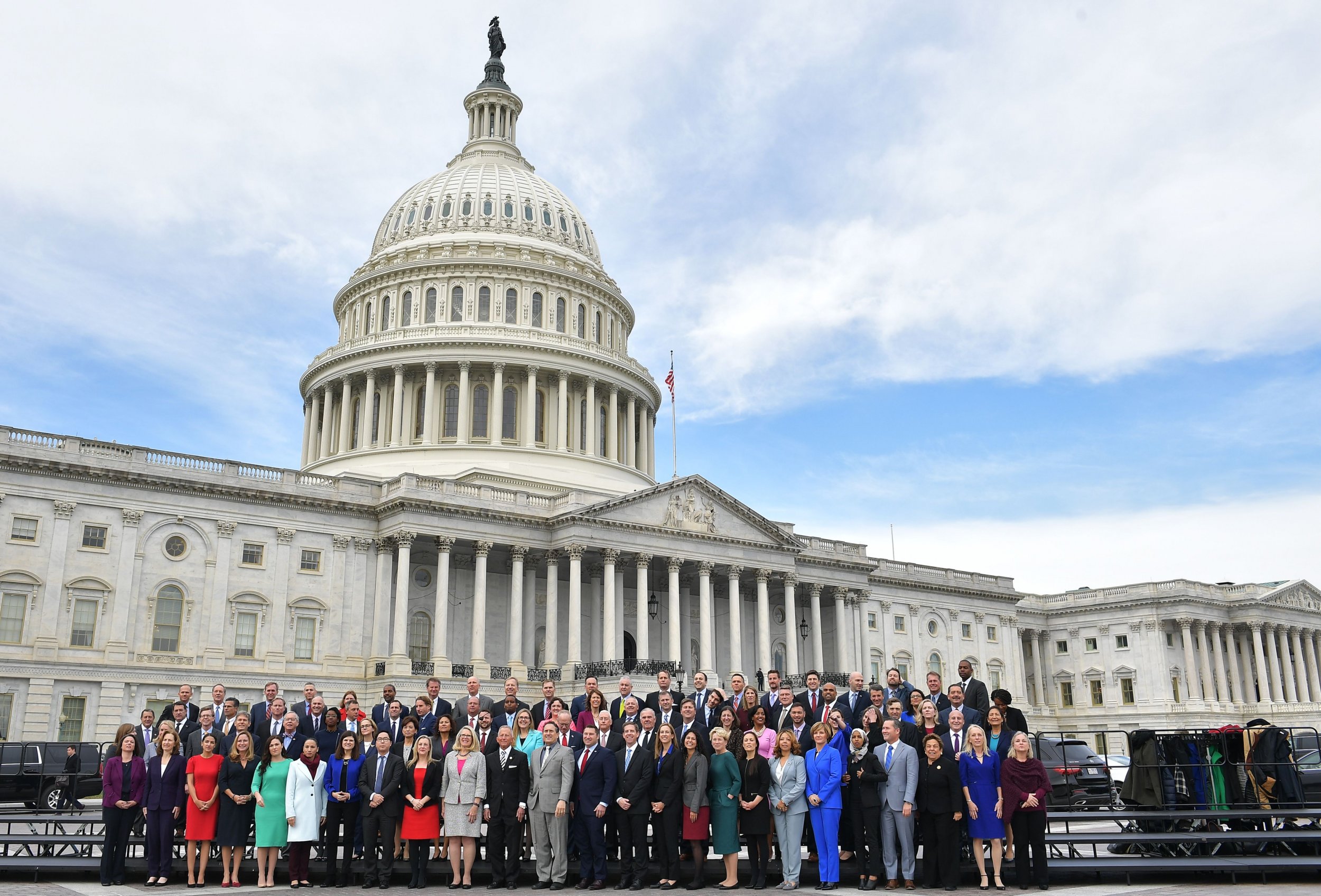 The 116th Congress will be sworn into office Thursday at noon, and the Democrats' 40-seat gain in the House in November's midterms means the party is regaining control of the chamber for the first time since 2010.
The ceremony can be watched on C-SPAN and C-SPAN2, with a live stream of the House session available here.
Forty-two new women and 23 new people of color mean this Congress has the most women and most diversity in U.S. history. Not including the one race still undecided in North Carolina's 9th Congressional District, where multiple claims of voter tabulation fraud have been levied against the GOP candidate, there will be 235 Democrats and 199 Republicans in the House. In total, there are 92 freshman members in the House: 62 Democrats and 30 Republicans.
The Democrats' popular-vote margin over Republicans of more than 8.6 million votes in the House was bested only by the 1974 elections following President Richard Nixon's resignation, according to an NBC News analysis.
The GOP maintained control of the Senate in November, gaining two seats to increase Republicans' majority to 53 seats, while the Democrats have 47, as well as two independents who caucus with the Democratic Party. In total, there are nine freshman senators: two Democrats and seven Republicans.
Congress will see its first Muslim-American women, Democrats Rashida Tlaib and Ilhan Omar, along with the first two Native American congresswomen, Democrats Sharice Davids and Deb Haaland.
For the first time in his presidency, a divided government will compel Donald Trump to reach across the aisle and try to negotiate with Democrats, should he wish to pass any legislation. The ongoing partial government shutdown, now in its 13th day and with no end in sight, may be an indicator of major ideological division and gridlock that will persist for the next two years.
In addition to the divided Congress, the president will continue to be at odds with some in his own party. Departing GOP Senators Jeff Flake and Bob Corker, the two flagship Republicans on Capitol Hill who were most likely to go against their party and take on Trump, will no longer be around to act as a thorn in the president's side. Rather, incoming Republican Senator Mitt Romney of Utah will fill that role, as was confirmed by his scathing Washington Post op-ed in which he said Trump "has not risen to the mantle of the office," noting that his "character has fallen short."
Trump will also face numerous congressional investigations in the House, brought on by the Democrats' new subpoena and investigatory powers. The possibilities for what the Democrats plan to investigate are nearly endless. Areas they have already suggested they will probe include the Trump Organization businesses, his tax returns, the Department of Homeland Security's handling of the administration's "zero tolerance" immigration policy and the death of two young migrant children in the care of Border Patrol agents, Trump's constant attacks on the press, Ivanka Trump's personal email use for government business and the president's "dangling of a pardon" for ex-Trump campaign chairman and convicted felon Paul Manafort.
House Democrats are even reportedly on a hiring spree for new attorneys in preparation for the legal hearings and inquiries.
Depending on the details of special counsel Robert Mueller's final report and the results of the Democrats' investigations, as well as New York prosecutors' conclusion that Trump directed campaign finance crimes, Democrats on the House Judiciary Committee have told Newsweek they would consider drafting articles of impeachment.
Among other incoming notables is Alexandria Ocasio-Cortez, a Democrat from the Bronx whose primary win over 10-term incumbent Democrat Joseph Crowley stunned many in the political world, including the congresswoman-elect herself.
But she's proved to be part of a powerful progressive force on Capitol Hill prior to her swearing in. The group of rebel lawmakers will likely cause problems for presumptive Speaker of the House Nancy Pelosi. Ocasio-Cortez and other liberal Democrats pushed back on Wednesday against a Pelosi-backed rules package that the House will vote on later this week.
Although Ocasio-Cortez was not one of them, in November a group of 16 current and incoming Democrats tried to block Pelosi from retaking the speaker's position by signing a letter of opposition arguing it should be someone new. A deal was later struck between Pelosi and those Democrats: She agreed she would relinquish her speakership to someone else in the party in 2022, assuming the Democrats remain in control.