North Korea Congratulates Syria on Latest Victory, Says We've Been Through a Lot Together
North Korea has congratulated Syria on its latest victories in a letter that tied the conflict to a common struggle waged since the two countries established bilateral relations decades ago.
North Korean Foreign Minister Ri Yong Ho sent the message to Syrian Foreign Minister Walid al-Muallem on Thursday, the 52nd anniversary of relations between the two nations. In a readout published by the official Korean Central News Agency, Pyongyang's top diplomat called for a strengthening of ties and praised the Syrian government's retaking of large swathes of territory once held by insurgents and jihadis who rose up after a 2011 rebellion backed by the West, Turkey and Gulf Arab states.
"The message said that the two countries have overcome trials and difficulties together in the common struggle for independence from anti-imperialism and true international justice and steadily developed one another's support and cooperation since the establishment of diplomatic relations," the Korean Central News Agency wrote.
"Ri Yong Ho in his message said he is pleased over the fact that the friendly Syrian government and people are achieving signal successes in the security of the country and economic reconstruction, expressing the belief that the historic and traditional friendly and cooperative relations between the two countries would further develop onto a higher stage," it added.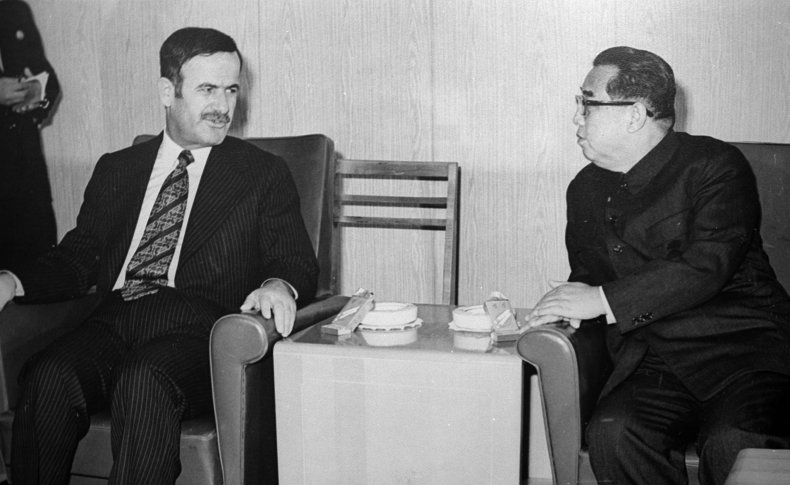 The readout concluded by noting that Ri "received a similar message" from Syria's Muallem on the same day. The two countries were both close allies of the Soviet Union and officially forged ties in 1966. Just one year later, North Korea would provide support to Syrian and other Arab forces in the Six-Day War against U.S. ally Israel, which managed to seize territories from Syria, Egypt and Jordan in the conflict. When a second Arab-Israeli war broke out in 1973, North Korea again supported the Arab states against Israel.
The bilateral relationship outlived the Cold War and the deaths of North Korean supreme leader Kim Il Sung in 1994 and Syrian President Hafez al-Assad in 2000. Their succeeding sons, Kim Jong Il and Bashar al-Assad, both made then-U.S. Under Secretary of State for Arms Control and International Security Affairs John Bolton's 2002 "Axis of Evil," a list that also expanded upon former President George W. Bush's original, with Iraq, Iran and North Korea, to include Cuba, Libya and Syria.
In 2007, Israel launched an airstrike in Syria's eastern province of Deir Ezzor. The target was said to be a nuclear reactor built with North Korean help. A U.N. panel also found earlier this year that Pyongyang provided Damascus with chemical weapons and missile technology. This alleged support intensified after 2011, the year the civil war broke out in Syria and North Korea's second supreme leader, Kim Jong Il, died.
Under his son, Kim Jong Un, North Korea has deeply opposed U.S. intervention and repeatedly sent messages of solidarity to Syria, which has managed to largely overcome an Islamist-led opposition as well as the Islamic State militant group (ISIS), which spread to the country after growing out of a Sunni Muslim insurgency in post–U.S. invasion Iraq. As North Korea sent its latest correspondence Thursday, Syrian troops raised the national flag in the southwestern province of Quneitra, a once rebel-held region that borders the Israel-occupied Golan Heights.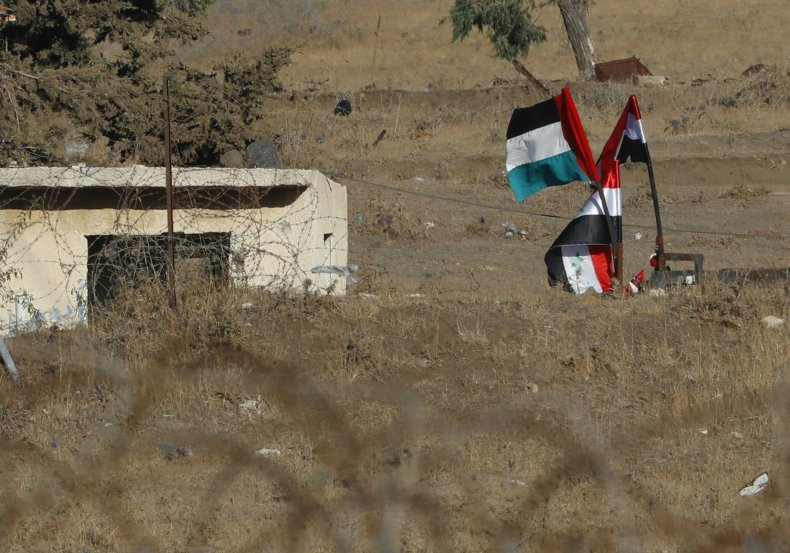 Syria—backed extensively by Russia and Iran—has also claimed some diplomatic victories in its retaking of the southwest. Neighboring Syrian opposition supporters Israel and Jordan have expressed their willingness to return to the pre-war status quo with the Syrian government. The local U.S.-backed Syrian Democratic Forces have also discussed reconciling with the Syrian government. Like Syria, North Korea has been hit by strict U.S.-led sanctions, but it has sought to reverse these by pursuing its own diplomatic overtures, including direct talks with the leaders of South Korea, China and President Donald Trump himself.
China's relationship with Syria and North Korea has also increasingly been put in the spotlight. Ties between allies Beijing and Pyongyang appear to have warmed after Kim Jong Un initially distanced the two longtime allies during his early years of power. China opposes North Korea's possession of nuclear weapons, but it also criticizes greater U.S. military presence in the region and has embraced the ongoing dialogue between the U.S., North Korea and South Korea.
China has also progressively invested in Syria. China joined Russia and Iran in defying Western calls to overthrow Assad and has sought to cash in on the lucrative economic opportunities presented by his retaking and eventual reconstruction of the war-ravaged country. As Muallem received North Korea's letter Thursday, he was also visited by China's special envoy to Syria Xie Xiaoyan, according to the official Syrian Arab News Agency.
Xie reportedly reiterated his country's backing for Syria, calling it a vital part of Chinese President Xi Jinping's global Belt and Road Initiative, which seeks to expand Beijing's trade routes across Asia and into Africa, Europe and beyond.