North Korea Slams Trump's Strikes in Syria, Says U.S. Support Only Leads to 'Death'
North Korea has condemned U.S.-led airstrikes against Syrian President Bashar al-Assad and support for insurgents trying to overthrow him, accusing Washington of violating the sovereignty of the war-torn country.
Rodong Sinmun, the official newspaper of the ruling Korean Workers' Party Central Committee, published a commentary Tuesday in response to Bolivian President Evo Morales's attack on U.S. intervention in the 1890s Cuban War of Independence. The U.S. joined the battle against Spain, but then maintained a strong hand in Cuban internal affairs for decades until a communist revolution ousted a pro-West government in the 1950s.
Cited by the official Korean Central News Agency (KCNA), Rodong Sinmun wrote: "The present Syrian situation and the Cuba independence war at the end of the 19th century have lots of differences in terms of their places, the background of times, their motives and nature, but they are same in disclosing the aggressive and ruling nature of the U.S.
"Due to the military interference by the U.S., the Syrian situation has been prolonged, cities and villages have been devastated and people are subject to unbearable misfortune and sufferings. The U.S. "assistance" for Syria is forwarded to the anti-government forces of the country, so it aims at expanding the incident," it added.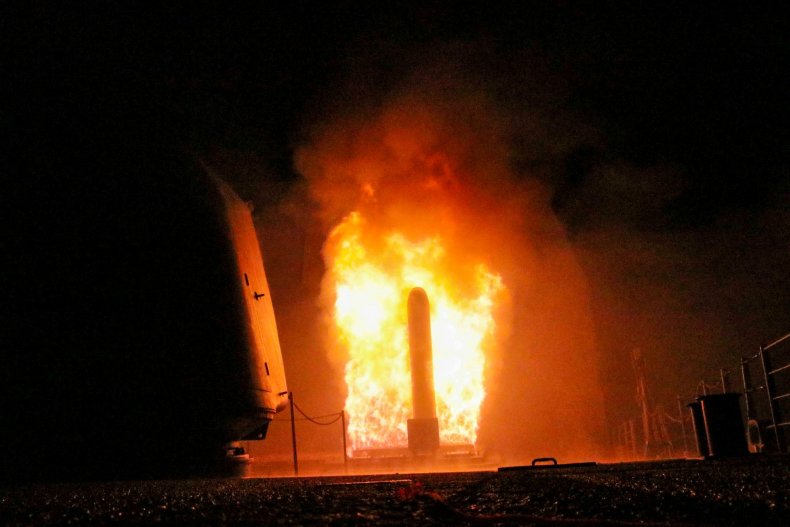 North Korea is an ally of both Cuba and Syria, two fellow traditional opponents of U.S. foreign policy. All three successive members of the ruling Kim dynasty have viewed these countries as comrades in a struggle against Western imperialism. In 2002, then–Undersecretary of State John Bolton placed Cuba and Syria—as well as Libya—into an extended "Axis of Evil" that already included North Korea, along with Iran and Iraq.
With Bolton as White House national security advisor, the U.S. has adopted an even tougher posture against its perceived enemies abroad. Trump gathered his French and U.K. allies in a cruise missile strike last month against suspected Syrian chemical facilities days after an alleged toxic gas attack in rebel-held territory. The attack, which occurred one year after Trump ordered a cruise missile strike against a Syrian air base in response to another reported poisonous assault, was condemned by Syria, Iran, Russia and North Korea—among other countries.
Related: Who's bombing Syria? Video shows new strikes and massive explosion as world powers clash
Despite this uptick in hostilities, unprecedented diplomatic exchanges between North Korea and U.S.-backed South Korea took place last month, and a historic meeting of North Korean supreme leader Kim Jong Un and Trump is in the works for later this month or next month. North Korea's combative state-run outlets have been unusually silent in recent months, mostly holding their tongue as the U.S. pursued muted versions of annual military drills in the Korean Peninsula all through last month.
One KCNA piece did blast the Focused Passage, a drill that occurred between April 16 and 20 that simulated an evacuation of U.S. citizens from South Korea in the event of a conflict. The official agency said "the military moves of the U.S. continue with an aim to aggravate the tension on the Korean peninsula, going against the atmosphere for improving the relations between the north and the south." Most articles, however, have focused on supporting means for Korean reunification.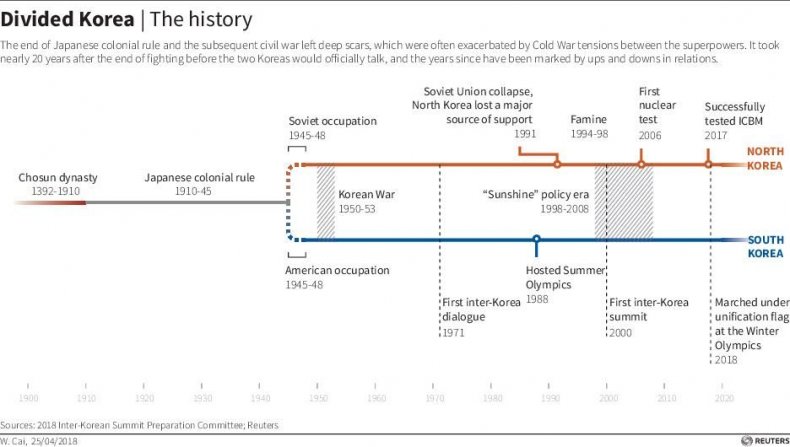 North Korea has long argued that this reunion would only come about from strictly indigenous efforts, meaning the U.S. could not play a role. Shortly after the brutal Korean War in the early 1950s, which forged the ongoing enmity between Pyongyang and Washington, North Korea developed the idea of Juche, a fierce adherence to self-reliance, and it has extended this suspicion toward U.S. adventures across the Middle East, Asia and beyond. U.S. military interventions in countries such as Afghanistan, Iraq, Libya and Syria have fueled North Korea's nuclear weapons program in defiance of international sanctions.
They have also caused North Korea, as well as Russia, to drift toward the self-proclaimed "Axis of Resistance" that includes Syria, Iran and allied Lebanese Shiite Muslim movement Hezbollah, all of which seek to repel U.S. influence in the region. Syrian Finance Minister Mamoun Hamdan and Iranian Director for the Foreign Ministry's East Asia and Oceania Department Mahmoud Farazandeh both arrived in Pyongyang in the past couple of days, just as North Korea resumed its barrage against U.S. interference in the Middle East.
"The U.S. 'assistance' is a dangerous weapon which is used for overthrowing the governments of other countries," Rodong Sinmun wrote Tuesday. "The illusion and hope pinned on the U.S. 'assistance,' military 'assistance' in particular, means just a death. This is a bitter lesson left by the history."