President Donald Trump was reportedly set to receive a personal letter from North Korean supreme leader Kim Jong Un via one of the young ruler's top lieutenants, who visited the White House on Friday.
Citing a foreign government official who was briefed on the letter's contents, The Wall Street Journal reported that the latest correspondence between the two leaders would be positive yet straightforward. Kim was reportedly determined to get a planned June 12 meeting between him and Trump back on track after a recent diplomatic spat derailed an opportunity for the first ever face-to-face meeting between a sitting U.S. president and North Korean supreme leader.
Kim also reportedly said he wanted the meeting to take place without threats or concessions. The letter, delivered by one of Kim's aides, Kim Yong Chol, was due to be inspected by U.S. officials and, if cleared, given to Trump, according to administration officials cited in the report.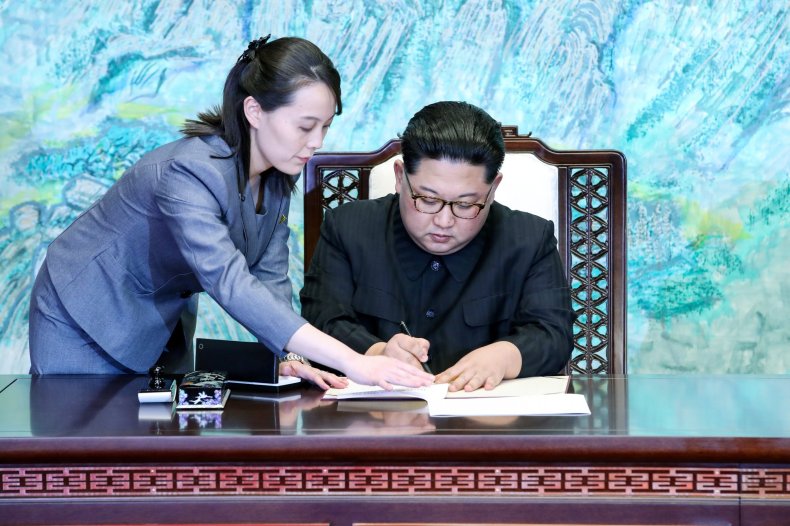 Kim Yong Chol, vice chairman of North Korea's ruling Korean Workers' Party and a former intelligence chief, had dinner Wednesday with Secretary of State Mike Pompeo in New York. The meeting was the latest of several rare high-profile diplomatic interactions between the U.S. and North Korea in recent months and the latest since one U.S. official's historical comparison nearly dismantled what both sides have claimed could be the path toward denuclearizing the Korean Peninsula.
Since 2004, John Bolton, currently national security adviser, has called on North Korea to abandon nuclear weapons in the same way Libyan leader Muammar el-Qaddafi did in exchange for better ties to the West. The analogy has come under scrutiny as North Korea has developed more advanced and ballistic capabilities and Qaddafi was overthrown in a 2011 uprising sponsored by the U.S.-led NATO military alliance.
Related: U.S. military 'prepared' to face China and North Korea ahead of major Asia conference
Bolton repeated this claim in March, weeks after Trump accepted a surprise invitation for direct talks with Kim Jong Un. Trump appeared to dismiss the so-called "Libya model" in an interview last month, but Vice President Mike Pence brought it up again, threatening Kim Jong Un with the same fate as Qaddafi if he did not abandon weapons of mass destruction. A top North Korean official replied with scathing remarks that convinced Trump to cancel the upcoming summit.
Trump reconsidered after a well-received statement from North Korea and the recent meeting between Pompeo and Kim Yong Chol appeared to again raise hopes that the summit between the two leaders would occur as scheduled later this month in Singapore.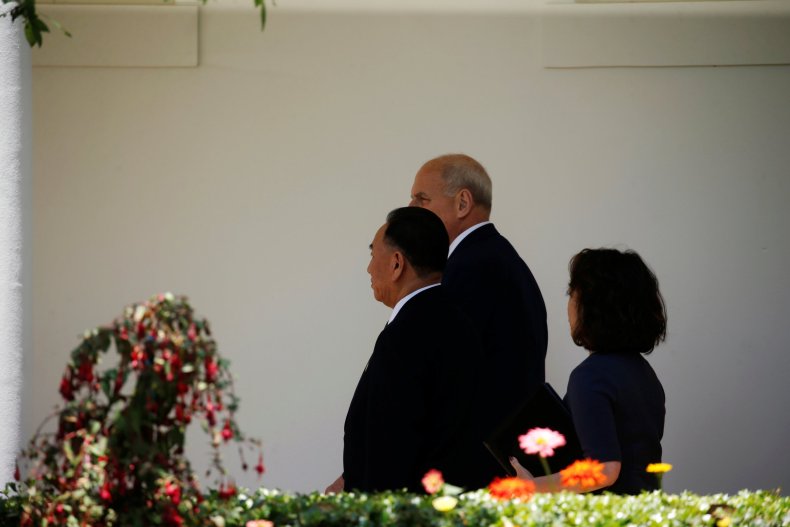 Washington and Pyongyang have had little public contact since war broke out between U.S.-backed South Korea and Soviet-backed North Korea in the 1950s on the once-Japan-occupied Korean Peninsula split by the two Allied powers. North Korea has developed nuclear weapons to deter potential U.S. military action, such as in Iraq and Libya, but has indicated it may be willing to abandon them if Kim Jong Un's security was guaranteed.
Even as they approach what would be a milestone in their relations, the U.S. and North Korea have indicated deep mistrust for one another. The official Korean Central News Agency showed just how closely officials in Pyongyang were monitoring their counterparts in Washington in an article titled "Now Is Time to Be Prudent About One's Language," which targeted unnamed "U.S. officials" who "openly incited hostility and war to strain the situation on the peninsula."
"We respect the freedom of expression but never tolerate the speech and behavior aimed at wrecking the present trend of peace and straining the situation on the Korean peninsula by misusing the pretext of the freedom," the commentary read. "It is also a political savvy to be able to properly face up to the trend of the times and weigh one's words, if necessary."