Texas Breaks Its Daily Record of Coronavirus Deaths
On Wednesday, Texas reported 197 coronavirus-related deaths, breaking its record for the highest daily toll of deaths connected to COVID-19. Last week, the state broke its daily records for the highest daily COVID-19 death tolls four times in a seven-day span.
The rising case numbers follow warnings by the state's Republican Governor Greg Abbott that the state may shut down for a second time if the situation doesn't improve.
With over 4,342 COVID-19 deaths as of July 22, Texas ranks 10th among U.S. states with the highest death tolls. The state's over 356,000 confirmed coronavirus cases ranks it fourth among states with the highest case numbers.
The state also hit a record number of hospitalizations on Tuesday with 10,848 COVID-19 patients occupying hospital beds.
The record-breaking number of deaths and hospitalizations follows that the state has also had the largest coronavirus prison outbreaks in the U.S., with more than 2,100 inmates infected across three facilities in Texas.
At least five state counties have ordered refrigerated trucks in anticipation of a coming death-surge, as county morgues reach full capacity.
A Quinnipiac University poll released after July 20 found that 65 percent of voting Texans believe the state epidemic is "out of control." The voters' approval for Abbott's handling of the virus dropped from 60 percent to 44 percent over the last month, the same poll showed, according to the Texas Tribune.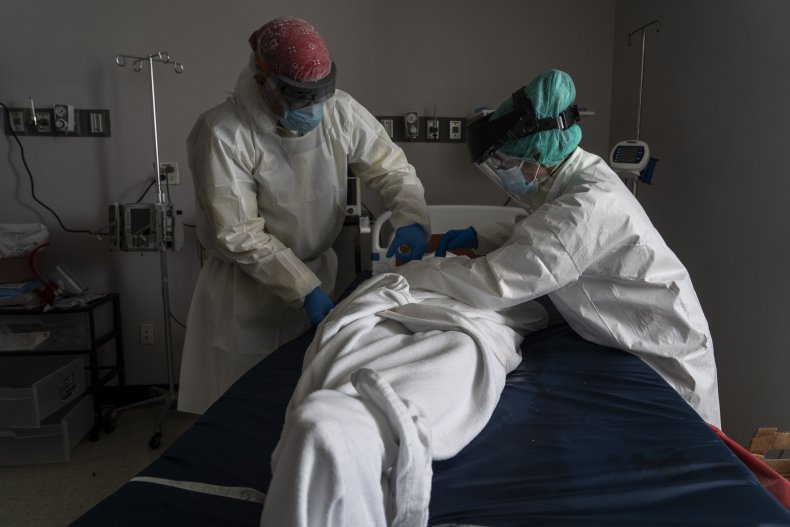 The state's dramatic increase in COVID-19 cases compelled Abbott to issue a statewide order on June 2 requiring all Texans to wear face masks in counties with 20 or more positive COVID-19 cases.
Although his order stated that non-compliant citizens could face a $250 fine, at least 12 counties said they wouldn't enforce his mask order.
On June 26, Abbott issued an order requiring bar closures statewide. The order also required restaurants to operate at 50 percent capacity rather than the 75 percent capacity originally specified by the state's reopening plan. Some bars and bar owners have protested and defied his order by continuing to operate.
Nevertheless, Abbott unveiled a plan in June requiring schools to provide in-person instruction five days a week starting in August. At least one school district has disregarded his instruction, holding online courses only until district administrators can perfect methods of minimizing the possibility of COVID-19 transmissions amongst students.
On July 10, Abbott announced that a medical team from the U.S. Department of Defense (DOD) would be deployed to the Houston area to provide additional hospital support.
The DOD task force would join seven other federal Disaster Medical Assistance Teams (DMAT) announced for deployment in Austin, Dallas, El Paso, Houston, Laredo, McAllen and San Antonio.
That same day, Abbott voiced disappointment with local officials who refused to enforce his mask order, adding that the spike in COVID-19 cases could result in "the necessity of closing Texas down."
Newsweek contacted Abbott's office for comment.