Will Russia and U.S. Team Up in Syria and North Korea?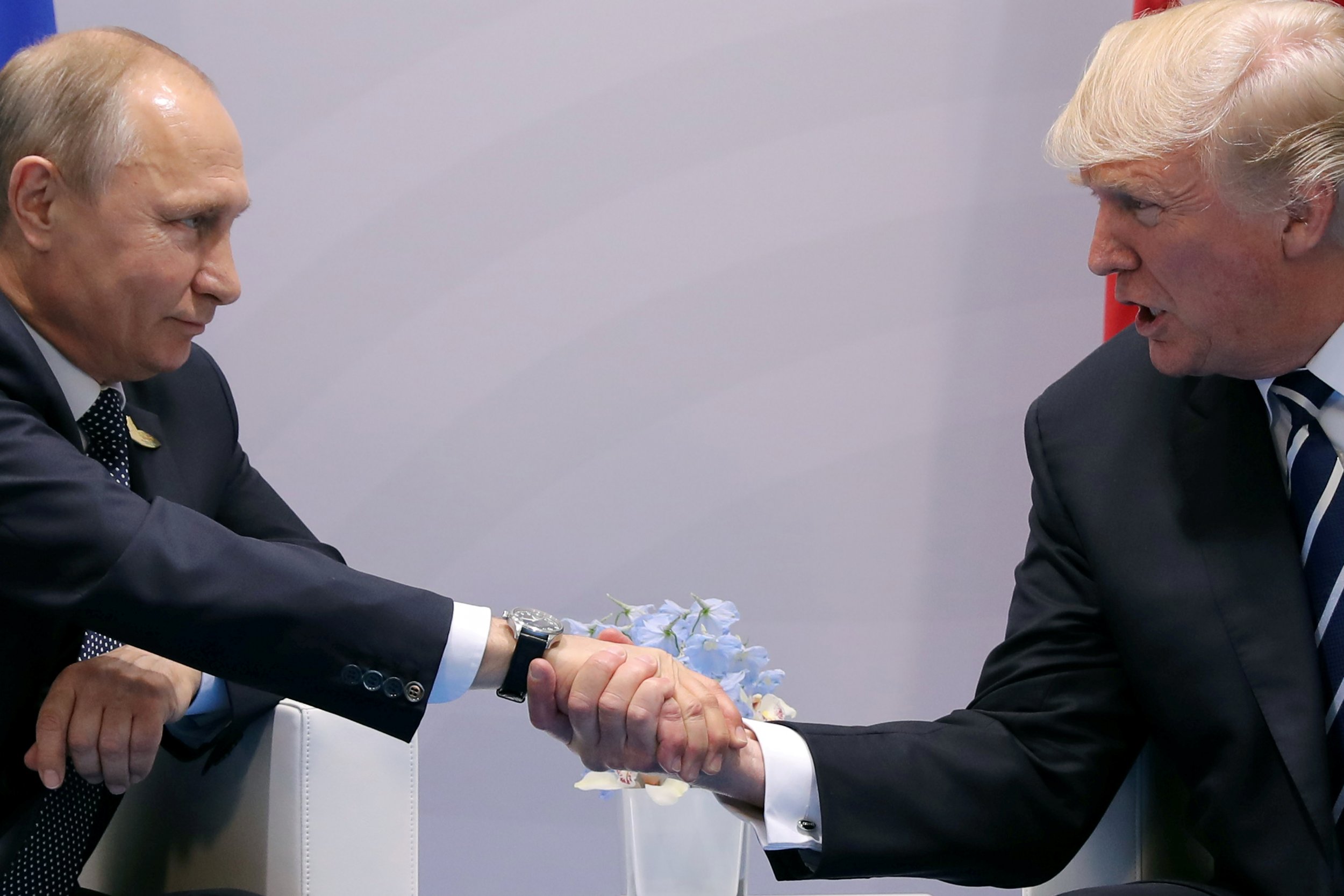 The U.S. and Russia may find themselves working closely together on major issues in the Middle East and Asia as President Donald Trump and his Russian counterpart, Vladimir Putin, met for the first time to discuss their role in international affairs.
After his face-to-face meeting with Putin at the G-20 summit in Germany, Trump hailed "very good talks" that were widely anticipated to have revolved around Washington and Moscow's stance on topics including the conflict in Syria and North Korea's growing nuclear and ballistic missile arsenal. Both countries have long taken a leading role in world affairs but have increasingly diverged in their positions in recent years. Recent events, however, suggest the two nations may once again seek to work together. Ahead of Friday's summit, Secretary of State Rex Tillerson opened the possibility of cooperating with Russia to defeat the Islamic State militant group (ISIS) in Syria.
Related: Russia says Syrian rebels are planning chemical attacks in Syria to prompt more U.S. strikes against regime
"While there are no perfect options for guaranteeing stability, we must explore all possibilities for holding the line against the resurgence of ISIS or other terrorist groups," Tillerson said in a statement Wednesday, according to the Associated Press.
"The United States and Russia certainly have unresolved differences on a number of issues, but we have the potential to appropriately coordinate in Syria in order to produce stability and serve our mutual security interests."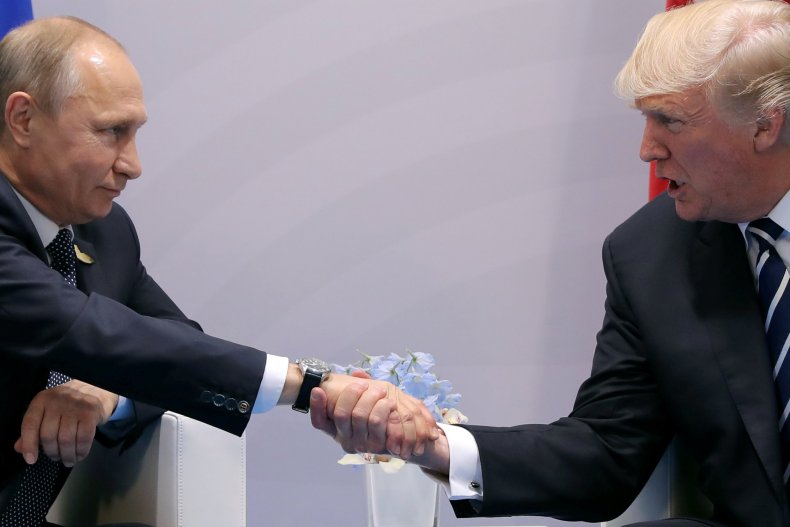 Both the U.S. and Russia are actively involved in the fight against ISIS in Syria but back different factions in the more than six-year-long war. Under former President Barack Obama, the U.S. sponsored various insurgents attempting to overthrow the government of Syrian President Bashar al-Assad, which they accuse of promoting systematic political oppression and human rights abuses. As rebel groups became increasingly dominated by armed, hard-line Sunni Muslim organizations such as ISIS and Al-Qaeda, the U.S. shifted its mission from trying to topple Assad, who was assisted by a direct Russian military intervention in 2015, toward stopping the spread of jihadist groups in Syria. The U.S. ultimately designated the Syrian Democratic Forces, a Kurd-majority coalition of Arabs and ethnic minorities, as its primary local partner to assist in the fight against ISIS in its de facto capital of Raqqa.
While the U.S.-backed Syrian Democratic Forces and Russia-backed Syrian army have allied in the past, they have become increasingly antagonistic since Trump abruptly reversed his decision not to target forces supportive of Assad in April after accusing the Syrian leader of sponsoring a chemical weapons attack against civilians. Assad and Putin strongly denied that the Syrian military was behind the attack and, after the U.S. struck pro-Syrian government forces at least four more times in past months, Moscow has threatened to sever all communication with Washington over their dueling campaigns in Syria.
As the Syrian Democratic Forces storm ISIS positions in Raqqa and the Syrian military aims to relieve the ISIS-sieged city of Deir al-Zour after making major gains nationwide, the U.S. and Russia may focus on reconciling their allied factions to avoid a greater conflict once ISIS is defeated.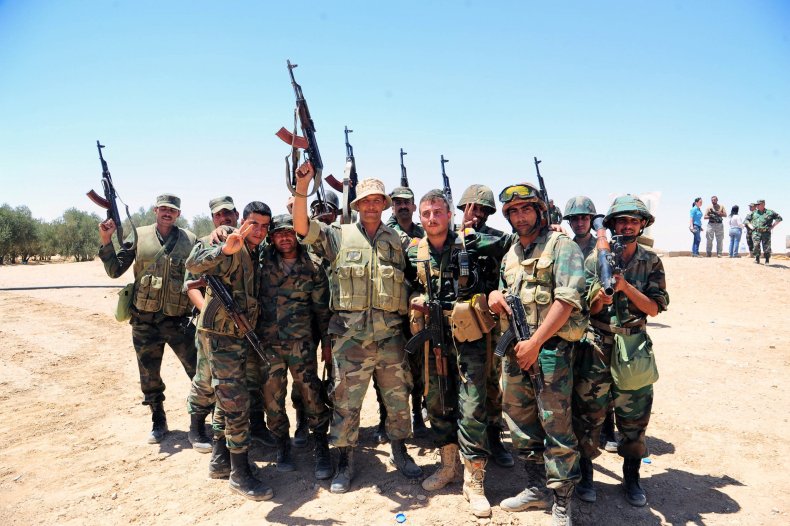 Across the globe, the U.S. and Russia are involved in another political crisis: North Korea's pursuit of nuclear weapons and intercontinental ballistic missiles (ICBM) capable of delivering weapons of mass destruction to targets around the world. Shortly after Trump made the decision to attack the Syrian military in April, he switched his focus to North Korea and reports that suggested it was preparing for a sixth nuclear weapons test. North Korean leader Kim Jong Un views nuclear weapons as crucial to his government's survival, which faces military threats by the U.S., but Trump has warned he would take action over such a nuclear test.
Trump initially approached Chinese President Xi Jinping in an effort to use his country's longstanding relationship with North Korea to pressure Kim into disarming his nuclear weapons stockpile. While China also has condemned North Korea's nuclear weapons program, it has exercised caution in promoting the U.S.'s regional interests, which often clash with its own, and instead appears to have embraced a Moscow-backed initiative to resolve the conflict. U.S. Ambassador to the U.N. Nikki Haley expressed her concerns about Russia's potential intervention in the region last week, and South Korean President Moon Jae-in's decision to approach Putin at the G-20 summit may have confirmed those fears.
Moon, the recently elected leader of South Korea, a staunch U.S. ally, reportedly told Putin that he saw a role in the conflict for Russia as a regional actor. The already tense Asia-Pacific once again became the focus of international headlines when North Korea announced Tuesday it had successfully launched its first ICBM, which experts say could probably strike parts of the U.S. and be outfitted with nuclear material relatively soon. With North Korea establishing an effective deterrent and the Trump administration warning of severe consequences, stakes in the region are potentially higher than ever.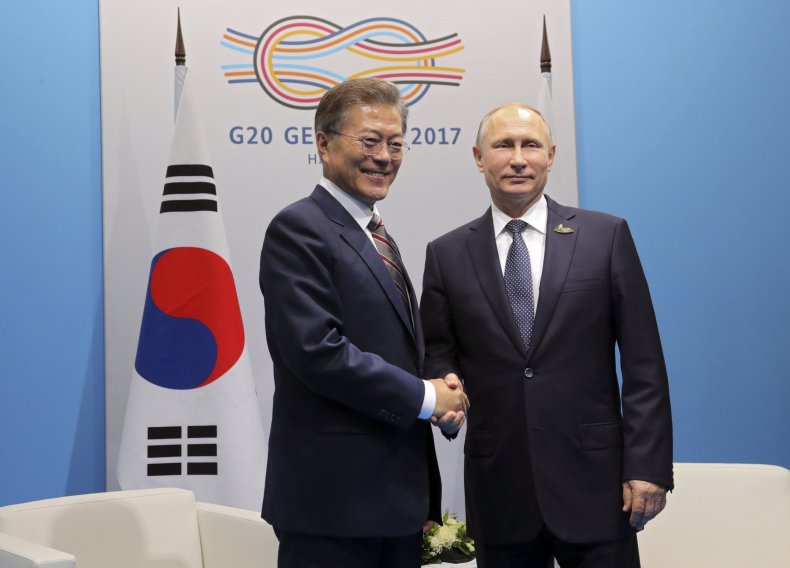 "While explaining our government's policy to push for North Korea's denuclearization through all available active and fundamental means, including sanctions and dialogue, President Moon asked for Russia's active role in bringing North Korea back to the negotiating table over its denuclearization," South Korea's presidential office said in a press release, according to the country's official Yonhap News Agency.
During Friday's summit, Putin called for a "pragmatic, accurate" approach to North Korea, Reuters reported. Japan, South Korea and the U.S. also reaffirmed their commitment "to continue to cooperate to apply maximum pressure on the DPRK to change its path, refrain from provocative and threatening actions, and take steps necessary to return to serious denuclearization dialogue," according to a joint statement referencing the acronym for North Korea's official title, the Democratic People's Republic of Korea.