Video of Trump Saying 'We Have to Keep Our Country Gay' Viewed 1M Times
A viral video of former President Donald Trump saying "we have to keep our country gay" received more than 1 million views on Twitter over the weekend.
Trump held a rally in Wilmington, North Carolina, on Friday night to speak in support of his endorsed candidates ahead of November's midterm elections in the evenly-split battleground state. During his speech, the ex-president attempted to make a reference to his 2020 campaign slogan, "Keep America Great," but misspoke—with Twitter quickly being flooded with jokes about the gaffe.
"Remember I was going to say, to use an expression, we have to keep our country gay," Trump said.
He then appeared to notice the blunder, stumbling through the next words without correcting that he intended to say "we have to keep our country great." He continued: "But it's not—for some reason, it's just not great anymore."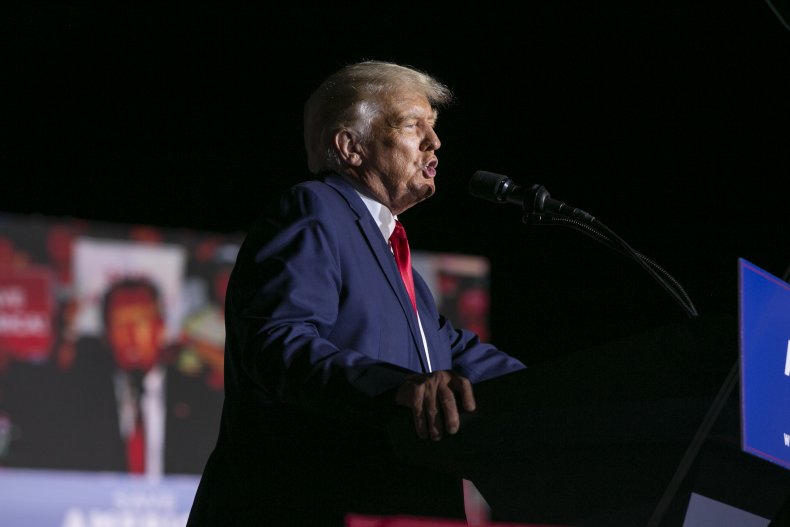 Videos of the gaffe spread across social media over the weekend. A video of the clip posted by MeidasTouch, an anti-Trump Twitter account, received more than 1 million views by Sunday morning. A separate clip posted by Twitter account, Acyn, was seen more than 600,000 times.
Many social media users made jokes about the clip.
"Trump: 'We have to keep our country gay.' He finally makes sense," tweeted Mike Sington, a former senior executive at NBCUniversal.
"Interesting new slogan Trump tried out tonight at his rally. Not sure his base is gonna be real happy with "keep our country gay,'" tweeted Ed Greenberger.
Some also drew comparisons to President Joe Biden, who Republicans—including Trump—have accused of having dementia based off similar clips of Biden stuttering or saying a gaffe. However, neither has been publicly diagnosed with dementia.
"Keep our country gay...er...erp per perp it's not, for some reason, it's not great anymore...It's adorable when people talk about Biden's speech impediment while ignoring Trump's obvious dementia," tweeted writer Holly Figueroa O'Reilly.
Trump's History With the LGBTQ+ Community
Trump's relationship with the LGBTQ+ community has been seen as tumultuous.
During his presidency, the White House embraced legal and policy positions seen as hostile to LGBTQ+ people. The Trump White House denied visas to unmarried same-sex domestic partners of foreign diplomats and United Nations employees. Trump's White House also baked Jack Phillips, a baker who refused to make a wedding cake for a gay couple, during his Supreme Court case. The former president also backed anti-transgender policy, including issuing a ban on transgender people serving in the military.
Still, he has some supporters in the LGBTQ+ community. During a Mar-a-Lago fundraiser in March, Trump drew criticism for telling a group of his gay supporters that they don't "look gay."
During the event held for Michigan congressional candidate John Gibbs, who defeated Representative Peter Meijer in the GOP primary, Trump asked, "Where's the gays for Trump?"
"You don't look gay," he said after somebody in the audience responded with, "We're over here." It is viewed as a faux pas or offensive to tell members of the LGBTQ+ community that they do or don't "look gay."
Newsweek reached out to Trump's office for comment.