President Joe Biden doesn't want to talk about former President Donald Trump—except when he does. Even as Biden says he wants to ignore his 2020 rival, he and his allies repeatedly pointed the finger of blame at Trump for the current border problems.
Biden's presidency began with a clear desire to move forward from Trump, swiftly rolling back via executive action many of his predecessor's policies. As he unraveled parts of Trump's legacy, Biden expressed a desire to also cut him from the political narrative.
"For four years, all that's been in the news is Trump," Biden said in a CNN town hall in February, when asked about Trump's second impeachment. "The next four years, I want to make sure all the news is the American people. I'm tired of talking about Trump."
On Sunday, when asked about Trump perhaps visiting the border, Biden said: "I don't care what the other guy does." Trump has said he will likely visit the border in the next couple of weeks.
And while he might not care about what his predecessor does now, Biden has been happy to talk about things Trump did—particularly on the border.
Biden insisted "nothing has changed" during his press conference last Thursday regarding the surge of migrants at the border, stating there were similar numbers last year under the Trump Administration.
There is generally an increase in numbers at the border in spring as the weather improves, and this has posed problems for previous presidents.
However, Biden's numbers were off in regard to unaccompanied children—with the increase in the number of minors arriving alone at the border from January to February higher this year than it was last.
Numbers of migrants at the border are also tipped to hit a 20-year high, though statistics have also shown boosted figures began prior to Biden's inauguration.
The graphic below, from Statista, details the number of children and family units apprehended at the border in recent months.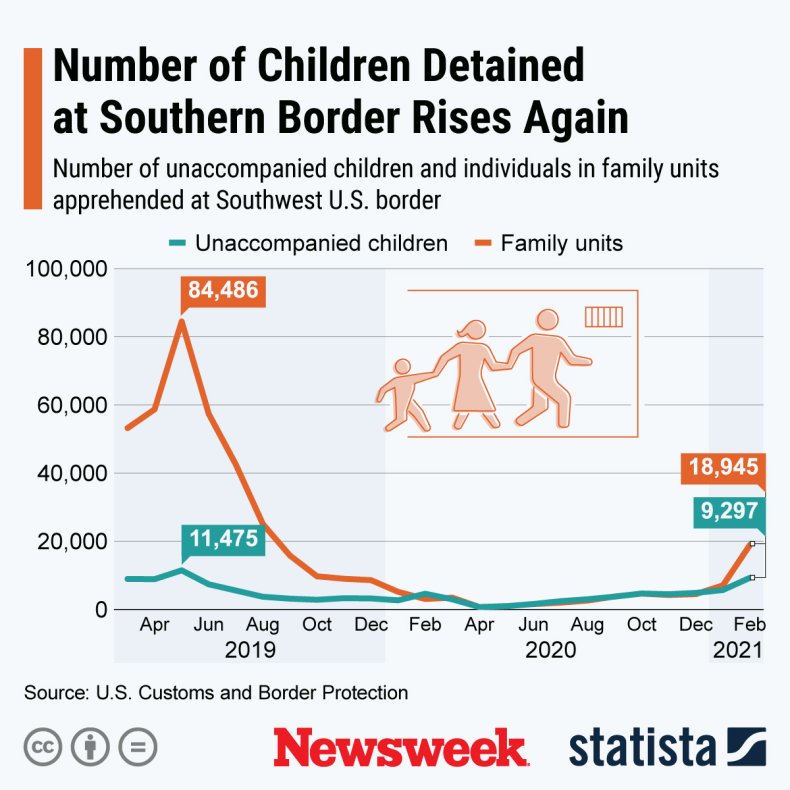 The president also spoke of plans "to deal with the root causes of why people are leaving," and criticized Trump for not focusing funding on this. Moreover, Biden blamed Trump for the ongoing capacity problems at overflowing detention centers.
"So we're building back up the capacity that should have been maintained and built upon that Trump dismantled," Biden said. "It's going to take time."
Biden kept taking aim at Trump: "The idea that I'm going to say, which I would never do, 'if an unaccompanied minor ends up on the border we're just going to let them starve to death and stay on the other side'—no previous administration did that either, except Trump. I'm not going to do it. I'm not going to do it."
Trump hit back at Biden's comments, telling Fox News that the current administration's handling of the situation was "outrageous."
Biden's charge that the last administration left behind a defective migration system is echoed by his team and political allies.
Secretary of Homeland Security Alejandro Mayorkas said earlier this month that the Biden Administration is working to make the immigration system "orderly," arguing that Trump had "dismantled" the processes and provisions that kept it functioning.
"We have a short-term plan, a medium-term plan, and a long-term plan, and the president and I have spoken to this repeatedly," Mayorkas told NBC News' Meet the Press.
"Please remember something, that President Trump dismantled the orderly, humane and efficient way of allowing children to make their claims under United States law in their home countries."
House Speaker Nancy Pelosi (D-CA) also said Biden was handed a "broken system."
"This is a humanitarian challenge to all of us. What the administration has inherited is a broken system at the border and they are working to correct that in the children's interest," she told ABC News' This Week earlier this month.
Former White House Chief of Staff Mark Meadows took issue with Pelosi's remarks.
"From the department of 'can't make it up': Democrats blaming Donald Trump for a border crisis that happened after Joe Biden a) stopped wall construction and b) stopped enforcing the law," Meadows wrote on Twitter.
Though Biden might not want to give Trump any attention, the crisis has allowed the 45th president and his Republican allies to draw focus.
Trump's border wall was a key component of his 2016 campaign and became a central feature of his administration. Amid speculation he'll run again in 2024, the current border issues are allowing Trump to return to that talking point and demand his wall is finished.
He has also lampooned Biden in damning statements about the border. Republican lawmakers have jumped on Biden's handling of the situation, harking back to and defending Trump's actions as they try to dent Biden's buoyant approval rating.
Trump's allies are touting the situation at the border as vindication of the former president's policies.
As the border crisis rolls on unresolved, the need to pass the blame on to Trump may overwhelm Biden's desire to stop talking about him, helping the former president to stay at the center of the political discussion as he eyes the 2022 and 2024 elections.
Newsweek has contacted the White House and the Office of the Former President for comment.