The First Day of Donald Trump's New Website Recalls His Earlier 'Twitterstorms'
Republican former President Donald Trump spent the first full day of his new blog slamming his Republican congressional critics and large social media companies. His attacks bore similarities to his previous "Twitterstorms" during his presidency.
Trump launched his new blog, named "From the Desk of Donald J. Trump," on Tuesday evening. Since its launch, two of his posts have directly attacked Wyoming Republican Representative Liz Cheney and one has attacked Republican Senate Minority Leader Mitch McConnell.
Cheney has repeatedly called out Trump for his repeated and baseless claims that he lost the 2020 presidential election due to widespread voter fraud. McConnell blamed Trump for inciting the January 6 Capitol insurrection. Trump has recently called McConnell a "dumb son of a bitch" and a "stone-cold loser."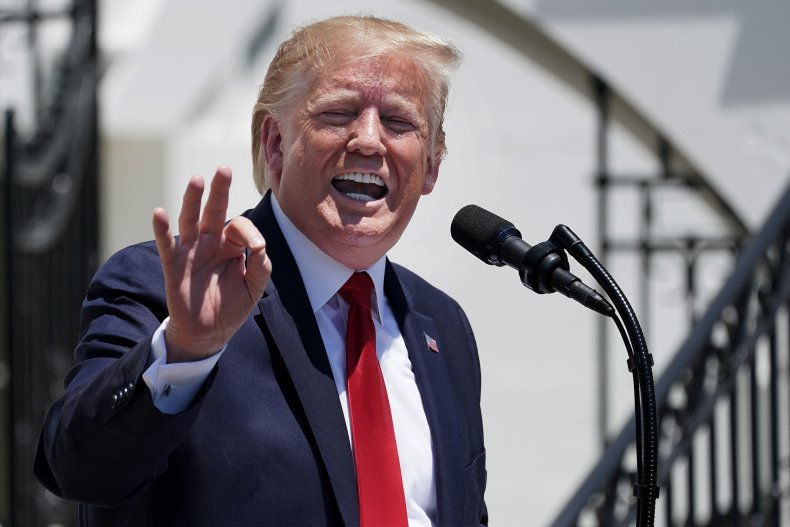 "Warmonger Liz Cheney, who has virtually no support left in the Great State of Wyoming, continues to unknowingly and foolishly say that there was no Election Fraud in the 2020 Presidential Election," Trump wrote in a Wednesday morning blog post. "In fact, the evidence, including no Legislative approvals as demanded by the U.S. Constitution, shows the exact opposite."
In the same post, Trump slammed McConnell as "gutless and clueless." Trump added, "He blew two seats in Georgia that should have never been lost," a reference to the two Senate seats won by Democrats in a January special election.
Trump's post referred to a common claim made by Republicans after Trump lost the 2020 election by over 7 million popular votes and 74 electoral votes.
The claim states that various local and state election officials violated Article 2 of the U.S. Constitution when they changed their voting policies due to COVID-19 without prior approval by state legislatures. Republican Texas Senator John Cornyn said he was "not convinced" by the claim's legal reasoning.
In a second post also published on Wednesday, Trump wrote, "Liz Cheney is a warmongering fool who has no business in Republican Party Leadership." The post went on to endorse Republican New York Representative Elise Stefanik to take over Cheney's role as GOP Conference Chair.
In another Wednesday blog post, Trump blasted Facebook and Twitter for banning him from their platforms.
"Free Speech has been taken away from the President of the United States because the Radical Left Lunatics are afraid of the truth, but the truth will come out anyway, bigger and stronger than ever before," Trump wrote. "The People of our Country will not stand for it! These corrupt social media companies must pay a political price, and must never again be allowed to destroy and decimate our Electoral Process."
On Wednesday, Facebook's Oversight Board upheld the social network's decision to ban Trump after Trump's supporters tried to mount an insurrection to overturn the election's results at the Capitol on January 6. Twitter permanently banned him for similar reasons on January 8.
For a brief while, Trump's blog posts were being shared on Twitter by @DJTDesk, an account sharing the blog's posts. In response, Twitter users began tweeting messages with the hashtag #RemoveTrumpJack, urging Twitter's CEO to ban the account. The users said that the account effectively allowed Trump to get around his suspension from the platform.
A spokesperson with Trump's office said that they neither created the @DJTDesk account nor any other accounts that later attempted to share the blog's posts on Twitter.
The account has since been suspended, as have other accounts mirroring Trump's blog posts.
Trump's prolific Twitter use—or "Twitterstorms" as they were called—defined his presidency. He often used the social media platform to float possible policies, repeat his favored talking points and insult his political enemies.
By December 17, 2017, less than one year into his presidency, Trump spent a combined 40 hours of his time tweeting. The Globe found that he posted many of his more incendiary tweets between 5 a.m. and 8 a.m., before staff workers typically arrived in the White House's West Wing.
When Trump was hospitalized with COVID-19 in October 2020, he posted over 40 times to Twitter within two hours. Shortly after Democratic New York Governor Andrew Cuomo delivered his Democratic National Convention speech on August 18, 2020, Trump retweeted 11 posts criticizing Cuomo.
On one day in June 2020, Trump posted 200 tweets and retweets, a personal record. His previous record had been 142 tweets posted during the January 2020 impeachment proceedings. Also in June 2020, Trump once sent 74 tweets within a single hour, a personal best.
On May 1, Trump claimed that "boring" Twitter was losing users since his being banned. The platform has gained over 7 million new daily users since Trump was banned.
Newsweek contacted Trump's office for comment.
Update (5/6/2020, 11:50 p.m.): This article has been updated to include a statement from Trump's office.