Joe Biden Leads Donald Trump on Most Key Issues, Polls Show—But Not the Economy
President Donald Trump and former Vice President Joe Biden's 2020 campaigns must address a myriad of issues at home and abroad, as the pair look to win support with their stances on key issues including COVID-19, race relations and the economy.
The coronavirus crisis has seen a shift-change in their priorities, as well as those of American citizens. While the direct human tragedy of the pandemic is obvious, the outbreak has also compounded issues for the economy and international relations, which the electorate will be looking for the next president to tackle.
COVID-19 is also highlighting inequalities domestically, with black Americans more likely to know someone who has suffered from a severe case of COVID-19. While widespread protests following the death of George Floyd have also put focus on the issue of systemic racism.
Amid the outbreak and the demonstrations, it would appear Democratic nominee Biden has fared better on the matter of public perception, with a consistent polling lead from prospective voters across the nation.
The president is also suffering generally in terms of public perception, having hit a six-month high in disapproval ratings last week.
As top-line forecasts sway in the direction of Biden, he also holds an advantage on key points which could prove integral to election success, though polling suggests he is lagging on one marker the president holds dear: the economy.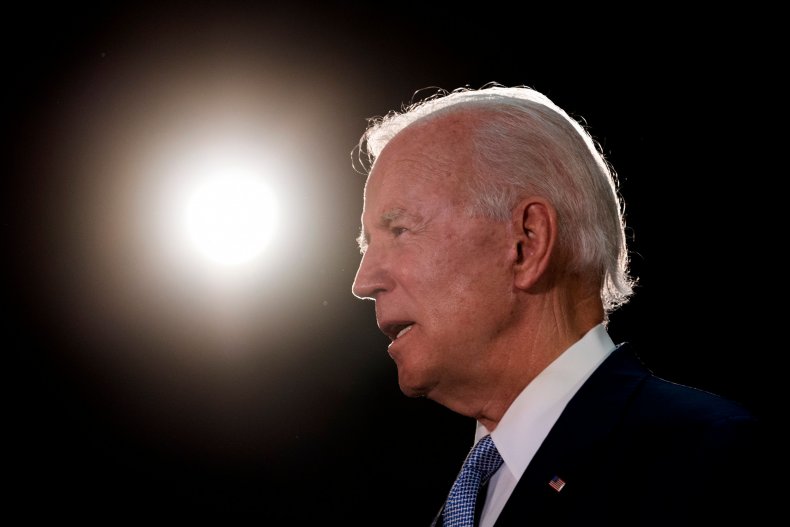 Coronavirus
With COVID-19's sweeping impact across the nation, and its shaping of the parameters of campaigning itself due to social distancing measures, the pandemic will no doubt impact voter behavior come November.
For Trump, he will be judged directly on how he handled the federal response to the crisis. Biden will rely on whether people believe he might have done any better.
According to recent polling, voters for the moment believe the Democratic challenger could have outperformed Trump.
A CNN poll conducted by SSRS, of 1,125 registered voters from June 2 to 5, showed 55 percent felt Biden would better deal with the outbreak, compared to 41 percent who believed Trump would.
A Washington Post/ABC poll, conducted among 1,001 adults from May 25 to 28, asked respondents: "Who do you trust more to direct the federal government's efforts to control the spread of the coronavirus, (Trump) or (Biden)?" Half of those asked said Biden, with 42 percent saying Trump, giving Biden an 8-point advantage.
This reflected a previous Morning Consult/Politico poll, conducted among 1,994 registered voters from May 15 to May 18, which showed Biden lead Trump 42 to 35 percent on who voters trust more to handle the spread of coronavirus.
Race relations
The death of George Floyd has sparked outcry across the United States, with outrage boosting the discussion around race in the nation.
Trump has spoken of priding himself on support of African Americans, touting unemployment figures which previously hit lows during his tenure. Though they are now at a high following the effects of coronavirus lockdowns on the economy.
However, he has faced criticism over his response to protests across the nation, in which the issue of systemic racism has been a focus.
The CNN poll found 63 percent thought Biden would handle race relations better than Trump, with 31 percent saying the president would do a better job. Amid respondents who were black, 91 percent favored Biden over Trump handling relations.
According to a recent poll from Monmouth, conducted from May 28 to June 1 with a sample of 807 adults, 33 percent of voters said race relations will be a major factor in who they choose to support.
Following on from that, 50 percent said they had no confidence in Trump's ability to handle race relations, compared to 29 percent who felt that of Biden.
While 52 percent indicated confidence in Biden, 17 percent a great deal and 35 percent some, compared to 40 percent for Trump, 22 percent a great deal and 18 percent some.
In an NPR/PBS NewsHour/Marist Poll, of 1,062 adults asked between June 2 and 3, 67 percent said they felt Trump had increased racial tensions with his response to protests across the nation. More than half, 52 percent, said they felt Biden would better handle race relations as president, compared to 34 who thought Trump would.
It comes after Yahoo! News/YouGov poll, of 1,060 adults from May 29 to 30, also saw 52 percent of respondents state they believe Trump is racist, a point which the president has denied accusations of. He previously described himself as "the least racist" person.
China
Relations with China have plummeted amid the coronavirus pandemic, with both nations trading barbs over the handling of the outbreak. The U.S. has accused the nation of a lack of transparency in the early days of the virus' spread, which China has vehemently denied.
China in turn has goaded the U.S. over its own domestic issues, while also urging it to stay out of its affairs, clashing over the stance taken on Hong Kong.
As the world's second biggest economy, with a military spend only surpassed by the U.S., relations with China are becoming more of a flashpoint.
The picture over who would best deal with that between Trump and Biden is less clear than other points.
A Fox News poll, conducted between May 17 and 20 with 1,207 registered voters, found 43 percent thought Biden would do a better job in handling relations with China, while 37 thought Trump.
The Morning Consult poll found them essentially tied, with Biden on 40 percent and Trump on 38, with poll having a margin of error or plus or minus 2 percent, potentially eradicating the gap.
An NBC News/Wall Street Journal poll, conducted May 28 to June 2 among 1,000 registered voters, put Trump on 43 percent and Biden on 40. The poll's margin of error, plus or minus 3.1 percent, could wipe that gap out, giving neither an advantage.
Female voters
In 2016, Trump relied heavily on male voters in his bid for the White House. However, according to the NBC/Wall Street Journal poll, his lead with that demographic has dropped to 8 percent. Meanwhile Biden's lead with women reached 21 percent, a disparity which is fueling Biden's overall polling advantage.
The University poll gave Biden an 11 percent lead overall, with 52 percent stating they would back him over Trump among all those asked. But among female respondents, that lead hit 19 percent, with 58 percent stating they would support Biden compared to 39 for Trump.
The CNN polling gave Biden a 27 percent lead among women, with 62 to 35 percent. This is compared to a 2 percent lead for Trump among male voters, split at 48 to 46, a difference within the polls margin of error of plus or minus 3.4 percent.
The Fox News poll showed 50 percent of respondents state Biden would handle women's rights better than Trump, while only 33 percent thought Trump would be superior on the issue.
Polling has consistently shown a gender gap between the two rivals, as previously reported by Newsweek.
The economy
While Biden holds an overall polling lead at the moment going into November, as well as advantage on a number of issues, Trump still comes top on the economy, a selling point he has continually boasted about throughout his term.
Going into the election, Trump will hope the economy starts to rise again as lockdown measures are lifted, as he vows to take it back to and beyond levels seen prior to COVID-19. His platform in 2016 boasted his business background, and his campaign will hope to tout the economy in a similar way as they bid to secure his reelection this time out.
And it would appear Trump's hard sell on the economy is working, with polling showing he is more trusted than Biden to this regard.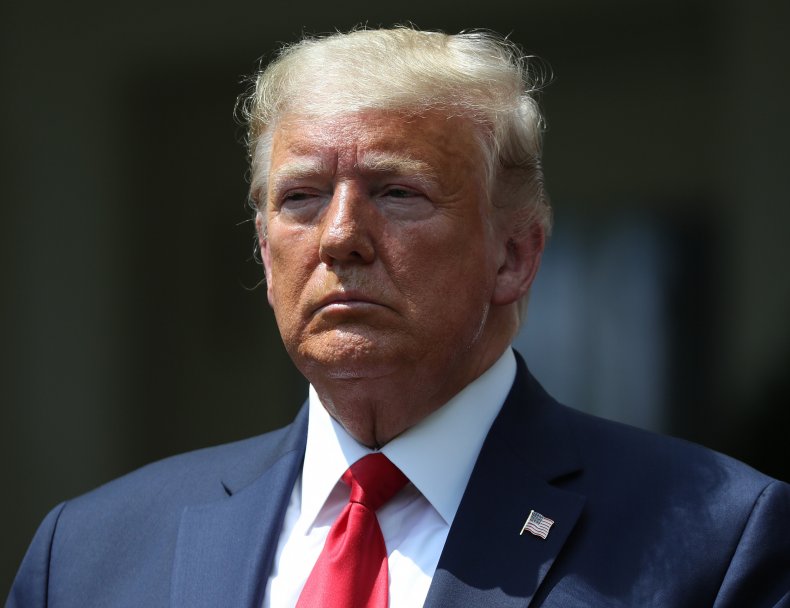 Polling from CNN and SSRS gave Trump a 5-point lead on the economy, with 51 percent feeling he is better equipped than Biden in handling the issue.
The Fox News poll gave Trump a slight edge on the economy, with 45 percent to 42 for Biden. The 3 percent gap is just higher than the poll's margin of error, at plus or minus 2.5 percent, giving the president the slight edge.
The Morning Consult/Politico poll also gave Trump a narrow lead on the issue, at 44 percent to 41 percent. Again, this gap just surpasses the survey's margin of error, at plus or minus 2 percent, giving Trump another slim win.
And while Biden may lead in terms of ability to stem the outbreak, the picture on who is trusted in rebuilding the economy afterwards is less clear.
In the Monmouth poll, 33 percent of respondents said they had a great deal of confidence in Trump's "ability to handle the post-pandemic recovery," compared to 18 percent who said that of Biden. However, 40 percent also said they had no confidence at all in Trump in that regard, compared to 33 percent who said that of Biden.
The Quinnipiac University poll, however, placed the two closer on the issue of the economy. Forty-eight percent said they felt Biden would do better on the economy, while 47 percent said Trump. But the poll's margin of error, plus or minus 2.7 percent, could nullify the narrow gap.
Newsweek has contacted the Trump and Biden campaigns for comment.