MSNBC Panelist Slams Lindsey Graham on Abortion Bill: 'Never Seen a Vagina'
Comedian Judy Gold blasted Senator Lindsey Graham's proposed bill to ban abortions nationwide after a woman is 15 weeks pregnant, saying he has "never seen a vagina" during a panel discussion on MSNBC on Friday.
Graham, a South Carolina Republican, introduced the bill earlier this month that, if passed, would ban the medical procedure except in the cases of rape, incest or to save the life of the mother.
Critics condemned the senator for the bill, accusing him of hypocrisy because he previously said abortion law should be decided on a state-by-state basis after the Supreme Court overturned Roe v. Wade, the case that guaranteed abortion rights across the country. However, Graham defended the bill, saying it would bring abortion policy into "the mainstream of most everyone else in the world" during a press conference announcing the bill.
His abortion bill became a topic of discussion on MSNBC's The 11th Hour hosted by Stephanie Ruhle featuring Gold, along with Nancy Giles, Ron Insana and Liz Plank.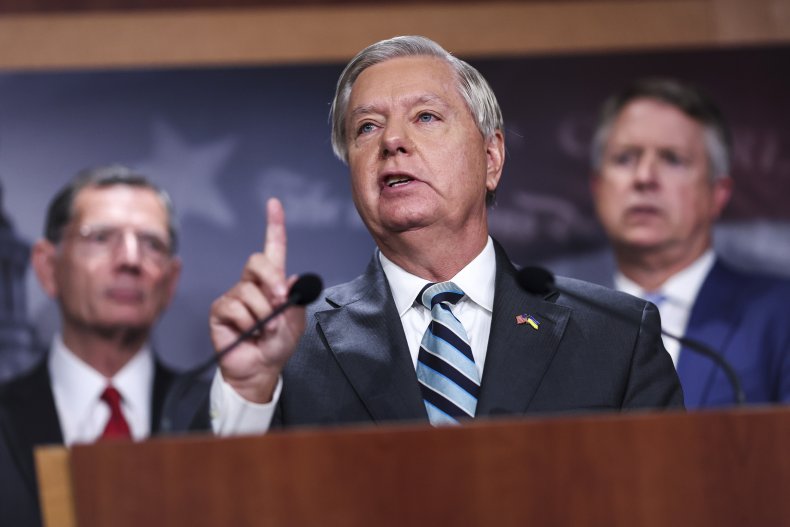 During the panel, Gold said the proposed ban is not only politically toxic—referring to a referendum in Republican-leaning Kansas, which saw voters overwhelmingly back reproductive rights, but also said Graham should not be telling women what to do with their bodies.
In Kansas, with more than 61 percent of the vote at the time the election was called by the Associated Press, the statewide referendum blocked Republican legislators from banning or restricting access to abortions. Kansas' abortion referendum—the first popular vote on the issue in nearly 50 years—has been widely viewed as a bellwether in a post-Roe America.
"The fact that he's telling women what to do with their bodies—he's never seen a vagina. He's never seen a naked woman, and he is telling me?" Gold asked.
The panel erupted in laughter over Gold's comments, with Ruhle adding, "We don't know that for sure. We do not know that for sure."
Her remarks appeared to be a reference to allegations that Graham is secretly gay, which some Democrats have used to attack the Republican senator. However, there is no substantial basis to these rumors, which many have condemned as homophobic.
Gold's remarks faced some backlash on social media, however, where critics said her joke crossed a line.
"MSNBC has gone too far...it should issue an apology to the Senator and to the viewers. "MSNBC Panel Agrees Lindsey Graham Has Never 'Seen a Vagina,'" tweeted Newsmax anchor Greta Van Susteren, who formerly worked at MSNBC.
"MSNBC anchor Stephanie Ruhle and her left wing guests, CNBC's Ron Insana, MSNBC columnist Liz Plank, and comic Judy Gold do some serious gay bashing," tweeted radio host Mark Simone.
Gold hit back against her critics on Twitter on Saturday, by writing: "Now, would I say something like that? ABSOLUTELY!!!! #AbortionIsHealthcare."
Graham's Abortion Bill Unlikely to Pass, Could Cost GOP
Graham introduced his abortion bill less than two months ahead of the November midterm elections. Abortion rights emerged as a key issue during the midterms following the overturning of Roe in June. The issue galvanized Democratic voters, putting Republicans on the defense in a year they initially hoped to take advantage of President Joe Biden's low approval rating to sail to victory.
However, polls indicate voters do not support a nationwide ban on abortion, though many support some guardrails. Graham's bill could threaten to turn voters who support reproductive rights away from the GOP.
The bill is also unlikely to receive enough support among Republican senators to become law.
Senate Republicans would need 60 votes to overcome the chamber's filibuster to allow debate on the bill. Even if Republicans sweep Senate races in November, they do not appear to have a viable path to win 60 seats.
Even if they do take control of the Senate, a handful of Republican senators, such as Maine's Susan Collins, support abortion rights. Even some GOP senators who supported the overturning of Roe believe abortion should be decided by the states. At least 14 Republican senators have come out against the bill.
Newsweek reached out to Senator Graham's office and Gold's spokespersons for comment.