Virginia On-Air Shooting Victim's Mom Ready to Demand Action on Mother's Day Weekend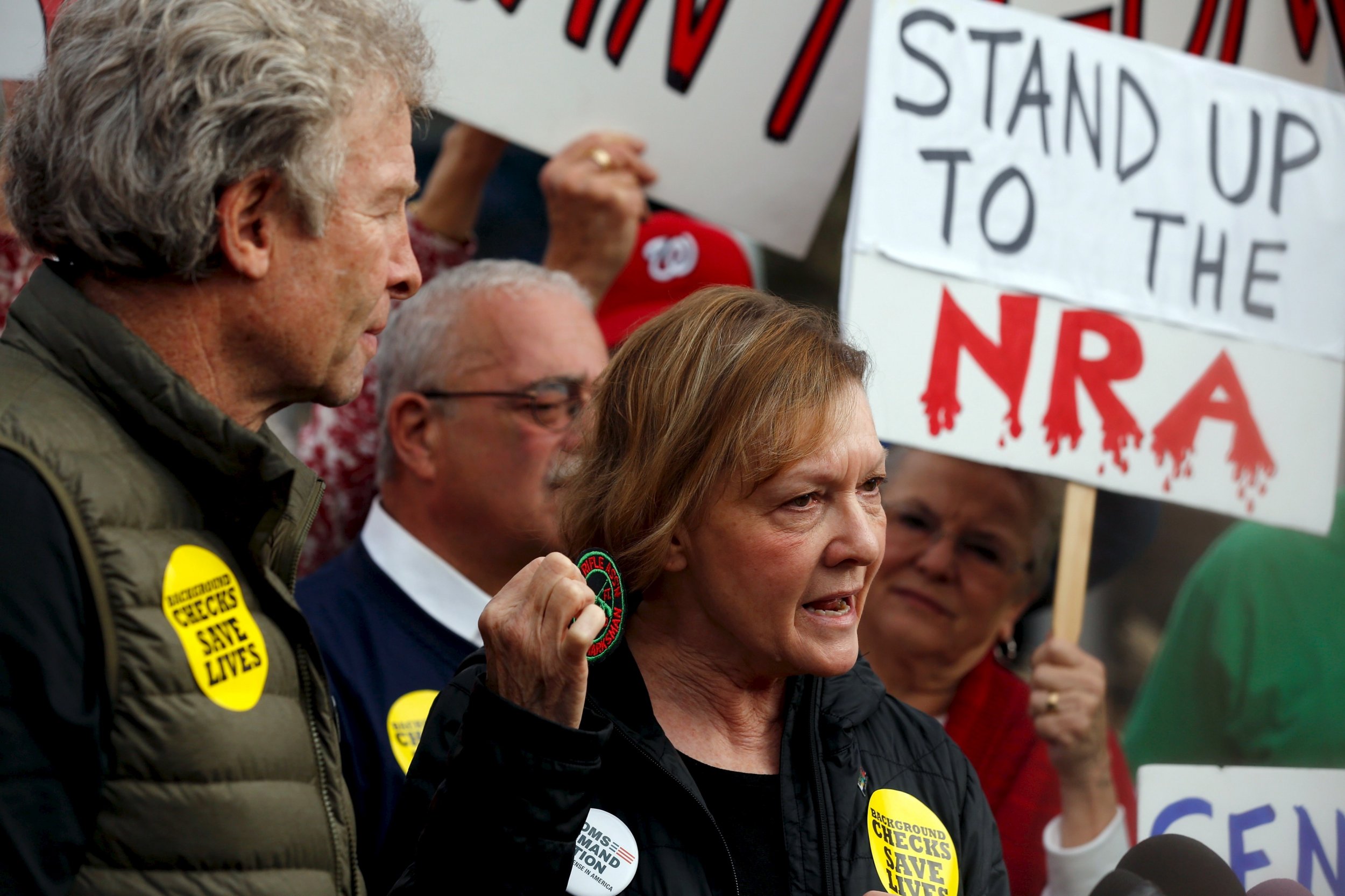 Alison Parker had a close relationship with her mom. On Mother's Day in 2015, she took both of her parents wine-tasting and hiking around the Blue Ridge Mountains in Virginia. And every Monday, she met her mom after her morning shift ended at the local news station to share lunch and do some shopping.
"Those are the things I miss," Barbara Parker tells Newsweek.
The world watched in horror when Alison, a 24-year-old reporter, was fatally shot on live TV on August 26, 2015, along with her colleague Adam Ward, a 27-year-old photojournalist, both with WDBJ7. The two were conducting a live interview at Bridgewater Plaza in Moneta, Virginia, when a gunman approached and killed them. The suspect, later identified as a former employee at their Roanoke news station, fatally shot himself before police could apprehend him. Much of the aftermath of the shooting played out on social media, as the suspect posted video footage and updates to Twitter as he fled.
"For lack of better words, we call ourselves pissed-off parents because we weren't victims and we weren't shot and survived. But our daughter, who we adored, was taken from us, and she was only doing her job," Barbara says, speaking of herself and her husband, Andy. "Every day, people are added to what we call this club no one wants to join."
Before Alison's death, the couple woke each day to watch their cheerful and perky daughter's on-air morning interviews with members of the community. Barbara remembers joking with Alison about not wanting to wake up as early as 5:50 a.m. to view her first daily TV report. Instead, she watched online videos of her daughter's stories later in the morning.
On the morning of the shooting, Barbara watched her daughter's first report online. But only one video had been posted, which wasn't typical of Alison's work. Later in the morning, her longtime boyfriend, Chris Hurst, called the Parkers with the news that Alison had been shot. Thousands had watched the young woman die that morning, and even more around the world viewed the shocking attack on social media.
"We made that decision early on that we would not watch it," Barbara says. "I want to remember my daughter exactly as she was."
The Parkers now remain adamant about not defining Alison by her death. In the nine months since the deadly attack, they have started a foundation in her memory—For Alison—that supports the visual and performing arts in southern Virginia communities. The couple also provide support to other families affected by gun violence and participate in events held by activist groups, including Everytown for Gun Safety and Americans for Responsible Solutions.
"You shake your head and say, 'I can't believe nothing's being done,'" Barbara says. "And then it happened to us, and we had a choice: We could crawl up in a fetal position and do nothing, or we could turn our grief into action."
Shortly after his daughter's death, Andy Parker became active and vocal on the issue of guns in America. He spoke openly to various media outlets, pledging to do "whatever it takes" to reduce gun violence in the country, including helping to elect leaders who will support stricter firearms laws. Barbara, who is now retired from the Piedmont Center for the Arts, joined her husband in the movement.
Sunday will be Barbara's first Mother's Day without her daughter. (She has another child, a son named Drew.) This weekend, she is set to travel to New York City from her home in southern Virginia to march across the Brooklyn Bridge on Saturday with Moms Demand Action for Gun Sense in America. The march is an annual event now in its fourth year. In an address to the crowd, she will encourage supporters to continue standing up against gun violence.
This year marks the first presidential election since the December 2012 shooting at Sandy Hook Elementary School in Newtown, Connecticut, where 20 first-graders and six educators were killed. Since then, Americans have died daily from gun violence in communities across the country and in high-profile mass shootings from coast to coast, including the killings in Charleston, South Carolina; Chattanooga, Tennessee; Lafayette, Louisiana; and Roseburg, Oregon. Just this week, a former employee fatally shot a worker and then himself at a business in Harris County, Texas.
Barbara commends the media for highlighting the shootings. Those daily news reports, she says, are difficult for most Americans to ignore and have "shocked people into reality" because citizens can't play or go to school or work without fearing for their lives.
"We have a very serious problem in this country," she says. "Politicians can no longer ignore it."
Gun rights and gun violence have become key talking points in the 2016 presidential race, mostly among the Democratic candidates. Hillary Clinton criticizes Bernie Sanders for his gun-voting record, which includes support for a 2005 federal shield law that continues to provide general immunity to firearms companies from facing legal action for weapons used in crimes. And the shooting deaths of Parker and Ward prompted the former secretary of state to renew her call for tighter gun restrictions in the wake of the attack.
Meanwhile, the candidates in the Republican field—which once included 17 presidential hopefuls and now has narrowed down to Donald Trump—often touted their Second Amendment beliefs and plans to veto President Barack Obama's executive actions on gun control.
Federal law requires licensed dealers to perform background checks on prospective gun purchasers and to maintain records of the sales. But unlicensed private sellers—frequently found at gun shows and on the internet—aren't required to observe these policies.
Vester Lee Flanagan II, who killed Parker and Ward, worked at WDBJ7 from March 2012 until February 2013. He was placed on an employee improvement plan after his performance began to decline, according to management. When he was fired, Flanagan became disgruntled, prompting the office to call 911. Two years later, a month before the fatal shootings, he legally purchased the handgun used in the attack, after passing a background check from a federally licensed dealer in Virginia—despite his apparent emotional troubles. Federal law prohibits certain Americans from purchasing or possessing firearms, such as felons, domestic abusers and those with a history of mental illness.
During the first week of 2016, Obama issued executive orders to require background checks on more gun purchases at shows and on the internet and to streamline the FBI's background-check process. Barbara says she's never completely satisfied about how much politicians speak out against gun violence. But she remains hopeful because advocacy groups are not backing down.
"That's what we want to make sure—that during the race this fall and after the election, that it stays in the forefront and it's not just a talking point," she says. "If legislators are unwilling to do something about gun violence, then we need to elect people who are willing to do something."
She adds, "Gun violence can shatter lives."
During the general election this fall, residents in Maine and Nevada will vote on whether to expand criminal background checks to all gun sales in their states. Citizens there gathered and submitted enough signatures to bring the initiatives to the ballot in the general election. Washington was the first state to pass background checks via the ballot during midterm elections in 2014.
Barbara says she is hopeful the Moms Demand Action march will revitalize members of the movement to wait patiently for change, which she says never happens immediately with any issue.
"It's really hard to speak out when it hasn't happened to you," she adds. "But it could."