Trump Heads to Nebraska Rally as His Legal Woes Mount
Former President Donald Trump heads to Nebraska on Friday to host an evening rally as his legal woes mount in New York.
Trump is slated to speak at 8 p.m. local time from the I-80 Speedway, between Omaha and Lincoln. GOP gubernatorial candidate Charles Herbster, whom Trump endorsed in October, will also deliver remarks as the event's special guest speaker. The event will be live streamed on the Right Side Broadcasting Network's (RSBN) YouTube channel.
Meanwhile, the former president faces growing legal difficulties in New York, after a judge there ruled that he was in contempt of court on Monday. New York Supreme Court Justice Arthur Engoron ordered Trump to pay $10,000 per day until he complies with a subpoena from the office of New York Attorney General Letitia James.
James, a Democrat, is conducting a civil investigation into whether the former president and the Trump Organization misrepresented the value of business assets for financial gain. She first subpoenaed Trump to produce related documents and evidence in December.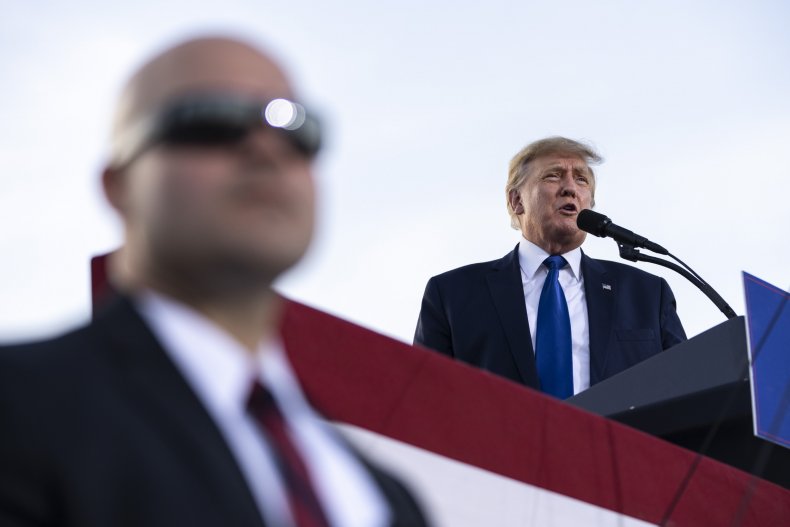 "In a major victory, a court has ruled in our favor to hold Donald Trump in contempt of court," James tweeted on Monday. "Donald Trump must pay $10,000 per day for every day that he continues to defy the court's order to turn over documents to my office." The attorney general's office first filed the contempt motion on April 7.
On Wednesday, Trump's attorney Alina Habba filed an appeal to the ruling. Habba said in a court filing with New York state's Appellate Division that the former president had "proffered a timely response to the subpoena," Reuters reported. The lawyer asked the court to look over whether the contempt fine "serves any purpose as either a compensatory or coercive remedy." Habba contended that James' office did not demonstrate that it suffered any harm due to Trump's delayed compliance.
"To be clear: Not only did Trump ignore the document and testimony requests from James, but he defied a court order enforcing those requests. It's one thing to blow off a document request from another attorney—but to snub a judge's order requiring compliance is in an altogether different plane," Kimberly Wehle, a professor at the University of Baltimore School of Law, wrote in an opinion article for The Hill.
"In the legal world, this is a big deal, because if judges' orders can be flouted with impunity, the entire American system of laws becomes optional—and could ultimately fail," Wehle explained.
Prior to the contempt ruling, Trump issued an April 18 statement slamming James, who is Black, and calling her "racist."
"The racist and highly partisan Attorney General of New York State, failed Gubernatorial candidate Letitia James, should focus her efforts on saving the State of New York and ending its reputation as a Crime Capital of the World, instead of spending millions of dollars and utilizing a large portion of her office in going after Donald J. Trump and the Trump Organization," the former president said.
"This never-ending Witch Hunt must stop," he added.
James launched a New York gubernatorial bid last October but then bowed out in December, saying she'd run for reelection as the state's attorney general instead.
Meanwhile, Trump also faces growing pressure from the House select committee investigating the January 6, 2021, attack against the U.S. Capitol. Close allies and members of his family have testified before the committee in recent weeks, and courts have ruled against his efforts to block the release of documents to the investigators. Trump's friend and former personal lawyer Rudy Giuliani is expected to testify before the committee in the coming weeks as well.
A probe in Georgia is moving forward as well. Trump is under investigation for allegedly pressuring Republican officials in the southern state to overturn President Joe Biden's 2020 election victory there. Fulton County District Attorney Fani Willis will be convening a grand jury starting next month in that probe. She told The Atlanta Journal-Constitution in February that "what I do think is within a year we will have all the information that we need."
Whether any of these legal issues result in charges or some kind of accountability for the former president remains to be seen. Trump has consistently denied any wrongdoing and insists all investigations into him, his business and his allies are politically motivated. He regularly calls these probes "witch hunts."
Newsweek reached out to Trump's press office for comment.
Former U.S. Army prosecutor Glenn Kirschner shared his thoughts on the New York contempt ruling this week, saying that Trump may just fundraise from his supporters to pay the daily $10,000 fine. The prominent attorney and Trump critic, who now works as an analyst for MSNBC and NBC News, also floated the possibility that the former president could face jail time in the future.
"Now that Donald Trump has been held in contempt of court, will he grift his MAGA base yet again, this time to pay his 10K-a-day contempt fines? His base CAN pay his fines but they CAN'T do his time. DOJ . . . if you're listening," Kirschner tweeted.