How Georgia's Marjorie Taylor Greene Could Become the GOP's Next Steve King in the House
Republicans just managed to oust controversial Iowa congressman Steve King in June—but now there is an even more inflammatory candidate making her way to Congress under the party's banner.
Marjorie Taylor Greene, a Georgia businesswoman, is all but guaranteed to win a House seat this November after defeating her primary opponent, John Cowan, by 15 points in a runoff on Tuesday. Her district is ruby red, which means that Democrat Kevin Van Ausdal faces an extremely uphill battle to defeat her this November.
Greene's path to Congress remains solid despite the fact that videos resurfaced in June showed her expressing racist, anti-Semitic and anti-Muslim views. Politico first reported that she had posted footage to Facebook that insisted Black people should be "proud" of Confederate monuments and called them "slaves to the Democratic Party." She dubbed the 2018 midterms "an Islamic invasion" and denounced Muslims as pedophiles who "marry their sisters."
She's also a supporter of the discredited QAnon conspiracy theory, which is a broad movement that believes President Donald Trump is stopping a deep-state ring of child sex traffickers. In one video posted to YouTube, she praised "Q" as a patriot who "very much loves his country."
"The question is going to be how she governs," said Andra Gillespie, a political science professor at Emory University. "If she continues to make incendiary and inflammatory comments, what she ends up risking is becoming the next Steve King."
Republicans in Washington spent much of last year apologizing for King's racially offensive remarks after he wondered out loud to The New York Times why "white nationalist" and "white supremacist" are considered offensive terms.
The comments led to bipartisan condemnation from the House, which passed a rare resolution of disapproval. Senate Majority Leader Mitch McConnell, who doesn't often become involved in actions by House Republicans, released a statement at the time calling King's remarks "unworthy of his elected position."
In addition to rebukes from many other party leaders, King was swiftly stripped from key committee assignments. In June, he lost his re-election bid to a state senator by more than 10 points.
Experts predict a similar shunning of Greene if she doesn't walk back some of the comments she's made.
"I don't know that she's going to be embraced until she repudiates some of her comments," said Jay Williams, a longtime Georgia Republican strategist. "You have people from both parties that are on the fringe, and they don't get the plum assignments and they're not put in front of everybody."
Charles Bullock, a political scientist at the University of Georgia, agreed, saying there "will be efforts to rein her in and keep her from making outrageous statements that then the party leadership would have to apologize for."
Bullock added, "If she remains where she is now on the ideological spectrum and continues to say the kinds of things she has been saying in Georgia, she will be a problem for the party."
Greene hasn't shown any signs of changing her tune if elected this fall. In her victory speech on Tuesday night, she lambasted the "D.C. swamp" and "political establishment" for trying to take her out of the race.
"But there is definitely more of us than there is of them," she said. "And we'll keep reminding them of that, because I have no intention on cozying up with any of those people who are against the American people."
Newsweek reached out to Greene's campaign for comment but did not hear back in time for publication.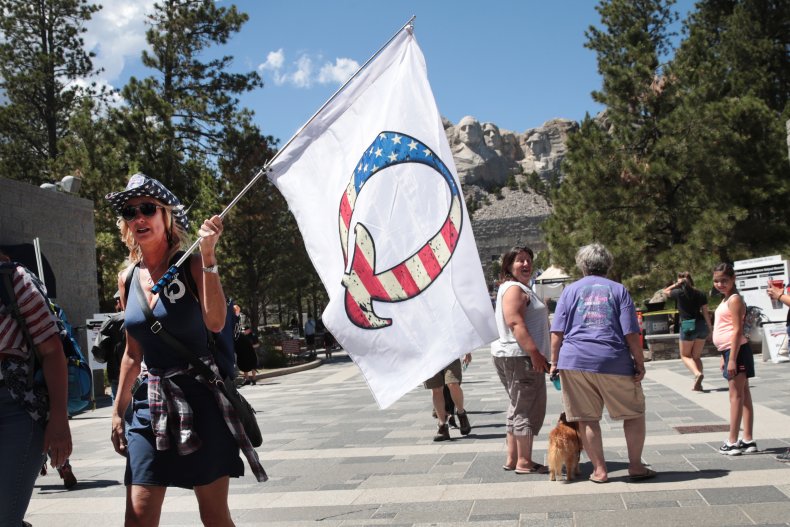 Democrats have already started to use Greene's win as a negative talking point. The Democratic Congressional Campaign Committee (DCCC) has dubbed her a "next-generation Steve King" who could harm other Republican candidates running for office this election cycle.
"Georgia Republicans, and Republican candidates running across the country, will have to answer for her hateful views in their own campaigns," DCCC Chairwoman Cheri Bustos said in a statement after Tuesday's runoff.
Politico previously reported that many House Republicans were frustrated by the fact that Minority Leader Kevin McCarthy and the National Republican Congressional Committee (NRCC) stayed neutral during the Georgia primary. While McCarthy called Greene's comments "appalling," he did not rebuke her or endorse Cowan.
Newsweek reached out to McCarthy's office for comment on Greene's victory but did not hear back in time for publication. Asked whether the NRCC supports Greene's candidacy, the group's communications director, Chris Pack, responded: "Have you asked every Democrat if they will support racist anti-Semite Ilhan Omar since she's won her primary last night?"
Some of the high-profile Republican lawmakers who have condemned Greene and her comments include Minority Whip Steve Scalise and Representative Jody Hice of Georgia. Scalise called Greene's comments "disgusting" and actively endorsed her opponent in the primary.
Still, Greene does have some allies on Capitol Hill. She's raised thousands of dollars from Representative Jim Jordan of Ohio and his political action committee, the House Freedom Fund. She also secured donations from PACs associated with Mark Meadows, the president's chief of staff.
Trump congratulated Greene on her primary win in a tweet on Wednesday morning, in which he dubbed her a "future Republican star."
This story has been updated to include a comment from the National Republican Congressional Committee.