Over 500 U.S. Scientists Under Investigation for Being Compromised by China
More than 500 U.S. scientists are under investigation for being compromised by China and other foreign countries, according to a recent hearing before the Senate Health, Education, Labor and Pensions Committee.
The hearing was focused on protecting the U.S.'s biomedical research from foreign entities such as China. While delivering opening remarks, Senator Patty Murray, chair of the committee, spoke about a recent report from the National Institutes of Health and conflicts of interests among 507 NIH grant recipients.
"It's important that researchers with foreign affiliations and potential conflicts of interest—for example, participation in foreign talent programs or commitments to file patents in, or move laboratories to, foreign nations—fully disclose those issues when applying for federal grants," Murray said.
"The latest report from the National Institutes of Health on undisclosed conflicts of interest found cause for concern with only 507 grant recipients—compared to over 30,000 total grantees in 2020," she added.
Murray also said that the NIH "has made progress in implementing policies and procedures to raise awareness of, prevent and address undue foreign influence among the biomedical research community." But she noted that "investigations from the Department of Health and Human Services' Office of the Inspector General, the department's Office of National Security and the Government Accountability Office make clear there is more NIH can be doing here."
Michael Lauer, deputy director for extramural research at the NIH, told the Health, Education, Labor and Pensions Committee that as of April 2021 the agency has contacted over 90 institutions "regarding concerns involving over 200 scientists."
"The individuals violating laws and policies represent a small proportion of scientists working in and with U.S. institutions. We must ensure that our responses to this issue do not create a hostile environment for colleagues who are deeply dedicated to advancing human health through scientific inquiry," Lauer said. "We cannot afford to reject brilliant minds working honestly and collaboratively to provide hope and healing to millions around the world."
In an email sent to Newsweek, the NIH Office of Extramural Research confirmed that the "NIH has concerns regarding over 500 scientists at research institutions supported by NIH grants, and has contacted over 90 institutions regarding over 200 of these scientists."
Senator Richard Burr, a ranking member of the committee, said during his opening statement that "the government of the People's Republic of China and the Chinese Communist Party are the most sophisticated perpetrators, but other foreign actors are also engaged in efforts to subvert our biomedical research."
He added, "Our adversaries are engaging in a systematic effort to infiltrate the academic research community and siphon away the results of United States spending on biomedical research."
Burr went on to explain that there is an effort by Chinese individuals, "backed by their government," to work in the U.S. "with the full intent to bring back to China's government everything they can learn, store or steal."
During the hearing, Gary Cantrell, the Health and Human Services Department's deputy inspector general for investigations, presented an example of how individuals have applied for and received NIH grants but have used them for China's benefit.
According to Cantrell, an investigation that led to a criminal plea included a researcher who "admitted he lied on applications in order to use approximately $4.1 million in NIH grants to enhance China's expertise in the areas of rheumatology and immunology."
In recent years, U.S. scientific competition with China has increased, and in July 2020 President Donald Trump's administration announced the closure of the Chinese Consulate in Houston. The Trump administration accused diplomats at the consulate of operating as spies for the Chinese government in order to steal scientific research from the U.S.
In the email sent to Newsweek, the NIH Office of Extramural Research wrote that "NIH research is built on a set of bedrock principles of scientific excellence, unassailable integrity, and fair competition. NIH expects applicants for and recipients of NIH-supported research — both domestic and foreign — to abide by these principles."
"It is critical for NIH-supported institutions and their researchers to be wholly transparent about financial support from and affiliations with international institutions. Such transparency ensures that NIH's funding decisions are fair and appropriate, and that U.S. institutions and the American public benefit from their investment in biomedical research," the email sent to Newsweek added.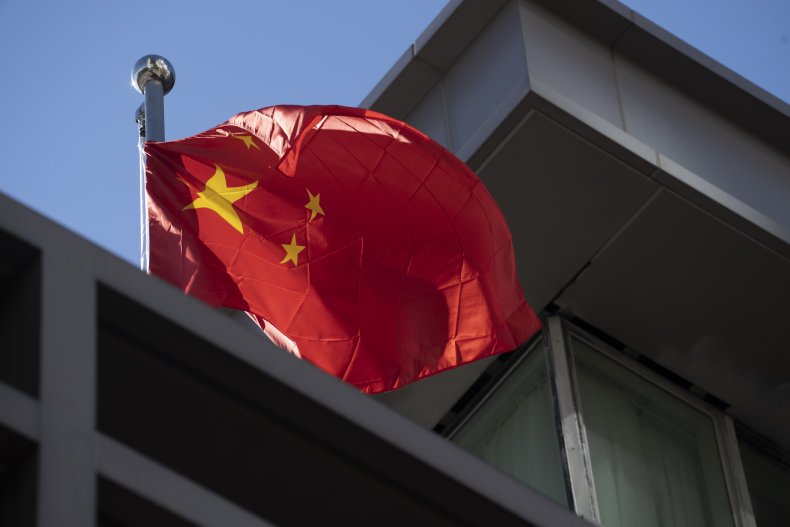 Earlier this week, the Department of Justice announced that a mathematics professor and researcher at Southern Illinois University–Carbondale was charged with two counts of wire fraud and one count of making a false statement after he "fraudulently obtained $151,099 in federal grant money from the National Science Foundation (NSF) by concealing support he was receiving from the Chinese government and a Chinese university."
According to the Department of Justice , the researcher was identified as 59-year-old Mingqing Xiao. In a statement, the DOJ's assistant attorney general for national security, John Demers, said, "Again, an American professor stands accused of enabling the Chinese government's efforts to corruptly benefit from U.S. research funding by lying about his obligations to, and support from, an arm of the Chinese government and a Chinese public university."
Updated April 23, 2021, 4:13 p.m. ET, to include a statement from the NIH Office of Extramural Research.