Putin Ally Claims Poland is Already Moving to Take Ukrainian Territory
A Russian official on Tuesday claimed that Poland is planning to take Ukrainian territory.
Russian Security Council Secretary Nikolai Patrushev, a key ally of Russian President Vladimir Putin, said during a press conference that he believes Poland plans to annex parts of western Ukraine, according to Russian news agency Interfax.
He said he believes that "already a number of states are actively working on [Ukraine's] dismemberment," though he did not specify which countries. Nearly every other European country has backed Ukraine amid the invasion, many offering military and humanitarian aid.
Amid Russia's invasion of Ukraine, Poland has emerged as a key supporter of Ukraine, as the two countries share a border. Since the invasion began in late February, Russian authorities have made several remarks against Poland, prompting concerns that Putin might have his sights set on Poland if he takes Ukraine.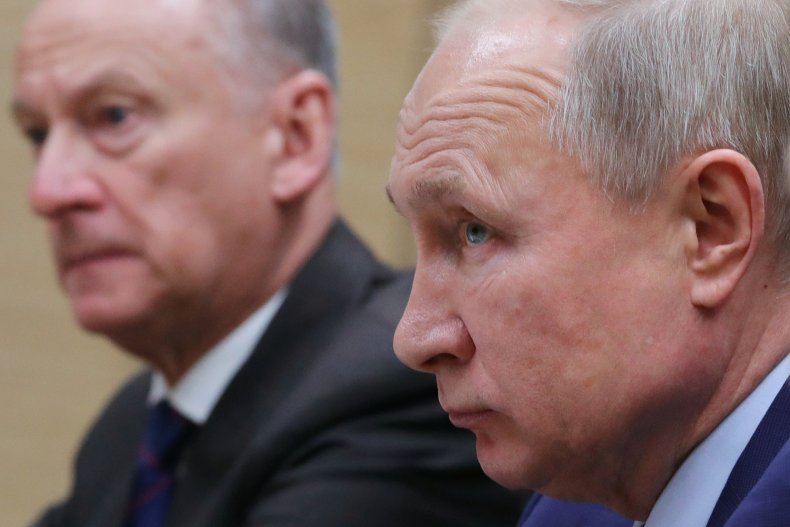 "The so-called Western partners of the Kyiv regime are also not opposed to taking advantage of the current situation for their own selfish interests and have special plans for Ukrainian lands," Patrushev said. "Apparently, Poland is already moving to actions to seize western Ukrainian territories."
Patrushev pointed to remarks made by Polish President Andrzej Duda during a meeting with Ukrainian President Volodymyr Zelensky in May, when the two leaders emphasized cooperation.
"The Polish-Ukrainian border should unite not divide," Duda said while addressing Ukrainian lawmakers. Zelensky said the meeting would help "speed up border procedures," according to Reuters.
The remarks were widely interpreted to mean that Ukraine and Poland would build a stronger alliance going forward—not that Poland or any other country planned to infringe on Ukraine's sovereignty.
It's the latest comment Russian authorities have made against Poland in recent weeks.
Ramzan Kadyrov, the leader of Russia's Chechen Republic and another Putin ally, said in a video reported last week that Poland needs to "take back" the weapons they have given to the Ukrainian military and that he is "interested in Poland."
Oleg Morozov, a member of the Russian parliament, said in March that Poland should be "in first place in the queue for denazification after Ukraine," referring to Russia's claim that it invaded Ukraine to get rid of Nazis in the government.
The remarks have prompted some concern from Polish authorities. Polish Deputy Foreign Minister Pawel Jablonski said during an interview with Al Jazeera in March that Putin "certainly would" attack Poland, though he noted that the Russian military is currently preoccupied in Ukraine, where they have failed to make significant progress and were encountering stronger-than-expected resistance.
He warned that if the West allows Putin to win the war, he would go on to invade other countries, including Poland.
Newsweek reached out to Poland's foreign ministry for comment.