The Royals' Top Awards Show Fashion Moments: From Kate to Meghan Markle
Awards season provides a number of opportunities for celebrities and global figures to offer up a range of memorable fashion moments, from the Oscars auditorium to the BAFTAs red carpet and beyond.
Though the season may belong (for the most part) to personalities of stage and screen, there have, over the past four decades, been an increasing number of royal red carpet appearances at awards shows that have generated iconic moments in fashion history.
Princess Diana attended a number of awards shows throughout her married life both in the U.K and the U.S., including charity and fashion events, where her outfits of choice were poured over by the media and public alike.
Following in the princess' footsteps her two daughters-in-law, Kate Middleton and Meghan Markle, have also made their mark at awards shows on either side of the pond.
Here, Newsweek looks at the royals' top awards show fashion moments.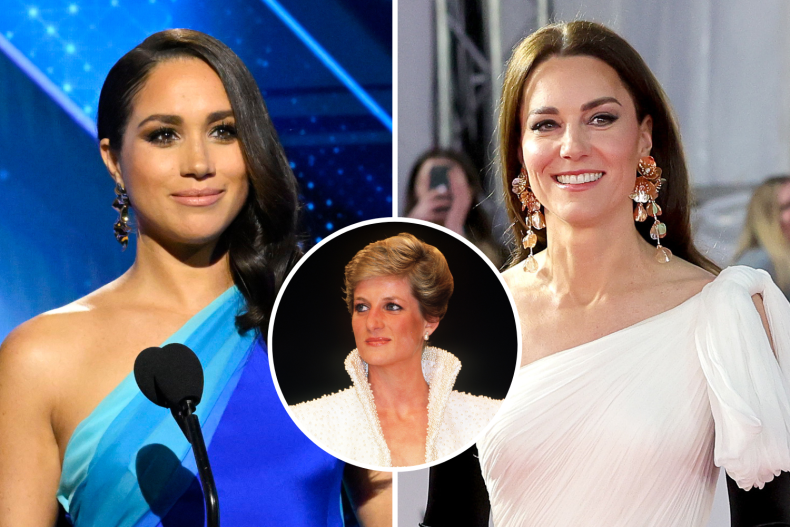 Princess Diana British Fashion Awards 1989
Princess Diana attended the British Fashion Awards at the Royal Albert Hall in 1989 where she debuted one of her most iconic fashion looks of all time, the dress that would earn itself the nickname, the "Elvis Dress."
Designed by her friend and collaborator Catherine Walker, Diana's sequin and oyster pearl embroidered dress and tailored bolero jacket were originally commissioned for an official visit to Hong Kong.
The dress was included in the auction of her most famous looks in 1997 and raised $151,000 for charity.
Today it forms part of the Victoria & Albert Museum collection in London.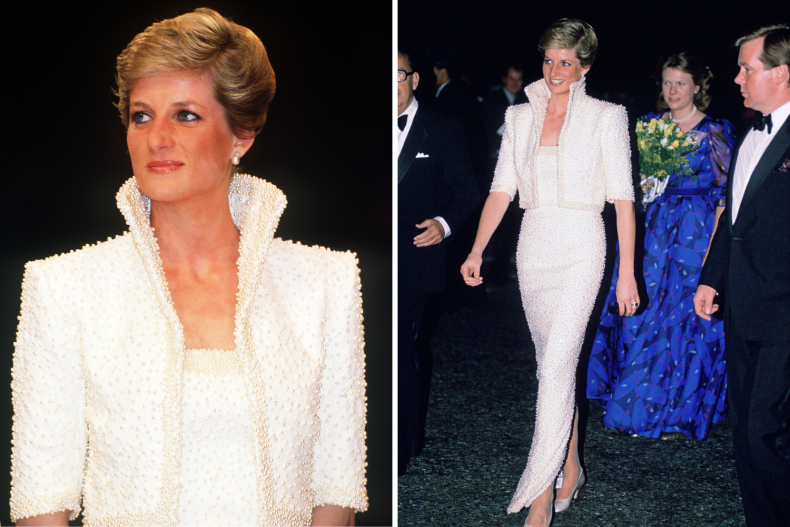 Princess Diana CFDA Awards 1995
Princess Diana traveled to New York in 1995 to attend the Council Of Fashion Designers Of America (CFDA) awards where her friend, the Harper's Bazaar editor Liz Tilberis, was being honored.
For the event Diana wore a slimline ink blue Catherine Walker evening gown with intricately strapped back detailing.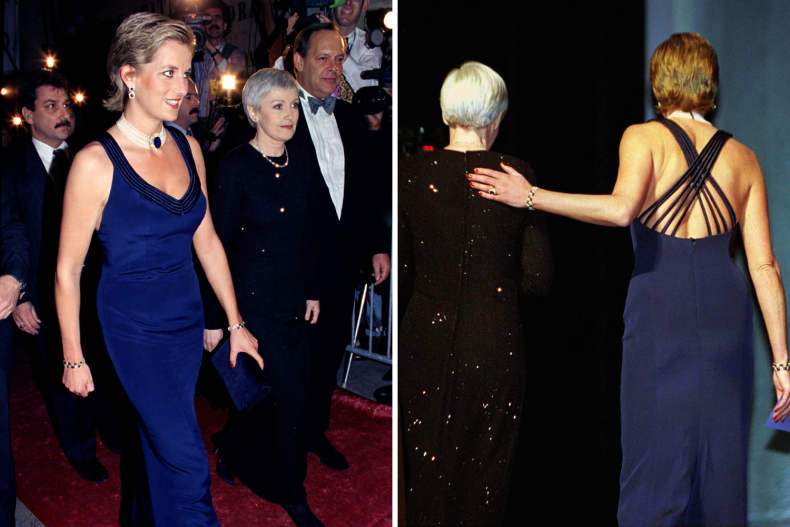 Kate Middleton BAFTA 2017
Kate Middleton's attendance at the British Academy Film Awards (BAFTAs) in 2017 saw the princess make one of her most dramatic red carpet appearances to date, walking alongside her husband, Prince William, who has been BAFTA's president since 2010.
For the event, Kate wore a statement evening gown from the design house responsible for her wedding dress, Alexander McQueen.
The floral printed gown featured a slim tailored bodice with slip-shoulder straps and a skirt of graduated gathered tiers.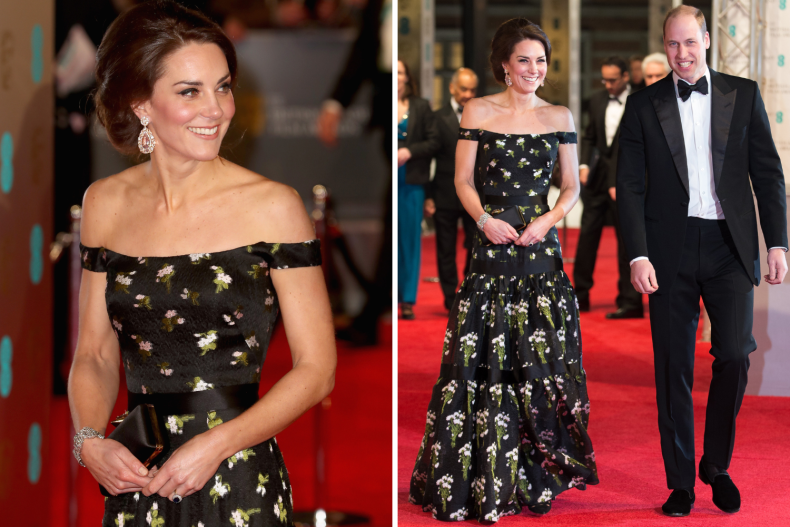 Meghan Markle British Fashion Awards 2018
After her May wedding to Prince Harry in 2018, Meghan Markle quickly earned a place among the most stylish women in Britain, opting to eschew the royal tradition of wearing mainly British designers to branch out to the houses of Paris for her event wear.
Meghan attended the British Fashion Awards at the Royal Albert Hall in 2018 wearing an elegant black asymmetric bias cut sheath dress designed by Clare Waight Keller for the house of Givenchy.
The designer of Meghan's celebrated wedding dress, Waight Keller was being honored at the awards show with the designer of the year accolade presented by Meghan herself.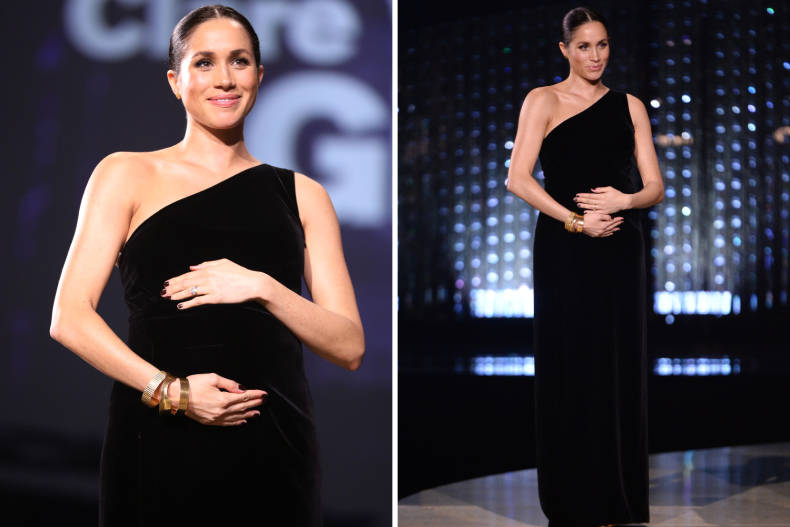 Meghan Markle Endeavour Fund Awards 2020
One of Meghan Markle's most memorable fashion moments to date took place at the Endeavour Fund Awards in London in 2020, during the week of final engagements undertaken by the royal before leaving the monarchy and moving to the U.S. with Prince Harry.
For the occasion, Meghan wore a bright blue midi dress designed by former pop-star Victoria Beckham.
The royal couple were photographed at the event during a rain storm which resulted in a series of memorable images where the duchess' dress was framed by illuminated rain drops.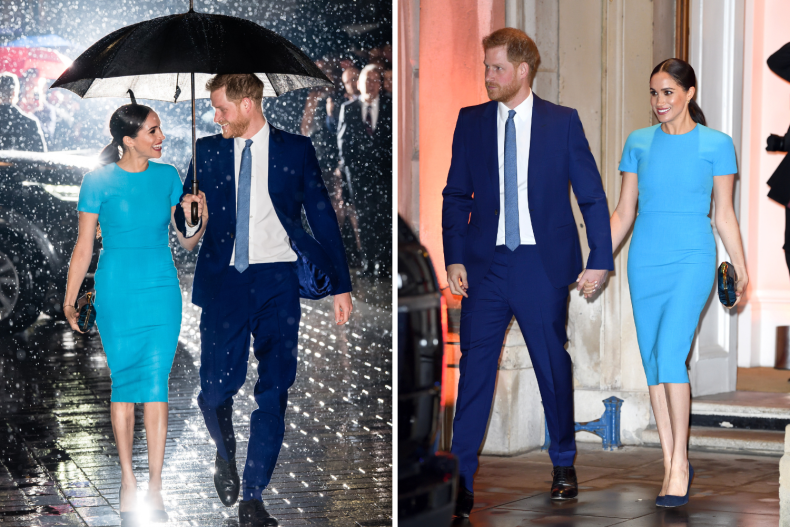 Meghan Markle NAACP Image Awards, 2022
For her first major awards show appearance since moving to the U.S, Meghan Markle commissioned a special evening dress in 2020 as she accepted, alongside Prince Harry, the NAACP Image Award's President's Award.
Appearing on stage at the gala event, Meghan wore a romantic blue evening gown designed by Christopher John Rogers, a favorite designer of Michelle Obama and Adele.
The dress featured a ombre blue chiffon scarf detail with a long flowing tail which graduated from dark to light in color.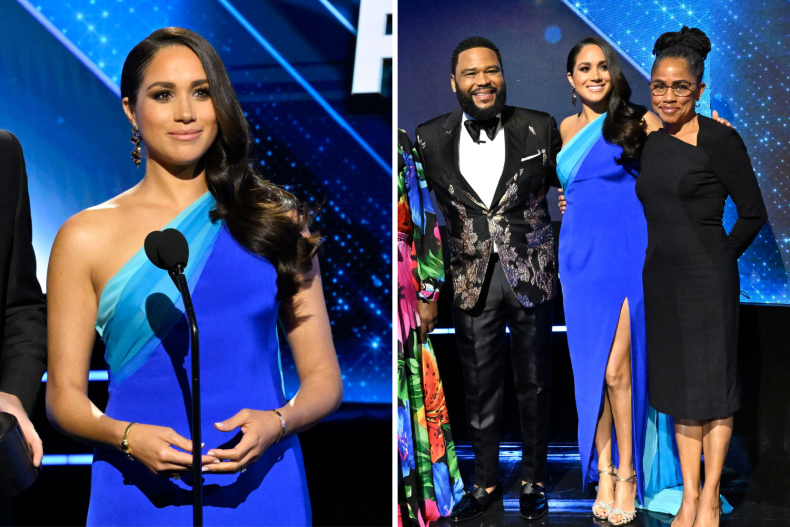 Kate Middleton BAFTA 2023
Kate Middleton cemented her status as one of Britain's leading style ambassadors at the 2023 BAFTA awards, upcycling a look previously worn to the event in 2019 and updating it with a up-to-trend edge.
The asymmetric white pleated chiffon gown by Alexander McQueen had been partially altered to add a bow detail with diaphanous flowing tails and was worn by the princess with a pair of striking black opera gloves, black clutch bag and gold statement earrings.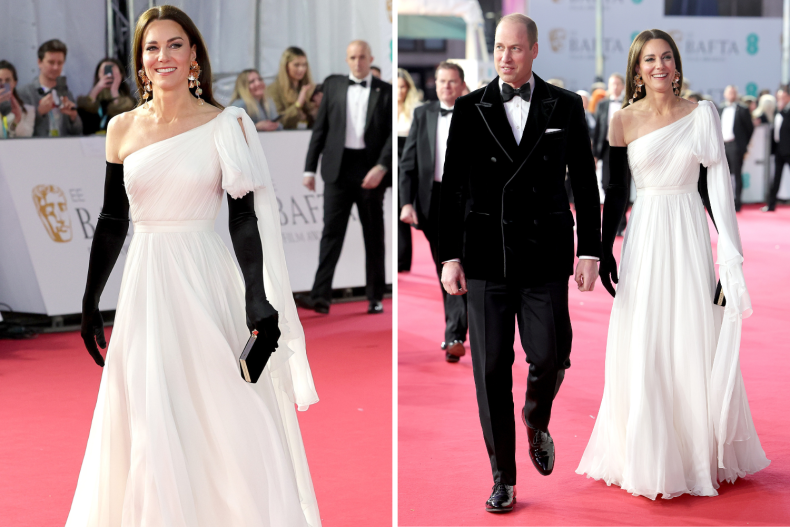 James Crawford-Smith is Newsweek's royal reporter based in London. You can find him on Twitter at @jrcrawfordsmith and read his stories on Newsweek's The Royals Facebook page.
Do you have a question about King Charles III, William and Kate, Meghan and Harry or their family that you would like our experienced royal correspondents to answer? Email royals@newsweek.com. We'd love to hear from you.