With the arrival of HIMARS, the U.S.-produced M142 High Mobility Artillery Rocket Systems, Ukraine finally appears to have an answer to Russia's medium and long-range artillery that inflicted so much damage in eastern and southern parts of the country.
So far, the HIMARS appear to have lived up to the hype, allowing Ukrainian forces to strike Russian ammunition depots and military bases at ranges that were previously unreachable.
The strategic impact of these deliveries has been even more significant, forcing the Russians to move their key bases and supply routes away from the frontlines, and throwing their logistics into disarray.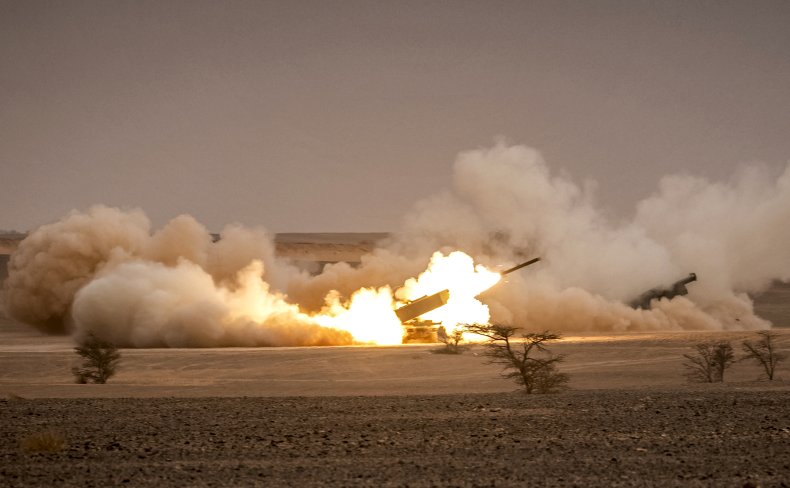 Inevitably, as one side lauded the impact of HIMARS, the other side attempted to play it down. On several occasions in the past six weeks, the Russians made unverified claims that they successfully destroyed these missile systems, but how much truth is there behind those statements?
Newsweek Fact Check delved into the timeline of events, assessing official statements and alleged evidence published since the first delivery of HIMARS arrived in Ukraine, and tried to unpick fact from fiction and propaganda.
What We Do Know
While there is no realistic way of establishing exactly how many HIMARS are already in Ukraine's possession, statements by Ukrainian and U.S. officials indicate that at least 16 units have already been delivered, with more reportedly on the way.
In late May, the Biden Administration announced plans to send the advanced missile systems to Ukraine. These HIMARS have a range of about 50 miles (80km), according to the officials, and carry one preloaded pod of six 227mm guided missiles (the M270 carries two pods), or one large pod loaded with an Army Tactical Missile System (ATACMS) tactical missile.
The initial announcement mentioned four units of this system set to be sent to Ukraine, with ensuing updates indicating that a total of 20 units will be delivered.
Less than a month later, on June 23, 2022, Ukraine's Defense Minister Olexiy Reznikov confirmed the first delivery of four HIMARS. Twelve had been supplied as of July 20, and by August 1, 2022, the Ukrainian military had 16 units deployed across various locations along the front line.
It didn't take long for their impact to be felt on the front lines. Reports of major strikes on Russian bases and storage facilities have followed on an almost daily basis, confirmed by Ukrainian and Pentagon officials, and even leading to tacit admissions of difficulties (or indirect evidence of concern) from Moscow.
A series of successful strikes saw a Russian military train destroyed, a key strategic bridge in Kherson put out of action, and nearly every deputy commander in a single Russian division reportedly killed. Amid these reports, Luhansk Governor Serhiy Haidai told Newsweek that Russians were "in panic mode" over the deadly new weapon deployed by Ukraine's armed forces.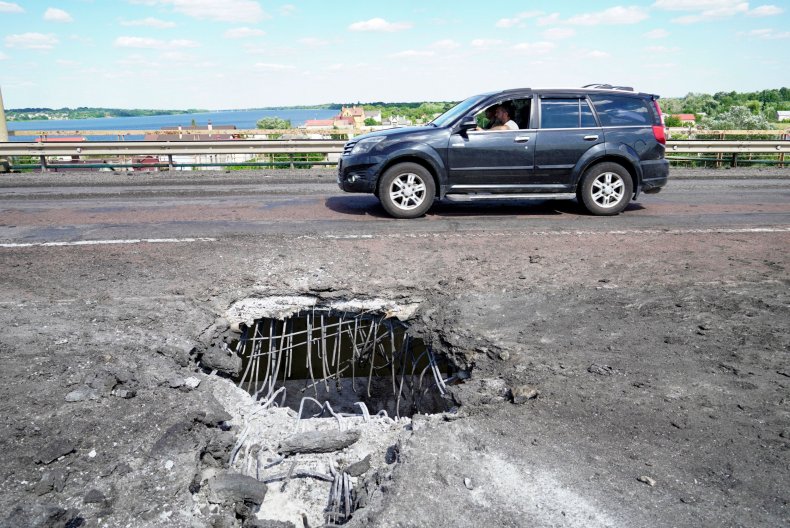 Russia tried to counter the HIMARS success narrative from the very beginning, even as military experts saw its efforts to withdraw or shift key assets out of the range of the U.S.-made missile systems.
Official Moscow repeatedly dismissed Ukraine's claims of successful strikes, while stating on multiple occasions that Russian artillery has struck HIMARS units and ammunition depots. Pro-Kremlin experts and insiders also insisted that Russia has existing capabilities to counter the threat, while hinting at "secret defense developments" and plans for "its own HIMARS equivalent."
Newsweek has gone over the archive of the Russian Defense Ministry's public communications and updates regarding what it calls a "special military operation" since June, noting all the references to the HIMARS.
July 6, 2022, marks the first official statement from Moscow referencing a successful strike on a HIMARS station that, it claimed, saw two such units "destroyed."
The statement was accompanied by a video, published on the ministry's official Telegram channel and on Russian state news outlets, purporting to show the missile hitting the HIMARS base near Malotaranovka in the Donbas.
But the video—which came with little context other than the background commentary asserting that the target was indeed two HIMARS units—was predictably met with skepticism by officials and military experts alike.
The poor quality of the footage led some to argue that even if Russia's claim is to be believed, it doesn't appear to show the missile actually hitting the target. Others, citing a pro-Kremlin Telegram channel allegedly affiliated with the Wagner Group mercenaries, claimed the targets were in fact timber trucks.
Ukrainian officials, perhaps predictably, also dismissed the video and the claim as "fake."
However, similar claims followed throughout July and August. On July 7, 2022, Russian military command claimed to have destroyed a storage facility with HIMARS rockets in Radushnoe, Dnipropetrovsk Oblast.
On July 17, it claimed to have destroyed a single HIMARS launcher alongside a "loading vehicle" for it in Krasnoarmeysk, in the Donbas. But as was pointed out at the time, HIMARS do not require any additional vehicles or equipment for reloading, so it is unclear what the Russian officials were referring to.
The claim, however, was repeated in another July update, which said that a total of four HIMARS launchers and one loading vehicle have been destroyed in the period between July 5 and July 20. It was unclear where and when the fourth unit was hit, given that officials until that point only reported three successful hits.
Russia claimed to have destroyed a HIMARS munitions depot near Khmelnitsky on July 25, and another one, in the Dnipro region, on July 27, with the latter strike purportedly destroying 100 rockets in storage.
Finally, on August 1, 2022, the Russian Defense Ministry claimed in a statement that two more HIMARS units were destroyed after a successful strike on a military base in Kharkiv, which is under Ukrainians' control. It said the strike took the tally of HIMARS units destroyed by its forces to six.
The ministry published another video in support of the claim, which also raised a lot of questions and doubts. Skeptics pointed out that the footage, apparently from the point of view of the missile, appears to show it hit the second floor of a power plant building.
Though hypothetically possible, lifting a 35,800lb unit to the second floor would not only be highly challenging from a logistical point of view, but also impractical and pointless, others noted. And no actual HIMARS were visible in the short clip.
Ukrainian officials, again, dismissed these claims, citing the Russians' "fear" of the HIMARS as the reason for this attempted "disinformation."
The claim was also refuted by the Pentagon, which said that to date, it saw no credible evidence to suggest that any of the HIMARS units delivered to Ukraine have been destroyed or damaged.
Moscow's take on the situation was further undermined by earlier unconfirmed reports that Russian state media networks had been attempting to "stage" a strike on a HIMARS station.
A document, purportedly leaked via an unverified Twitter account and shared on Telegram on July 20, appeared to suggest that a representative of the state-owned Rossiya Segodnya news conglomerate was asking Belarusian state officials for help with "staging" a video of a hit on a HIMARS unit, adding that "a mock-up of the unit" will be provided.
Newsweek could not independently confirm the veracity of the document, and it is worth noting that there have been multiple examples of Russian and Belarusian military or officials' communications purportedly leaking to social media, but later shown to be fakes.
Still, the Pentagon, Western allies, and even some pro-Russian Telegram military channels have poured cold water on Russia's repeat claims of "taking out" the HIMARS.
New videos of multiple HIMARS units in action continue to surface online, including one published this week.
While wartime propaganda is flowing in full force on both sides of the conflict, Russia certainly has a track record of disinformation that predates the Ukraine campaign.
Russian state media also have been accused in the past of "staged" reporting from areas of armed conflict, including a fake pro-Russian protest and a misleading "neo-Nazi" photo.
There are also numerous examples of Russian media making provably false claims that a video was staged when in fact it depicted real events, or was taken out of context, such as when footage from a TV show set was used to falsely accuse Ukraine of "faking" the aftermath of a Russian attack.
What We Don't Know
Though official statements suggest that so far 16 out of the expected 20 HIMARS units have been delivered to Ukraine by the Pentagon, there is no way to verify independently how many were sent, and how many of those are currently in operation.
There is also no reliable way to definitively corroborate—or dismiss as false—Russia's claims of successful strikes on HIMARS bases and units, and the "evidence" Moscow has offered doesn't stand up to scrutiny.
In an armed conflict of this intensity, it is all but inevitable that at least some of the Western-sourced weapon systems and munitions will be destroyed in Russian artillery strikes, which have been hitting various parts of the country on a daily basis since the invasion began.
For now, it is unclear what U.S.- and Western-supplied weaponry, and how much of it, has been lost, damaged or destroyed in the fighting.
Newsweek has reached out to the Armed Forces of Ukraine, the Russian Defense Ministry, and the Pentagon for comment.