Plane Incidents 2018: The Most Bizarre Videos and Situations From Flights This Year
International aviation experts this week declared on Australian television that the March 2014 disappearance of Malaysia Airlines Flight MH370 may have been a "murder-suicide" mission taken on by the pilot of the 239-person trip from Kuala Lumpur to Beijing. The investigative panel's damning decision on Captain Zaharie Ahmad Shah capped a more than four-year search for the still-missing plane, which is expected to officially end in June. But in that time span, the aviation world has experienced a seemingly endless amount of bizarre and tragic air travel incidents.
This past week alone, Sichuan Airlines 3U8633's cockpit windshield was ripped off the aircraft at 32,000 feet and forced an emergency landing at Chengdu Shuangliu International Airport in China. Southwest Airlines Flight 861 made an emergency stop after losing cabin pressure Saturday night—the carrier's third such incident in the past month. A breastfeeding mother in Chicago was denied entry onto an American Airlines flight for carrying breast milk and a Nigerian woman filed a racial discrimination lawsuit against United Airlines for accusing her of having a "pungent" odor.
While that may seem like a lot to take in from the past seven days, here are some of this year's wildest air travel tales ranging from unruly passengers, allegedly racist crew members and even fatal mechanical failures.
This year began with a series of incidents involving the Atlanta-based carrier, Delta Airlines. On January 2, Delta Flight 284 from Hartsfield-Jackson International Airport was forced to turn around after pilots heard a mysterious sound coming from the aircraft. Those passengers were moved to a second plane to continue their journey to Atlanta when that flight was also turned back around for a second unidentified problem. Just one day before, reports surfaced of Delta being sued for discrimination by four flight attendants who said the airline management believed Jews and Israelis "cannot be trusted, are aggressive and engage in 'strange' behaviors."
And Federal Aviation audio released in March revealed chatter between at least three separate pilots as they discussed a "UFO" flying over Arizona skies. The audio piqued the interest of conspiracy theorists who noted the wider region is home to the most famous unidentified flying object tale from 1947 near Roswell, New Mexico.
But Delta wasn't done for the month of January. NASA astronaut Buzz Aldrin was involved in a videotaped verbal spat with an employee after he accused an LAX ticket agent of causing him to miss his flight. A representative for Aldrin told Newsweek that TMZ's release of the footage of the incident was "unfortunate."
The man who landed on the moon was far from the only passenger to be embarrassed by cellphone video recordings that commonly make their way from social media to mainstream news outlets.
A February China Southern Airlines flight from Guangzhou to Shanghai produced a viral video of a flight attendant dousing a flaming carry-on bag with water after a portable phone charger exploded inside. The week before, Instagram model Jen Selter recorded her own ejection from an American Airlines flight at Miami's airport after she argued with flight attendants over stretching. Southwest Flight 1683 at Chicago's Midway Airport was the scene of another video showing an entire family being removed from the plane because of their toddler's repeated tantrums. Passengers onboard a March Tez Jet plane en route to Batken, Kyrgyzstan, recorded one of their plane's engines dangling from the wing after a takeoff explosion. An April United Airlines flight to Salt Lake City had several passengers screaming in fear after an unruly man shot up in his seat and began yelling, "bomba bomba" before starting a fight with another person. This event echoed a February incident in which a man was seen on video fighting several ground crew members on the tarmac outside of his intended flight.
And in one of the most bizarre recorded incidents of the past five months, a woman onboard SkyWest Airlines flight 5449 out of San Francisco tried to open the plane's cabin door mid-flight while screaming, "I am God!"
A viral airline trend that emerged over the past several months included certain passengers' use of "emotional support animals." A woman attempting to board a January United Airlines flight out of Newark was told she and a massive peacock support animal would have to drive to Los Angeles instead. A JetBlue passenger going the other way from LAX to New York claimed he was ejected from his flight for having a small dog. Just one week later, Southwest Airlines told a man he'd have to remain at Phoenix's airport after his emotional support allegedly attacked a child passenger. In February, several airlines finally put the kibosh on exotic emotional support companions, although several airports—including Minneapolis' international airport—said they were increasing places for animals to relieve themselves.
Several incidents and lawsuits this year have called out blatantly sexual behavior aboard airlines, with many incidents involving alcohol. JetBlue passenger Robin Ducore allegedly forced a New York-bound flight to divert after acting like a "caged animal," and touching several men on the flight. An elderly Nigerian man said a Dubai to Chicago flight saw several Emirates Airlines crew members were forced to tie his body down and subdue him. And last Thursday, a United Airlines flight attendant was accused of being "drunk and stoned" while hitting on people on the North Dakota-bound plane. A survey released last week by the Association of Flight Attendants found a majority of U.S. flight attendants were the target of "nasty, unwanted, lewd, crude" and "inappropriate" behavior.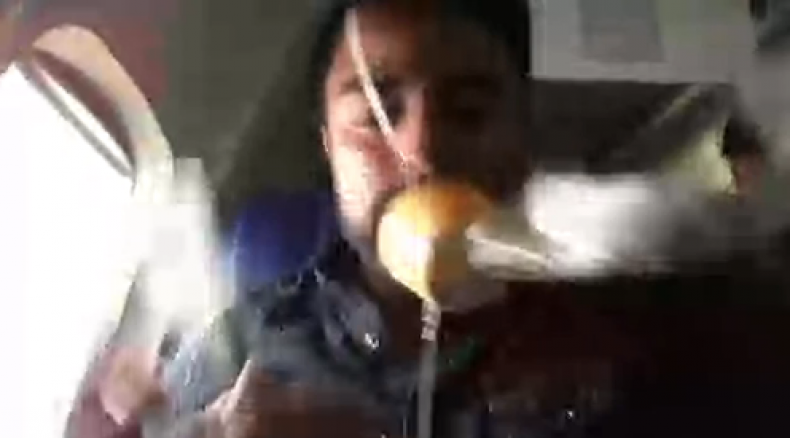 Not all of the aviation incidents this year have ended with the booting of belligerent passengers or a diverted flight.
Last month, Southwest Airlines marked its first fatal incident in the company's 50-year history. Jennifer Riordan, 43, was killed on Flight 1380 after debris from an engine blew into the aircraft and partially sucked her out of the Boeing 737-700 window. Fellow passenger and survivor Marty Martinez broadcast the ensuing chaos of the depressurized plane's descent into Philadelphia via Facebook Live.