Black Civil Rights Activists Arrested Outside Paul Ryan's Office, Demand Permanent Solution for DACA and TPS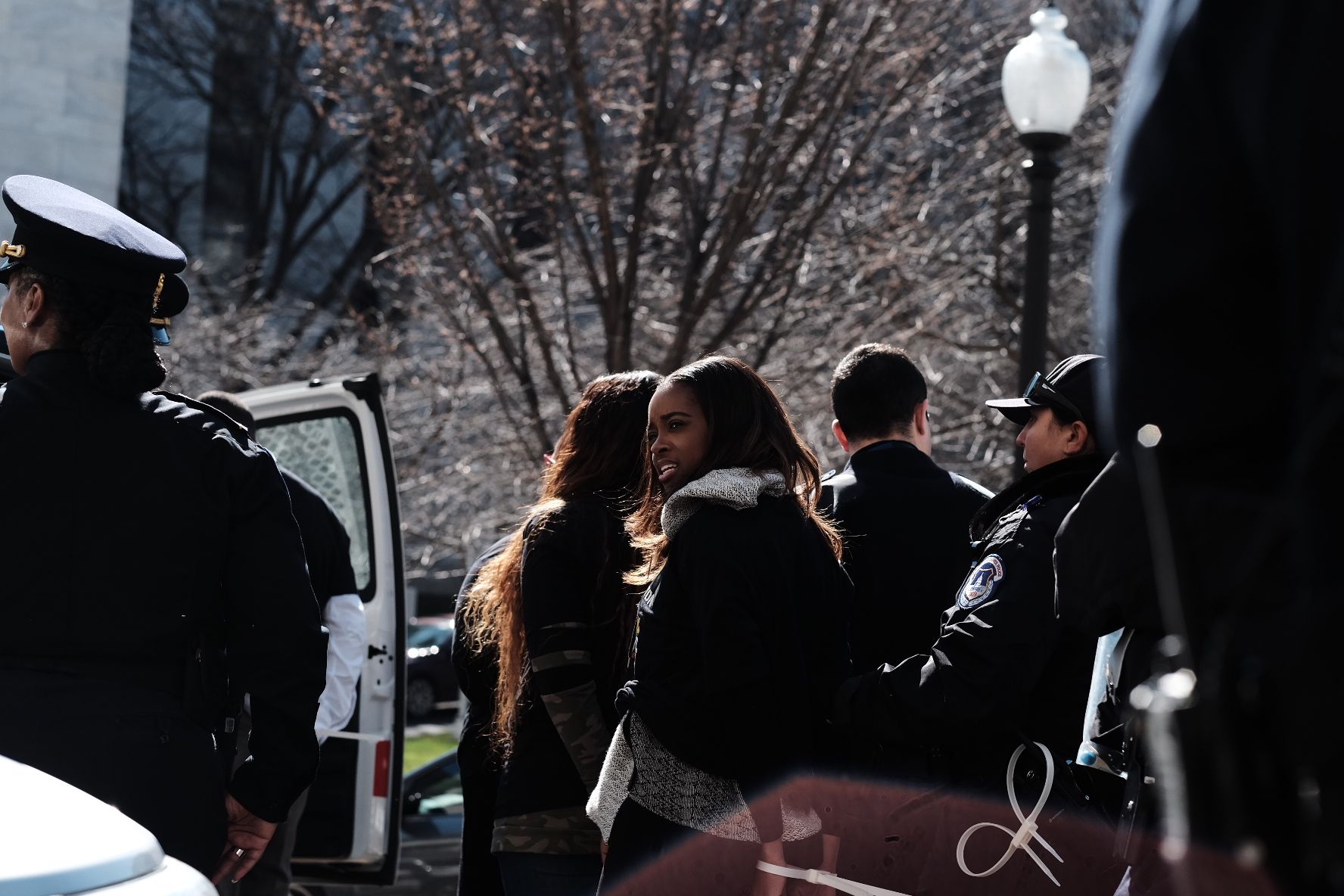 WASHINGTON, D.C. — A group of black civil rights leaders led an act of civil disobedience outside of House Speaker Paul Ryan's office in Washington, D.C., on Tuesday, demanding Congress provides a path to citizenship for young immigrants brought illegally into the country without eroding visa programs that protect tens of thousands of black immigrants from across the world.
The action aimed to highlight the experiences of over 600,000 black undocumented immigrants living in the United States, which advocates say sit at the periphery of discussions surrounding immigration policy. Protestors also decried the Trump administration's attempt to end the visa diversity lottery program, which has benefitted hundreds of thousands of African migrants, and the termination of Temporary Protected Status for seven nations, five of which are predominantly black.
The protest was organized by the UndocuBlack Network, a progressive advocacy group headed by undocumented black immigrants. Due to fears of persecution and deportation, no undocumented immigrants participated in the protest.
The protestors originally wanted to hold a sit-in, but Ryan did not open his office doors to the group. Instead, Minister Kirsten John Foy of the National Action Network led six others protesters in prayer outside Ryan's office, including Tamika D. Mallory, co-president of the Women's March.
Capitol police quickly detained the protestors and escorted them out of the Longworth House Office Building.
Before being detained, Foy underscored the importance of bringing black undocumented voices to the forefront of the immigration debate.
"We can't have an honest discussion about immigration without talking about undocumented black immigrants," he said. "It seems as though even in discussions regarding immigration, black folks seem to be the least of these."
Ryan's office could not be reached for comment.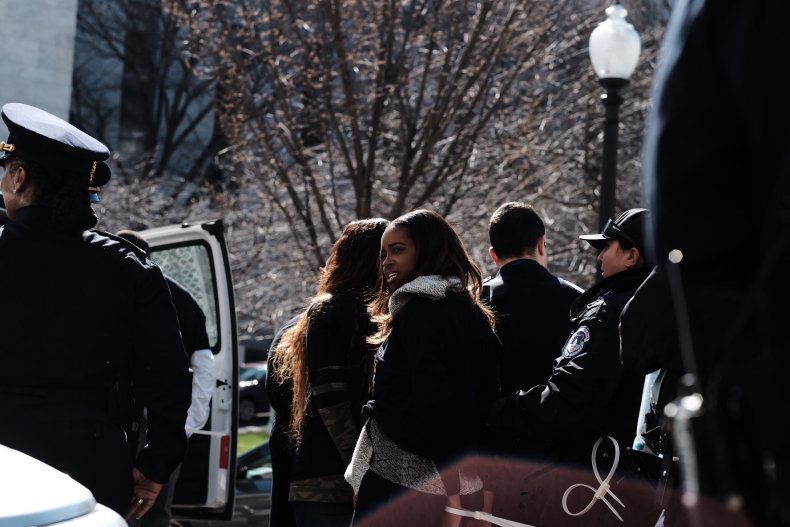 Tuesday's protest came directly after a congressional briefing organized by and hosted by Democratic Representative Yvette D. Clarke of New York.
At the briefing, Clarke underscored the importance of centering the black immigrant experience in discussions surrounding DACA and TPS.
"We need to raise our voice for the black immigrant—for the undocumented black presence in America," Clarke declared.
According to an analysis of U.S. Census Bureau data by the Pew Research Center, there were 4.2 million black immigrants living in the U.S. in 2016, up from just 816,000 in 1980, making up nine percent of the total foreign-born population in the country. Of those, roughly 620,000 are undocumented.
Most of these immigrants hail from African and Caribbean nations, primarily from Jamaica, Haiti and Nigeria. A majority of them came to America through family reunification visas or through the visa diversity lottery program, both of which the Trump administration wants to curtail or completely eliminate.
Black immigrants also make up a relatively small portion of DACA recipients: According to government statistics, nearly 11,000 of the almost 700,000 DACA recipients are from countries where more than half of the nations' immigrants to the United States are black.
But the number of DACA-eligible black immigrants is much higher: According to an estimate by the Migration Policy Institute, some 36,000 African immigrants would have been eligible for DACA if the program had not been discontinued by the Trump administration in September. There are no similar estimates for DACA-eligible black immigrants from the Caribbean.
In the past, Ryan has voiced sympathy for DACA recipients and has expressed a desire to allow them to stay in the country. But the Wisconsin Republican has also stood by Trump's demand to cut legal immigration and put an end to TPS and the diversity lottery program.
"I know that there is a real commitment to solving the DACA challenge in both political parties. That's a commitment that I share. To anyone who doubts my intention to solve this problem and bring up a DACA and immigration reform bill, do not," Ryan told reporters at his weekly news conference in the Capitol on February 8. "We will bring a solution to the floor—one that the president will sign."
So far, both the House and the Senate have failed to reach a viable solution for DACA, but two federal court injunctions have ruled that the Trump administration broke the law when it abruptly ended DACA.
On Monday, the Supreme Court declined to hear the case, ruling instead that it should go the regular route through the Ninth Circuit Court of Appeals. DACA recipients will now be able to continue to renew their study and work permits until the appeal is heard.
As of January, the Department of Homeland Security has revoked or announced it will revoke TPS protections for 300,000 immigrants from seven countries—Guinea, Liberia, Sierra Leone, Nicaragua, Haiti, and El Salvador—by the end of next year. Many of them have U.S. citizen children and most are fully employed.
The administration argues that these protections—meant to benefit immigrants from countries experiencing extraordinary environmental and political hardships—can no longer be justified.
However, a group of Haitian and Salvadoran immigrants last week announced a lawsuit against the Trump administration, accusing it of racism over its decision to end the TPS program. It was reported last month that Trump, in a meeting on immigration, referred to Haiti, El Salvador and African nations as "shithole" countries.Trump is also reported to have said that Haitians "all have aids" and Nigerians live "in huts."
But immigration rights advocates say that these countries are ill-equipped to handle the influx of their repatriated citizens. Advocates also argue it is immoral to separate families who have established roots in America for decades.
"We are as American as anyone else," Patrice Lawrence, policy director UndocuBlack Network, said during Tuesday's congressional briefing.