British Prime Minister Boris Johnson said he and President Joe Biden had recently discussed developments around Taiwan, describing the U.K.'s support for "American global leadership" as the only solution to the "difficult" situation surrounding the island democracy claimed by China.
At a session in the House of Commons on Monday, Johnson was pressed by fellow Conservative parliamentarian Iain Duncan Smith to offer assurances to the people of Taiwan, who face a coordinated propaganda campaign that aims to sow doubt about U.S. security commitments after American-led coalition forces withdrew from Afghanistan in August.
Amid scrutiny from Chinese state media outlets and Beijing-friendly opposition figures alike, Taiwan President Tsai Ing-wen and senior cabinet members have had to rebut suggestions that they would flee the island in the event of a Chinese attack. Meanwhile, Taipei has received support from voices in the U.S. as well as neighboring Japan, which has sounded the alarm about China's potential military ambitions.
Duncan Smith asked Johnson whether he had noticed the Chinese government's use of the U.S. departure from Afghanistan to "up its threats on Taiwan with hundreds of overflights."
The Tory MP said China was "threatening them and telling them that when the war comes, the U.S. will not be there to support them." He asked the prime minister to reassure "the Taiwanese and others" of Britain's support for their "right to democracy" and "self-determination."
"[A]nd we will be there to support them no matter what the Chinese say," Duncan Smith added, asking Johnson to "persuade the Americans to do the same."
Johnson, who served two years as foreign secretary under former PM Theresa May, responded: "I'm, of course, aware of the continuing issues between the People's Republic of China and Taiwan. I've discussed that indeed recently with the president of the United States."
"It's one of the reasons why it's absolutely vital that this country continues to insist on the primacy of our relationship with the United States," the prime minister added, noting the situation in Taiwan "will continue to be difficult."
"The only answer, the only way forward is to continue to support American global leadership, and that is what we will do," said Johnson.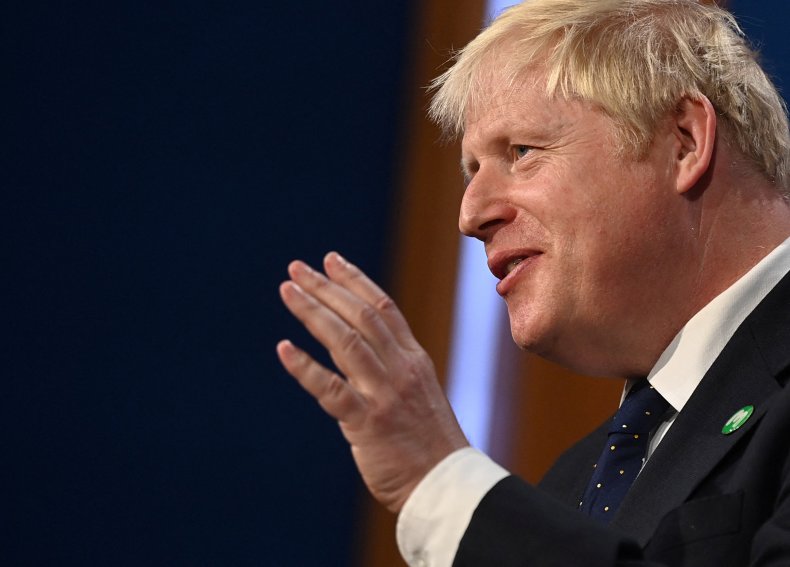 The prime minister did not elaborate on when he and Biden spoke on Taiwan. The transatlantic partners were last reported to have exchanged views on August 24 during a Group of Seven discussion about Afghanistan.
After June's G7 summit in England, the group released a communique that made a historic reference to peace and stability in the Taiwan Strait—likely at the request of Biden and outgoing Japanese PM Yoshihide Suga. Beijing opposed Biden's rallying of allies during his visit to Europe and sent a record number of Chinese warplanes—28 in one day—into the skies around Taiwan.
China is among the top five trading partners of the U.S. and U.K., but both governments have taken steps to limit their countries' vulnerability to Chinese financial and technological influence. More recently, Britain has joined American rebukes of China's policies against Uyghurs in Xinjiang and its crackdown on democracy in Hong Kong.
In March, Duncan Smith and fellow Tory Tom Tugendhat were among five MPs to be sanctioned by Beijing for speaking out against its human rights violations, which the Chinese government continues to deny.
Taiwan may have been traditionally viewed by most as a "Pacific" problem to be addressed by Washington while London devotes resources to NATO. Recently, however, the U.K. has deployed Royal Navy assets to Asia as part of its collective security role in the Indo-Pacific. Two of its warships left Portsmouth this week for permanent forward deployments in the region.
Like the U.S., the U.K. has no official diplomatic relationship with Taiwan. Britain broke ties with Taipei and formalized relations with Beijing in 1950, nearly 30 years before the U.S.