Missing University of Iowa Student Update: Reward in Mollie Tibbetts Disappearance Doubles as Search Continues
The reward for information leading to the discovery of a missing University of Iowa student has doubled, thanks to an electric utility company. Mollie Tibbetts went missing in mid-July and, despite continued searching, has not been found.
Tibbetts, 20, went missing from her hometown of Brooklyn, Iowa, on July 18, while she was while dog-sitting for her boyfriend's brother. Kim Calderwood, Tibbetts's aunt, previously told Newsweek a search for the student began when she didn't show up for her summer jobas a camp counselor the next day.
TIP Rural Electric Cooperative of Brooklyn, Iowa, announced on Saturday that the company will match the $1,000 reward for information about Tibbetts's disappearance put forth by Crimes Stoppers of Central Iowa for a total of $2,000 for any information leading to an arrest in the case or the discovery of the student, KCCI reported. Jon Miles, the general manager of the company, told Newsweek that the decision was made at a board meeting last week after learning about Tibbetts's disappearance.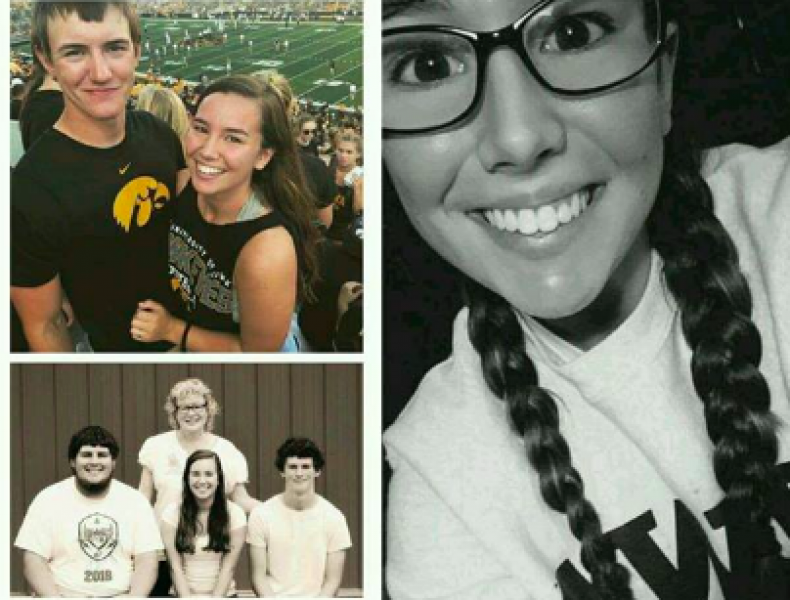 "Our board of directors expressed concern over the case and wanted to step up to help," said Miles. "We hope the reward will nudge someone forward with information to help solve the case. Our hearts go out to the family."
The Iowa Department of Public Safety's Division of Criminal Investigation (DCI) said in a statement on Friday that they have not identified a suspect in the case and are working with the Poweshiek County Sheriff's Office, the Federal Bureau of Investigation and other local law enforcement agencies to help find Tibbetts.
Investigators involved in the search announced on Thursday they have executed search warrants for Tibbetts's Fitbit, Snapchat, Instagram and Facebook accounts in hopes of finding information that could help locate her. Authorities told CBS News that Tibbetts sent a Snapchat to her boyfriend, Jack Dolton, around 10 p.m. It is unclear if Tibbett went missing the night of July 18 or the morning of July 19.
Mitch Mortvedt, assistant director of the Iowa DCI, told The Des Moines Register on Thursday that investigators were looking into the areas she frequently jogged because she was a "creature of habit" who stuck to her routine.
"We haven't ruled anything out," Mortvedt told the publication. "But it's been a week so it's more and more suspicious to us."
Authorities told Fox News they have searched cornfields and a pig farm located nearby her boyfriend's home, but have not found her. Rick Rahn, a special agent in charge at DCI, told Fox News on Friday that other sites and areas will be searched during the investigation.
"We're looking at anybody and everybody that would lead us to locating her," Rahn said.
Anyone with information about Tibbetts's disappearance should email the Poweshiek Sheriff's Office at tips@poweshieksheriff.com or call (641) 623-5679.
SaveSave