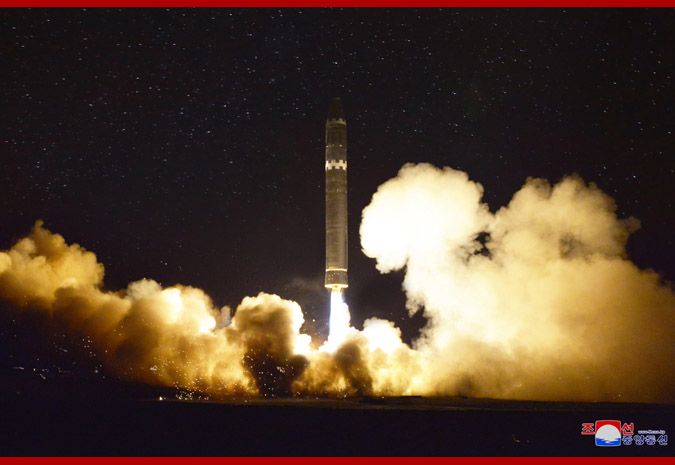 North Korea conducted its last missile test one year ago today, marking a high point in escalations between its supreme leader Kim Jong Un and President Donald Trump. Since then, however, the two men have struck up a sort of friendship in pursuit of a historic, yet fragile detente in Northeast Asia.
On November 28, 2017, North Korea launched its third and farthest-flying intercontinental ballistic missile (ICBM), vertically firing the Hwasong-15 more than 2,700 miles away from Earth, or about 11 times farther than the International Space Station, which orbits about 250 miles above the planet. The display of might showed Pyongyang could theoretically be capable of hitting nearly any target in the world, including the entirety of the United States.
The Pentagon affirmed its readiness to respond to any attacks at the time, while U.S. ally South Korea conducted exercises of its own and some called for Trump—​who had previously warned of "fire and fury" against North Korea—to respond militarily to the missile launch. Nevertheless, the president only warned on Twitter, "It's more important than ever to fund our gov't & military!" and vowed to impose more sanctions on nuclear-armed North Korea.
In January 2017, a rhetorical escalation between Trump and Kim took place, only for the situation to shift gradually toward real hopes of an elusive concept for the decades-long inter-Korean conflict—lasting peace. Though Trump's apparent embrace of the North Korean ruler has garnered him some criticism at home, the guns of last November have remained silent ever since.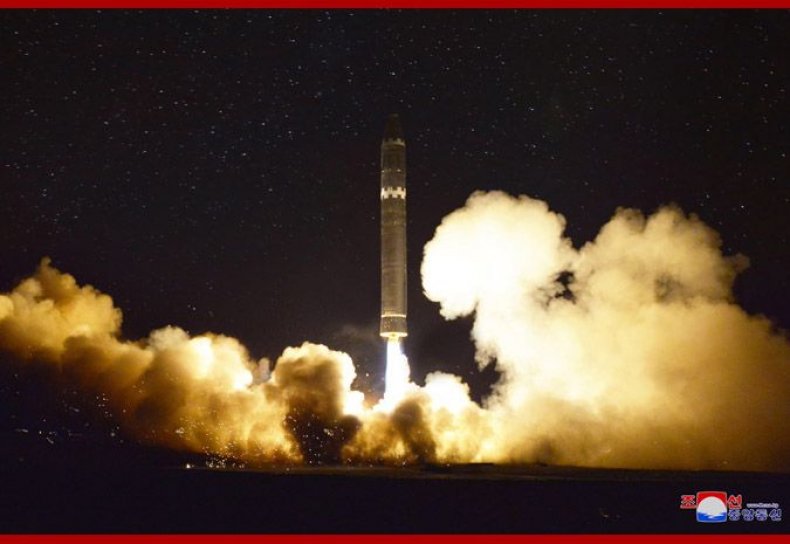 Ironically, the same New Year's address in which Kim prompted Trump's notorious nuclear "red button" comparison paved the way for the ongoing inter-Korean dialogue. South Korean President Moon Jae-in accepted Kim's offer to hold high-level talks, which eventually evolved from co-participating in the Pyeongchang 2018 Winter Olympic Games in February to a South Korean security delegation the following month. When this delegation returned, it conveyed to Trump an offer from Kim to hold what would be the first meeting between the leaders of the two countries— and Trump accepted.
Weeks later, Kim made his debut foreign trip, choosing longtime North Korean ally China as his destination. In April, Kim announced he was officially suspending nuclear tests and long-range missile launches ahead of the third-ever inter-Korean summit days later, marking the first time Moon and Kim met. This was followed by another inter-Korean summit in May.
In the lead-up to the first U.S.-North Korea summit in June, Pyongyang also released the three U.S. prisoners in its captivity, demolished its nuclear test site and razed a missile test stand at one of its main testing facilities. Trump and Kim then sat down in Singapore, where the latter vowed to denuclearize in exchange for a lifting of sanctions and peace—two things the U.S. had refused to grant unless North Korea's nuclear weapons were fully disabled.
Since then, Trump has suspended "provocative" war games with South Korea and North Korea has handed over the remains of U.S. troops killed fighting alongside South Korea against North Korea and China in the 1950s Korean War, but not much has progressed in the way of U.S.-North Korea talks. Though the Trump administration has so far affirmed Kim's commitment to the dialogue and the president himself described how he "fell in love" with Kim, the diplomatic momentum has stalled, at least publically.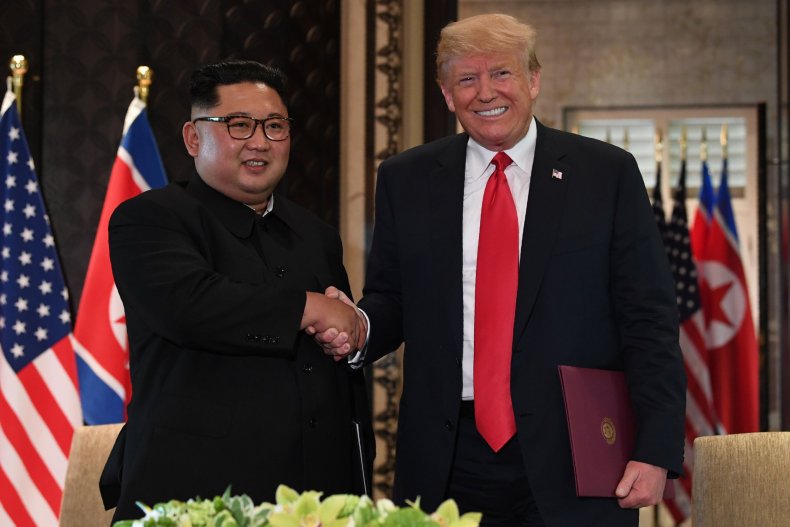 Some observers have indicated that North Korea may be biding its time to further develop its nuclear capabilities, which it has always argued were solely for self-defense. A secret U.N. inquiry reportedly found in August that North Korea had "not stopped its nuclear and missile programs," and the International Atomic Energy Agency issued a report Thursday noting that the Yongbyon nuclear facility was still functional and has possibly been expanded.
The New York Times' portrayal of a Center for Strategic and International Studies report earlier this month on potential secret North Korea nuclear-capable missile sites as proving Kim was deceiving Trump was challenged by a number of leading experts, as well as Trump himself. Critics argued that the sites were well-known to U.S. intelligence and observers and that Kim had made no commitments toward limiting his ballistic missile program.
Despite a slowdown in the U.S.-North Korea process, Pyongyang and Seoul have continued joint efforts to solve their Cold War-era conflict. The two have begun work on an inter-Korean railway, opened a unified liaison office and begun disarming their heavily fortified border. Another inter-Korean summit is reportedly being planned for December, while Vice President Mike Pence said last week that a second meeting between Trump and Kim was also in the works.
As of Wednesday, Secretary of State Mike Pompeo—who made his fourth and most recent visit to Pyongyang last month—told reporters that he did not "have anything to add on the sequence of events in North Korea" but remained "very hopeful we will have senior-level meetings before too long."