North Korea Says It's 'The Safest Country In The World,' But You Have to 'Respect' It If You Visit
North Korea has announced the details of its upcoming conference on blockchain technology, revealing who was welcome to visit the secretive state and the rules by which they would need to abide.
The official travel site of North Korea, known officially as the Democratic People's Republic of Korea, published on Tuesday a page dedicated to the Pyongyang Blockchain and Cryptocurrency Conference to be held in the capital from April 18 to April 25, 2019. While the page said that anyone, except for holders of South Korean, Japanese and Israeli passports and journalists were welcome to attend, the frequently asked questions section laid down some laws for prospective visitors.
The section reiterated that U.S. citizens "are welcome to apply" and that attendees could bring laptops, smartphones and tablets, "but please note that any mass printed propaganda or digital/printed material against the dignity of the Republic is not allowed."
On matters of security, the page wrote: "The DPRK can be considered the safest country in the world. As long as you have a basic common-sense and respect for the culture and belief of other nations, you'll be always welcome and enjoy like thousands of friends we've been hosting for the past 28 years and engaged in cultural, sports, science or business relations."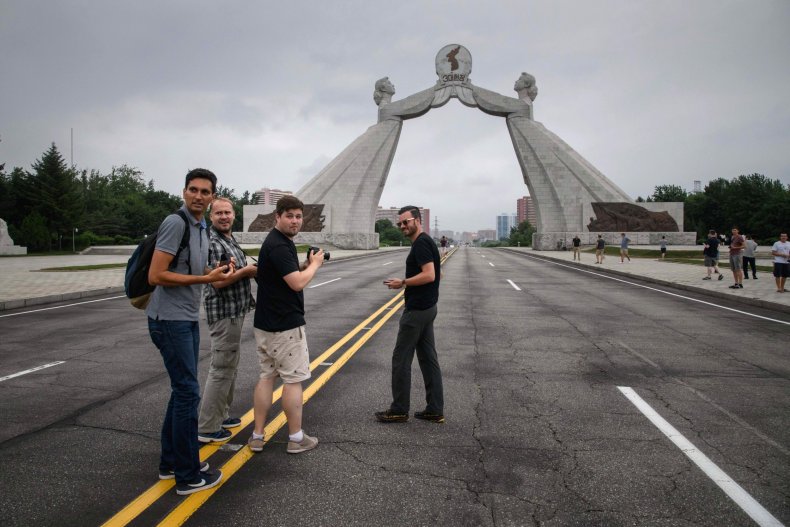 In recent years, North Korea has sought to redefine its international image as a nuclear-armed authoritarian state widely accused of human rights abuses in order to promote its burgeoning tourism sector. A campaign to drawn in more tourists was launched in the 1990s in hopes of bringing extra revenue during a period of devastating famine.
When North Korean supreme leader Kim Jong Un took power, he invested heavily in sites like the capital's Munsu Water Park, the Wonsan-Kalma resort on the country's east coast and the nearby Masikryong Ski Resort.
In addition to hosting tourist hotspots such as the Goguryeo tombs, Mount Paektu and the country's many monuments, North Korea has held a number of international sporting events and conferences. News of April's blockchain and cryptocurrency conference came as the government stood accused of using the digital technology to bypass strict U.S. sanctions imposed on Pyongyang due to its nuclear program and ballistic missile launches, but that has not deterred North Korea from giving itself an opportunity to further transform its reputation as a no man's land for foreigners, especially in the West.
The conference agenda included numerous excursions, including trips to the Great People's Study House, Museum of the Korean War, Pyongyang University of Foreign Languages and a secondary school on one day, and the city of Kaesong, the truce village of Panmunjom and the newly-established inter-Korean liaison office on the following day. On another day, participants were set to travel to the Juche tower, Kim Il Sung square, as well as a skate park, bowling alley, shooting range and shopping activities.
While establishing a reliable national crime rate was difficult due to North Korea's tight regulation of information, international incidents between authorities and tourists have hurt the country's image.
In 2008, a South Korean woman was shot and killed by a soldier after venturing into a restricted area near the popular Mount Kumgang resort. Last year, President Donald Trump banned U.S. travel to North Korea after University of Virginia student Otto Warmbier died shortly after being released early in a comatose state from his charge of "committing a hostile act against the state"—stealing a sign bearing a ruling Korean Workers' Party slogan from the hotel he was staying at.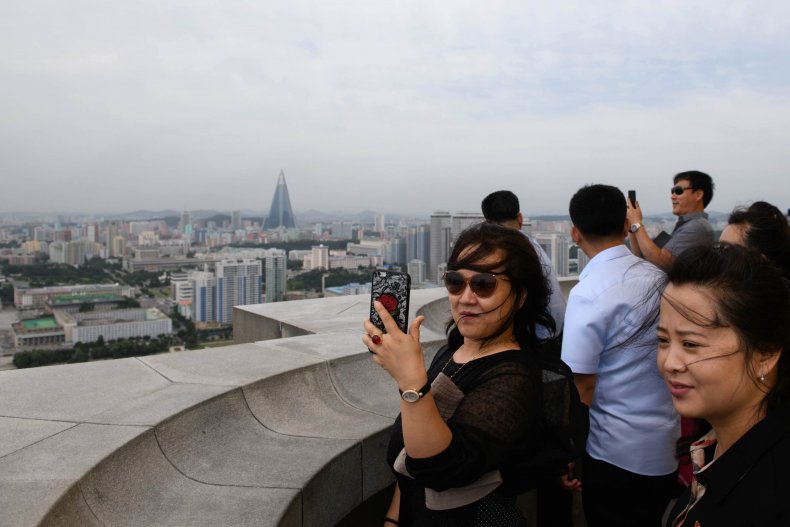 Though Kim released the three other U.S. citizens in North Korean custody as part of ongoing peace talks with Trump in May, the State Department's travel ban remains in place. Still, the unprecedented levels of dialogue between Washington and Pyongyang have prompted reduced shows of hostility toward the U.S. in North Korea, on the streets and in the media.
Direct U.S.-North Korea talks appear to have stalled in recent weeks, but South Korean President Moon Jae-in has continued to embrace closer contacts across with his country's Cold War-era rival. Free travel between the two Koreas is not yet possible, as evidenced by April's event page, but Moon and Kim have worked out agreements on joining the rail systems of both countries and disarming their notoriously fortified border.