Summer's Wildest Movie Is Here: Boots Riley's 'Sorry to Bother You'
Spoiler warning: If you want to go in spoiler-free to Sorry to Bother You, save this article until after you watch the film.
Labor unions don't get a lot of love in Hollywood. Salt of the Earth (1954), Harlan County U.S.A. (1976), Matewan (1987), Norma Rae (1979), Newsies (1992): One is a documentary, the others are dramas, all of them are pretty dated. None feature giant horse genitalia.
Did that get your attention? Boots Riley is hoping so. The lead vocalist for Oakland, California-based hip-hop band the Coup has directed an electrifying and unapologetically angry comedy that has delighted film festival audiences since it brought the house down at Sundance in January. "I'm telling stories in a different way," says Riley, "but I believe it works because it's forcing a different kind of engagement. People that are used to being able to predict where a movie is going—now they're not able to."
The film stars Atlanta's Lakeith Stanfield as Cassius "Cash" Green, who lives in his uncle's garage with his artist-activist girlfriend, Detroit (Tessa Thompson), in Oakland—an alternate universe version of Oakland. Things aren't going so well: A program called Worry Free is offering poor people a lifetime of indentured servitude in exchange for room and board. Cash narrowly avoids that fate when he lands a telemarketing job. After weeks of no sales (wages are commission only), he half-heartedly joins a co-worker (Steven Yeun) in organizing a strike—until he discovers his "white voice."
Hilariously dubbed by actor David Cross, Cash's new voice makes him a sales star. He's promoted to "power caller," and before long he's abandoned the union. Each day, he crosses the picket line to take a golden elevator to the top floor, where he eventually learns what he's been selling: slave labor to rich foreign investors on behalf of the coked-out Worry Free CEO, Steve Lift (Armie Hammer). Cash is appalled, but not enough to give up his spiffy suits and spacious apartment.
Riley wrote the film in 2012, and there's a lot that's fantastical about it (a river of feces, that jarring dubbed-over white voice), but less than you might think. The film evokes some of the more reprehensible developments of modern life, like labor in for-profit prisons and the cycle of debt that keeps people in poverty. The ethos of Worry Free, for example, is lifted from that of Silicon Valley, which encourages employees to work 18-hour days with mumbo-jumbo like "This is not a workplace, this is a play place!" Riley says. "You sit on beanbags!"
The film includes the wildly popular game show I Got the Shit Kicked of Me, in which contestants get brutally beaten up as the crowd goes wild. That, says Riley, is a mockery of "how mass media makes us OK with extreme violence."
And Cash's financial windfall comes not from talent and hard work but a system that favors people who are white—or sound white. "We kinda letting the cat outta the bag on this," says Stanfield. "Black people, we joke amongst ourselves all the time: 'Put on your white voice, make sure you do that.' It's not necessarily about the voice, it's about a disposition—feeling like you're included in the larger conversation, as a citizen, and as a person."
For Riley, "the white voice is a superpower. In many movies, the main problem of the world is supposedly poor people breaking laws. The superpower to fix that is superhuman strength, to smack down the poor people. Well, obviously, I don't think that's the main problem in the world."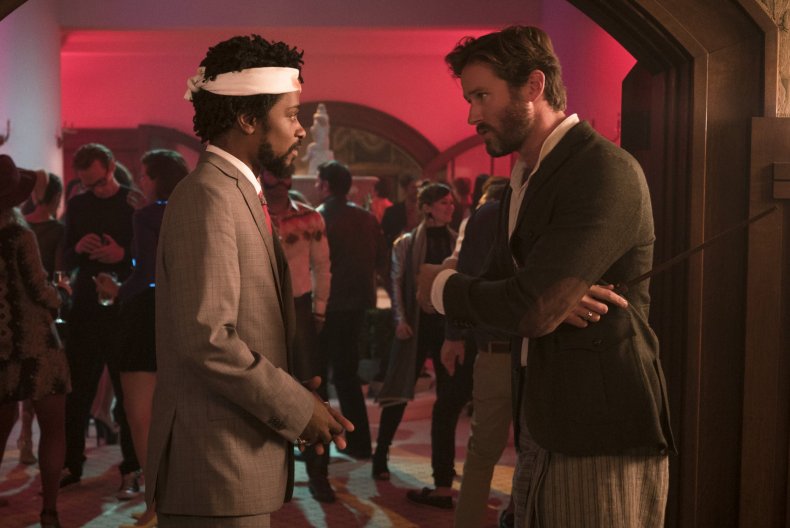 Riley's interest in labor unions and activism is lifelong. At 14, he helped organize the Anti-Racist Farm Workers' Union, formed by undocumented immigrants after the United Farm Workers refused to help them in the '60s and '70s. As part of a summer program, Riley lived with families in the California Valley, "waking up at 3 in the morning with a list of things to do: decorate the flatbed truck for the rally, create the sign that unfurls, set up the sound system. I was, like, 'I'm 14, I don't know how to do any of that.'"
But he learned. And his activism continued at San Francisco State, where he studied film while also making music and attending anti-racist protests. (During one, at a white supremacist rally, he tossed soda cans at the heads of police officers—a detail that makes it into Sorry to Bother You.) In 2011, he was a spokesperson for the Occupy Oakland movement, protesting local foreclosures and police brutality.
Today, he wonders about Hollywood's lack of interest in what preoccupies most Americans. According to a recent report from The Nation, there's been an unprecedented rise in union membership in the past two years, thanks in large part to millennials. Riley directs me to a 2016 Harvard study, which found that one in two millennials reject capitalism, while one in three support socialism.
"Considering how much the struggles around wages and a fair workplace are a part of our daily lives, you have to think writers are trying not to have [labor unions] in movies," says Riley. "Every city in the United States had an Occupy Movement, right? Every city! I think writers feel like if they talk about these things, they won't get funded."
That was certainly true for Riley: It took years to find investors for Sorry to Bother You. Endorsements from Cross, comedian Patton Oswalt and publisher Dave Eggers (he read and loved the script, releasing it as a McSweeney's book in 2014) eventually led to the necessary funding in 2015. The first-time director isn't sure if the film's anti-capitalist thread contributed to his struggle—"I don't have another case study"—but he does feel certain that, had he not hustled, "there wouldn't be a movie like this for at least another 15 years."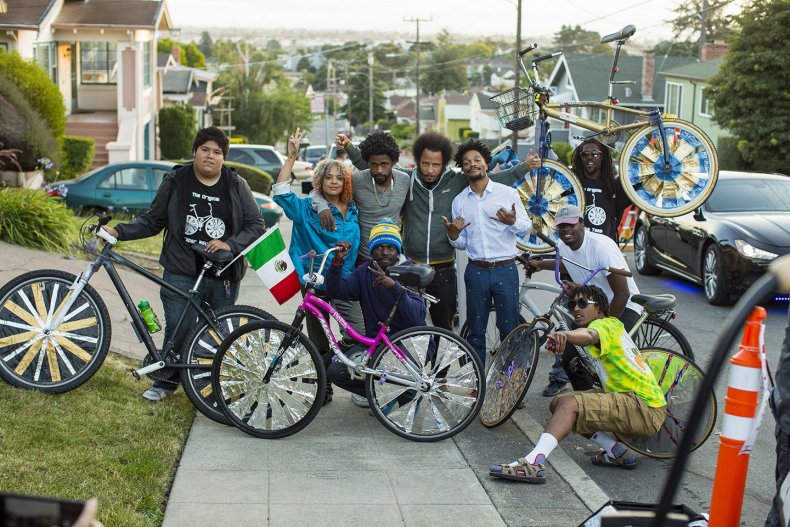 Riley identifies as a communist, and his politics may drive the film, but he says he "would feel bad if big messages about the world were the only things people got from it." In a New York Times interview, he dismissed his first album with the Coup, 1993's Kill My Landlord, as "a pamphlet on tape" for its heavy-handed liberalism. Thus, the film's absurdist humor and joyful soundtrack (with songs from his own band and Tune-Yards's Merrill Garbus).
To prove he doesn't take himself too seriously, Riley wrote Tessa Thompson's character as a way to critique and spoof his own ambitions. "One of the themes of the movie is me arguing with myself: 'Does art really matter?' That's Detroit's struggle," he says. A sign-twirler by day and radical artist by night, she attempts to make art that disrupts the status quo, like a performance piece in which people throw blood at her.
"Art has the ability not just to reflect the culture in which we live but to create it, to change it, to shift it, to start a cultural conversation," says Thompson, who considers Detroit's cause noble. "Cultural change always precedes political change."
Riley agrees in theory but says that with Detroit, the point was "art that kind of goes nowhere. She tries to make this big statement that just ends up being confusing—interesting, maybe." Inevitably, he adds, there will be viewers who feel the same way about Sorry to Bother You. But even if you get lost in the third act—which takes a sharp turn from magical realism into a surreal fever dream—Riley's unrealistic interpretation of real-world horrors can't fail to shake you up.
Worry Free has an even darker secret than slave labor, and once Cash discovers that, he rejoins the union. His final moment on screen might not be your typical Hollywood happy ending, but Stanfield considers it a victory for his character. "Cassius is at his most monstrous at the zenith of his power caller days," he says. "But where he is at the end of the film…I want to see a Sorry 3 Bother You ." —Additional reporting by Janice Williams​​
Sorry to Bother You opens in limited release July 6, and nationwide July 13.