U.S. Created ISIS to Distract World From Israel, Iran Says
Iran's supreme leader criticized U.S. involvement in the Middle East, accusing it of sponsoring organizations such as the Islamic State militant group (ISIS) that were responsible for destabilizing the region.
Speaking to a large audience gathered at the Shrine of Imam Reza in the northeastern city of Mashhad on Wednesday, Iranian Ayatollah Ali Khamenei wished Iranians and celebrants around the world a happy Nowruz—the Persian New Year—and called on citizens to invest in the local economy by purchasing domestically produced goods. He also took the opportunity to condemn an alleged conspiracy by the U.S. and its ally, Israel, which Iran has accused of illegally annexing Palestinian land.
Related: How ISIS Got Weapons From the U.S. and Used Them to Take Iraq and Syria
"The Islamic Republic could diffuse the United States' plan for the region. What was America's plan? The plan was to create venomous, evil, and destructive groups, such as ISIS, to divert nations' attention from the occupying Zionist regime and not to let them think about the Zionist regime. This is the plan we could defuse," Khamenei said.
"They claim they were involved in the destruction of ISIS. This is a lie. The policy of the U.S. is to keep ISIS, but under their own thumb. Of course, ISIS, and other such groups, are easy to create for the U.S., but difficult to handle. They want to keep calling the shots with ISIS. Beside the fact that the U.S. is not able to make the region secure," he added.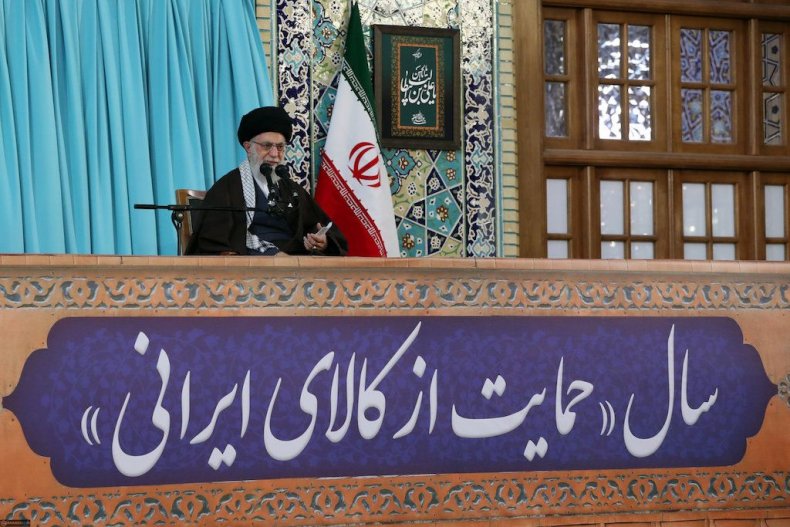 ISIS had its origins in a merger of jihadi Sunni Muslim groups, including Al-Qaeda in Iraq, that spawned in the aftermath of the U.S. invasion of Iraq in 2003. What became known as the Islamic State of Iraq waged a violent campaign against U.S. forces, Iraqi troops fighting for the newly installed government, the country's Shiite Muslim majority and the ethnic minorities of Iraq. It spread to Syria in 2013, two years after a mostly Sunni Muslim uprising backed by Western powers, Gulf Arab states and Turkey threatened to overthrow the government of Syrian President Bashar al-Assad, a close ally of Iran and Russia.
Both the U.S. and Iran have invested heavily in battling ISIS in both Iraq and Syria. However, the dynamics of their separate campaigns differed vastly from country to country.
In Iraq, the U.S. and Iran both backed the Iraqi military, but the former also offered assistance to Kurdish forces and the latter bolstered the battle with a majority-Shiite Muslim collective of Iraqi militias known as the Popular Mobilization Forces. In Syria, the U.S. supported a mostly Kurdish alliance known as the Syrian Democratic Forces after abandoning an increasingly jihadi Syrian opposition to Assad, while Iran backed both Assad and various local and foreign militias, many of which were also Shiite Muslim.
With ISIS largely defeated last year, nations such as Russia, Iran and Syria have accused the U.S. of failing to strike a final blow to the jihadis and maintaining them as a viable actor. The U.S. has vehemently denied this charge and has countered evidence presented to prove it.
Iran and Syria have also accused Israel of supporting insurgent groups, including Al-Qaeda affiliates operating near Syria's southwestern Golan Heights region, which was partially occupied and annexed by Israel after a 1967 war. Israel has fought several major conflicts with neighboring Arab nations that support an independent Palestinian state.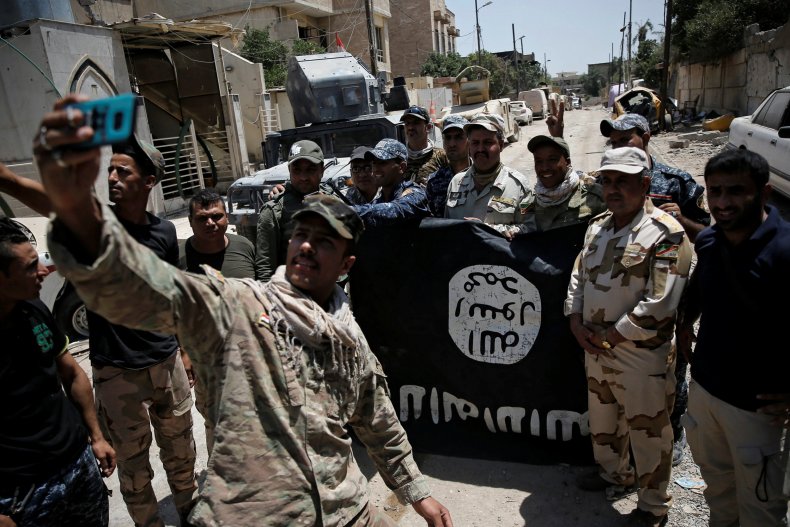 In addition to these wars, Israel has also become embroiled in regional struggles for power and has conducted airstrikes targeting the positions of Iran-backed Lebanese Shiite Muslim movement Hezbollah and its Syrian allies. Israel has accused Iran of seeking nuclear weapons and, like President Donald Trump, has sought to fix or nix the 2015 agreement signed by the U.S., Iran and five major world powers. Israel has destroyed suspected nuclear sites in Iraq and Syria in the past.
The U.S. and Israel, along with Saudi Arabia, have tried to isolate Iran politically and economically as its victories against ISIS helped expand Tehran's influence across the Middle East. With the jihadis defeated, groups like Hezbollah have called for a renewed focus on opposing Israel, leading to new tensions in Syria and Lebanon.